3 Ways Google Glass Could Change Journalism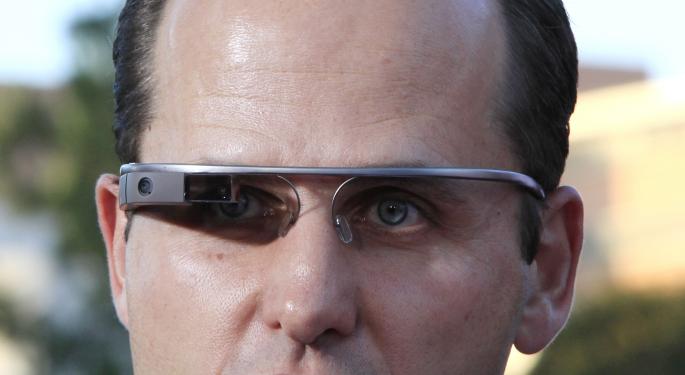 University of Southern California professor Robert Hernandez is teaching a new class this fall, perhaps the first of its kind.
While other journalism classes have included the use of Google Glass (NYSE: GOOG), Hernandez's course will focus entirely on Glass journalism.
Hernandez has been exploring the use of digital in journalism since the late 1990s, he told Benzinga. When Google Glass came out, he saw several possibilities in how it could be applied to the industry.
"I've explored (or nerded out) different aspects from augmented reality to Livestream to crowdsourcing and, of course, storytelling, and Glass brings all of these together and more," he said in an email. "Its not perfect. Far from it, but there are fantastic possibilities."
The class will be small -- between nine and 12 students, about half of which will be engineering students who are mostly Glass beta testers. The rest will be journalism, public relations and business students with digital skills. They'll work together to create a Glass app related to journalism and the news.
Related: 5 Technologies From 'Back To The Future' We Don't Have (And Who Should Make Them)
Steve Papermaster, CEO of the venture development group Powershift, thinks wearable technology will eventually be more prevalent than smartphones.
"This type of smart technology will have a huge impact on content providers, publishers and advertisers as live content, location data, photos/video and surround computing become pervasive," said Papermaster. "The volume of content will move from periodic to perpetual."
There are a few specific ways that wearable technology like Google Glass could change journalism for the reporters and the audience.
Mobility
Tim Pool is a reporter for Vice who used Google Glass to cover protests in Istanbul last year. Using a wearable recording device freed him from having to hold a camera with his hands and let him focus on staying safe in dangerous situations.
But the technology on Glass is finite. Because of Glass's limited capabilities, Pool had to hack the device so he could livestream video and access his home computer.
"The hardware is there, but the software isn't," said Glass. "It'll be interesting to see what happens."
First-Person Perspective
Michigan State University assistant journalism professor Jennifer Ware was one of the first Glass Explorers. Her students have been using Glass for two semesters already.
"Student journalists have been really excited to work with the new technology and figure out what it could do for reporting," she told Benzinga.
Although Google Glass may not be as useful for a breaking news story or a sensitive topic, Ware said, her students have found that the device works really well for feature stories.
One of the advantages they've found is putting the device on another person, instead of the reporter, and letting people see the story from a first-person perspective. A story about a potter could include his perspective of creating a clay pot.
"With the field of journalism, technology is always changing how we report the news," said Ware.
News Consumption
How news media is presented and viewed might change as well. Hernandez thinks there are some unique possibilities for content consumption.
"What does an optimized Glass, or wearable, article look like? Factor in geolocation, time and other variables into the storytelling, and there is a new storytelling opportunity," he said.
Geo-tagged augmented reality is one new way. Readers could look at a building and Glass will pull up relevant information like recent news stories about that company or what the stock is currently trading at, Papermaster said. News organizations could also engage their readers more, he said, if people were able to look at an article and Glass brings up the comments, or allows them to highlight a section to share on social media.
Hernandez believes augmented reality has a significant role in the future of journalism.
"It's the next evolutionary step in mobile, and the opportunities are near limitless when it comes to storytelling, engaging and informing our communities," he said.
View Comments and Join the Discussion!
Posted-In: comments digital news GoogleNews Education Crowdsourcing Tech General Best of Benzinga