Notre Dame Joins Under Armour Team, Stock Options Included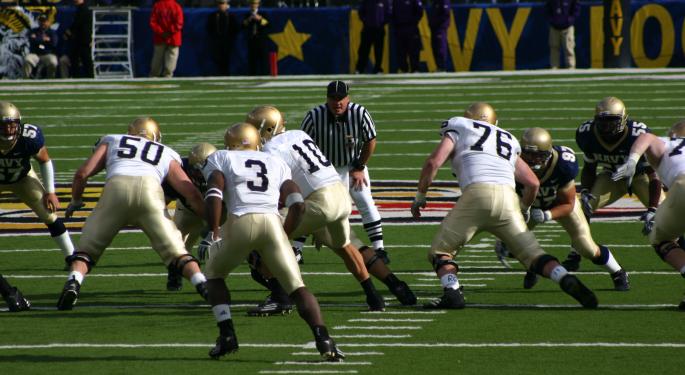 One of the nation's most revered, and reviled, sports programs has a new partner.
During a press conference early Tuesday, Notre Dame Athletic Director Jack Swarbrick and Under Armour (NYSE: UA) CEO Kevin Plank announced a new 10-year partnership, which is set to take effect in early July.
"And in as much as this represents the largest financial commitment ever made by a brand to a university," Swarbrick said, "it will provide the critical resources we need to enable our student-athletes to compete at the highest levels."
Notre Dame is Under Armour's 13th Division 1 all-school (i.e., all athletics) partnership. Notre Dame apparel and footwear was most recently partnered with Adidas (OTC: ADDYY) dating back to 1997.
"We look forward to collaborating with the university's administration, athletic department, student-athletes, alumni and its powerful fan base to uphold the Fighting Irish's championship pedigree," Plank said.
Exact financial details were not listed. According to the Chicago Tribune, the University of Michigan's reported $8.2 million partnership with Adidas is the largest deal of its kind, currently. ESPN reported the Notre Dame deal is worth around $90 million.
Related: Nike vs. Under Armour - Which Is The Better Bet?
"For us to marry our tradition with one of the great entrepreneurial stories in recent time in this country is exciting for me," Swarbrick said. "I think it will impact our culture in direct ways. Make us more creative, more inventive, allow us to move more quickly and to be fundamentally entrepreneurial."
One of the most tradition-rich programs in the country, Notre Dame's change to Under Armour might rustle some feathers among the old guard. Change, however, has been maybe the biggest trait since Swarbrick took over in the summer of 2008. Notre Dame basketball has sported neon-green jerseys in recent years, while the football team has ushered in special "Shamrock Series" uniforms since 2009.
The university also switched conferences in 2013, joining the ACC after years in the now-defunct Big East. Its independent football team sacrificed some of its yearly rivalry games in order to play a handful of ACC opponents beginning in 2014.
Head coach Brian Kelly has also introduced music (such as the Dropkick Murphy's Shipping Up To Boston) to football games at Notre Dame Stadium -- something rarely, if ever, heard in the century prior to his signing in 2010. The Tribune noted the deal does not include any signage for Under Armour in Fighting Irish stadiums and arenas.
While appearances are a big part of the Notre Dame way, Swarbrick noted this is not just an appearance-based deal.
"[This] may be the most wide-ranging overall relationship anywhere in college athletics," he added. "That is demonstrated in both the term of the agreement and the unique feature that makes Notre Dame a shareholder in Under Armour. It is reflected in a shared desire to collaborate in areas such as sport technology, product development, and athlete performance."
Shares of Under Armour were at $85.38 in mid-afternoon trading, up 4.13 percent since its close last Friday.
View Comments and Join the Discussion!
Posted-In: Adidas athleticsNews Education Movers & Shakers Contracts Media General Best of Benzinga