Resolutions For The New Year & Beyond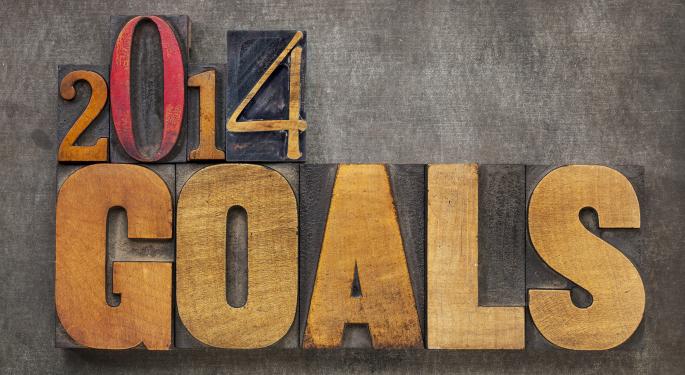 It is that time of the year again.
The nation's gyms and jogging paths are full as New Year's resolutions kick in and people begin what will be, in most cases, a short-lived commitment to fitness.
The drive-thru line at McDonald's is a little shorter, as people resolve to eat healthier in the year ahead. This will likely all change before we see February, as most resolutions go by the wayside when folks figure out how hard it actually is to adopt a new fitness regime, eat better, quit smoking or any of the other promises people make in the waning hours of the old year.
Unfortunately, this is true when it comes to financial matters as well.
Saving that 10 percent of your income is difficult to do. Cutting up the credit cards proves just too difficult for many of us. Taking the time to be a better investor is also a difficult task, as we have to rewire our brains and spend time learning more about the markets than what our brokers and the media tell us.
Giving up the urge to take sure thing tips and chase the hot stocks the water cooler gang are chattering about goes against our every instinct. Overcoming the fear of loss to buy when markets are collapsing involves learning to override our lizard brain and listening to our educated mind -- that is far easier said than done. We need to adopt some resolutions for the New Year and beyond to become better investors and actually make money at the business of investing.
Related: How To Look For Income Producing Investments
Learn to adopt a private equity mindset
Private equity investors buy assets at bargain prices, own them until the asset value is improved or back in favor with outside investors, and sell them. They focus on the price they pay relative to the value of the assets and do not pay much attention to the day-to-day variations of price. They are interested in earning many multiples of their investment stake, not just percentages.
You will not hear PE types talking about buying a company because the price formed a double doggie and pony pattern. They do not pay much attention to what the pundits predict or which companies are the toast of Twitter today. They buy undervalued assets, hold them for a long time and then sell them at large profits.
Learn to react to what the market actually does and stop trying to predict what they may do
Everybody thinks they know what the stock market will do in reaction to the next political, economic or financial news announcement. History has taught us the painful lesson that everyone is usually wrong with their prognostication and entirely too confident about their predictive abilities.
If something happens and the markets plunge, creating a lot of cheap stocks, then be a buyer. If they soar and stocks become widely overvalued, it is best to be a seller. There is no way to predict the stock market on a regular basis. We can, however, make a lot of money reacting to what the market actually does.
Learn to think like our friend the pig farmer
Mr. Womack was introduced to us by John Train back in the 1970s. When all the news was bad and markets were falling, he would drive into the local broker's office and buy a bunch of cheap, dividend-paying stocks. A few years later, when the markets were hot and the news was full of predictions of continued higher prices, he would drive back into town and sell the stock he bought in darker times. In between he did pig farmer stuff and cashed his dividend checks. He didn't check charts or worry too much about every line of every quarterly report in the interim. He bought cheap stocks in bad markets and sold expensive stocks in good markets and never lost money in the stock market.
Buy Low, Sell High. It really is that easy, but it is hard to do for most of us.
Related: How To Achieve Consistent Profits With Persistent Anomalies
The only thing that matters is the price of the stock in relation to the value of the company
The daily news, the most recent fed announcement, or the price in relationship to some magical chart point are of little meaning to the business-like investors. Adopting a business-like approach to the markets and buying companies instead of betting slips is the surest path to long-term profits.
Adopting that mindset is every bit as difficult as going for that daily jog or cutting down on cheeseburgers, but it can change your financial life in ways you cannot begin to imagine.
Tags: McDonald's private equity twitter
Posted in: Education Psychology Personal Finance General Best of Benzinga