SLIDESHOW: 4 Book Publishing Stocks Worth Reading Into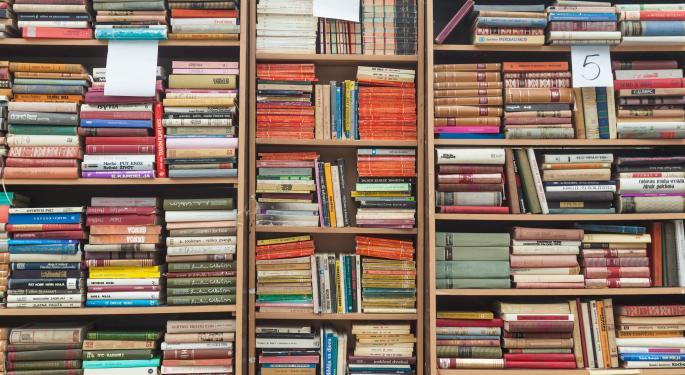 Digital and print book publisher stocks are doing well. Not so long ago, it seemed to be an uproar of excitement towards popular book trilogies like Twilight and enticing stories such as 50 Shades of Grey.
The noise has softened, but there are still a few companies that would like to be acknowledged. A few do it with ease, whereas the others are making silver medal progression.
Posted-In: Education Commodities Psychology Markets General Best of Benzinga
Amazon

Amazon (NASDAQ: AMZN) is the world's largest retailer and they started as an online bookstore.

They are still an online book retailer, and they continue to enhance the experience of ordering books online with their new ambitions for "same day delivery."

Amazon opened Thursday at 313.24, and they have a yearly revenue growth of 23.1 percent.

Adobe Systems

Adobe (NASDAQ: ADBE) specializes in Digital Media as well as Print and Publishing.

They opened Thursday at 52.02. The stock gained 15.27 million shares; average volume of the stock remained 2.65 million shares.

They surely are demonstrating an appealing performance of 9.22 percent in the previous trading session and they seem to be on a roll.

News Corp.

News Corp (NASDAQ: NWSA) offers a variety of services, one of which includes book publishing. The stock opened at 17.39 which is right up there with its 52-week high of 17.46.

Earnings have increased quarter over quarter and a company known for value investing (Southeastern Asset Management Inc.) has recently bought 12 percent of shares in News.

Wait and see what may happen next.

Scholastic Corp.

Related Links
View Comments and Join the Discussion!