10 Market Structure Experts To Follow On Twitter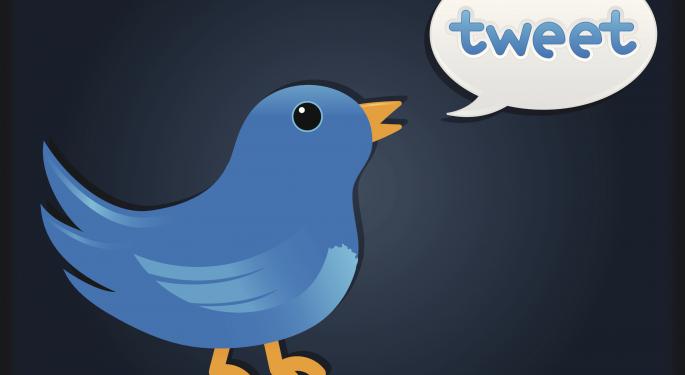 Trading is not what it used to be.
High-frequency trading, dark pools, order types, maker/taker fees and collocation are just a few aspects of modern-day markets.
It can be confusing, but it doesn't have to be. There are plenty of experts on market structure who can help traders and investors navigate this brave new world of finance, and these are some of the best:
Related Link: 10 Women In Finance To Follow On Twitter
1) Larry Tabb: Founder & CEO of Tabb Group (@ltabb)
Larry Tabb tweets much of his research and writings, which are definitely worth reading. He assisted the U.S. Commodity Futures Trading Committee's subcommittee dedicated to automated and high-frequency trading create the very definition of HFT within the context of automating trading systems, so you can rest assured that he knows what he's talking about.
Putting out a few pices on http://t.co/EgmsQWk6WB re: Best Ex, Trade-At, & thoughts on Tick Pilot - Best Ex live now http://t.co/XEtmAp8NYI

— Larry Tabb (@ltabb) December 2, 2014
2) Dave Lauer: President and Managing Partner of KOR Group LLC (@DLauer)
Dave Lauer's background includes years serving on a high-frequency trading desk as both a trader and quantitative analyst. His tweets are forthright and provide a unique commentary on specific aspects of the way exchanges and brokerages operate.
Complex, gov't-mandated fee structures that @BATSGlobal proposed only necessary b/c of Maker/Taker. Eliminate M/T, eliminate price controls

— Dave Lauer (@DLauer) January 6, 2015
3) Dennis Dick: CFA & Market Structure Consultant with Bright Trading (@TripleDTrader)
In addition to his roles at Bright Trading, Dennis Dick serves as a member of the Capital Markets Policy Council for the CFA Institute and the co-host of a morning radio show. He's a fantastic source for pre-market information and tweets often about the imbalances (Not sure what those are? Just ask! He'd be more than happy to explain).
Notable premarket imbalances: $GE +206K, $C +186K, $BAC +458K, $MS +86K, $VZ +195K, $TWTR +53K, $JCP +193K

— Dennis Dick (@TripleDTrader) January 12, 2015
4) Justin Schack: Partner at Rosenblatt Securities (@JustinRBLT)
A self-proclaimed reformed journalist and market structure geek, Justin Schack tweets often about research from Rosenblatt regarding market structure and high-frequency trading. His Twitter is also full of useful retweets from exchanges and brokerages.
Highlights: holding periods are surprisingly long, a significant minority of #HFTs are net liquidity removers, cancel rates surprisingly low

— Justin Schack (@JustinRBLT) December 10, 2014
5) Kevin McPartland: Head of Market Structure and Technology Research at Greenwich Associates (@kmcpartland)
Although he's quoted by prominent news sources like Bloomberg, MarketWatch and the Financial Times, Kevin McPartland tweets out more that just those articles. Follow his account to keep up on the latest news reports on market structure and financial technology.
Nasdaq May Operate Dark Pools for Banks @wsj http://t.co/8ls5b7v8Vu

— Kevin McPartland (@kmcpartland) January 12, 2015
6) Haim Bodek: HFT Market Structure Expert, Consultant & Whistleblower (@HaimBodek)
It would be impossible to publish this list without Haim Bodek. Of "Dark Pools" fame, Bodek has never been afraid to speak his mind -- whether it's on Twitter or to the Securities and Exchange commission, itself.
Nice to get some credit for impacting the world positively. One down. "BATS to Settle High-Speed Trading Case" - WSJ http://t.co/sJSOxOxrQO

— Haim Bodek (@HaimBodek) August 6, 2014
7) Joe Saluzzi: Co-Founder of Themis Trading (@JoeSaluzzi)
In addition to being a frequent speaker at industry conferences on issues related to market access and algorithmic trading, Joe Saluzzi offers an honest and amusing market commentary through his tweets.
Durable Goods bad, GDP good, Fed is "patient" (or clueless).

— Joe Saluzzi (@JoeSaluzzi) December 23, 2014
8) Chris Nagy: Founder & CEO of KOR Group LLC (@ChristopherNagy)
A 25-year Wall Street veteran and TD Ameritrade alumnus, Chris Nagy tweets clear and insightful observations of rules and regulations related to market structure and high-frequency trading.
Is it me, or does this paper on #HFT seem a bit conflicted and self serving? http://t.co/djbvuhdYBi

— Chris Nagy (@ChristopherNagy) January 2, 2015
9) Remco Lenterman: Managing Director at IMC Financial (@RemcoLenterman)
Remco Lenterman has experience at Goldman Sachs and tweets strong opinions of market movements and takes simple explanations for complicated matters with a grain of salt. Lenterman speaks out where many others won't regarding HFT and structure, which definitely makes him worth following.
4) Any trader could've looked at the huge change in open interest in treasury futures on Oct 15th and would've come to the same conclusion.

— Remco Lenterman (@RemcoLenterman) January 2, 2015
10) Eric Hunsader: Founder of Nanex, LLC (@nanexllc)
Eric Hunsader's Twitter is full of charts and graphs demonstrating market movements. He tweets fast and frequently, but always with useful information.
The stocks that followed $KBH down: pic.twitter.com/LAGCmbNVgC

— Eric Scott Hunsader (@nanexllc) January 13, 2015
Posted-In: Dave Lauer Dennis Dick Eric Hunsader Haim Bodek high frequency trading Joe SaluzziCrowdsourcing General Best of Benzinga
View Comments and Join the Discussion!