How Crowdsourcing Is Democratizing The World Of Finance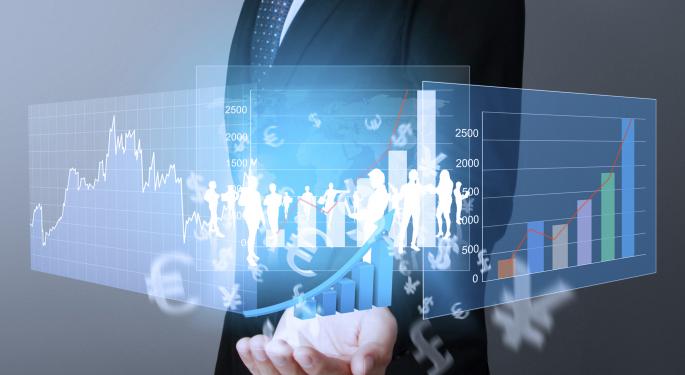 Crowdsourcing has been used for centuries, according to Jeff Howe.
He coined the term in a 2006 article for Wired magazine. Crowdsourcing exists in countless shapes and sizes, most notably in places like the restaurant industry with Yelp Inc (NYSE: YELP), and the travel sector with the likes of Tripadvisor Inc (NASDAQ: TRIP).
But what about finance? Shouldn't people have the same amount of resources to manage their money as they do for food and travel?
The short answer: Yes, definitely.
Benzinga finds the most innovative companies in the financial technology space through its annual Fintech Awards (check them all out here).
Here are just a few of the companies working to democratize the wealth of information and make it available to all traders and investors:
Estimize
Estimize was founded by Leigh Drogen, a former statistical arbitrage quantitative trader. He used to work with earnings acceleration and analyst estimate revision models.
After working with Wall Street data, Drogen told Benzinga, he eventually looked at what he was doing and wondered why the information being collected was only coming from the sell side.
"Why aren't we collecting from the buy side, the industry experts, the independent traders and investor, the students?" he asked.
In 2011, Drogen left the world of asset management to build that very business. The result? Estimize.
"It was very much an experiment from the beginning. We didn't know whether the data set would be more accurate. We didn't know whether it would be more representative. We didn't know whether people would try to game it or not," Drogen said.
Fast forward to 2014: Estimize has almost 6,000 contributors, covers more than 900 stocks each quarter and provides consensus data that has proven to be more accurate than comparable sell side data roughly 69 percent of the time.
Related Link: How Wall Street Is Using Estimize
For Drogen, it seems like he feels crowdsourcing just makes sense in finance.
"Statistically, if you have a larger sample set, you tend to have a more accurate and more representative data set that should allow you to build better models," he said.
Vetr
Vetr is another analyst rating crowdsource platform, but it's quite different than Estimize.
It was born out of a feeling that investment research is broken for the retail investor, Vice President of Business Development JD Singh told Benzinga.
"We felt that the crowdsource model is now a proven model specifically in other industries to make better decisions," Singh said.
Related Link: Meet The 6 Experts Judging The Future Of Financial Technology
Singh explained that people use Yelp to make decisions on what restaurants to eat at, they check Tripadvisor before choosing a hotel to stay at, so why not apply that same model to the investment world?
So Vetr crowdsources ratings for the stock market through the platform it created that lets users create ratings.
"We aggregate all of those ratings and visualize them in the form of a star rating on an overall stock level," Singh said.
This makes it easy for investors to understand the sentiment of the community. Five stars for Apple Inc. means it's a strong buy.
"Our goal there is to allow users to get the sentiment of the crowd and therefore make better decisions when making investments and, ultimately, generate more money at the end of the day," he said.
HedgeCoVest
HedgeCoVest takes a somewhat different approach. It's the first online investment platform that allows everyday investors to invest with hedge fund strategies within their own brokerage account, according to CEO Evan Rapoport.
Rapoport told Benzinga that HedgeCo Networks has been in business for 12 years as a firm.
"One of the biggest problems that our investors faced is that they oftentimes would rather have a separate account, as opposed to investing in the hedge fund directly," he said.
Rapoport explained that the problem is most hedge funds won't provide separate accounts unless the investor is able to invest $50-$100 million. A lot of investors can't get that separate account because of that.
Enter HedgeCoVest. The platform allows investors to come in with just $30,000 and have that same privilege that the institutions are able to have, according to Rapoport. Investors can search available hedge fund models by quantitative and qualitative criteria.
"Once they find a hedge fund model that makes sense to them, they can go ahead and click a button to allocate," Rapoport said. "At that point, our replication technology essentially is able to code up to a hedge fund manager, see their portfolio and start replicating it in real time directly into the account."
The Other Guys
They're important, too. There just isn't enough room to cover each one in this article. Companies like CircleUp, Dropz, Social Market Analytics, Tip'd Off, Capital Services Group, InvestFeed and Traditt are also all using crowdsourcing to democratize information.
Vote for the most innovative fintech companies in the Benzinga Fintech Awards Competition!
Posted-In: Benzinga Fintech AwardsFintech Crowdsourcing Success Stories Startups Exclusives Tech General Best of Benzinga
View Comments and Join the Discussion!