People Seem To Love Starbucks' New Secret Drink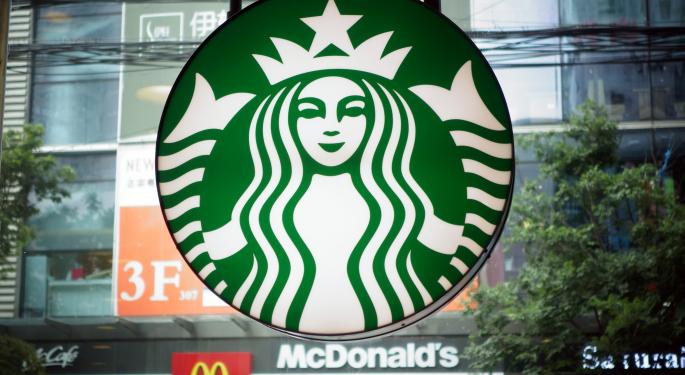 Starbucks Corporation (NASDAQ: SBUX) unveiled a new Halloween-themed drink this week called the "Franken Frappuccino."
According to a Starbucks employee on Reddit, the drink is an "officially sponsored secret menu drink," made up of a Green Tea Frappuccino mixed with white mocha, java chips and peppermint syrup.
Naturally, social media reacted.
Some users on Twitter were excited:
The Franken frappuccino is the best thing Starbucks has ever done pic.twitter.com/iW4aBagka4

— Caitlin McCarthy (@slaytlin) October 30, 2014
I will be going to @Starbucks today, to get my Franken Frappuccino for $3! pic.twitter.com/XiGdWtAQwz

— Sam Sumner (@samsumner) October 30, 2014
@mfloyd21 Okay, wait: Do you want me to pick up two of these for us today? http://t.co/99EtWt7Ta1 BECAUSE I TOTALLY WILL.

— Amber L. Carter (@amber_lcarter) October 30, 2014
Starbucks received quite a bit of free promotion:
Starbucks Celebrates #Halloween With A Franken Frappuccino "Secret" Drink #Starbucks http://t.co/qNHixaTR2z

— That's Nerdalicious (@T_Nerdalicious) October 30, 2014
Get ALL the deets on Starbucks' New, LIMITED-EDITION Halloween Frapp! http://t.co/Du62kpWqpz pic.twitter.com/VCOxoyiKG0

— Seventeen Magazine (@seventeenmag) October 29, 2014
Others were a bit miffed:
Ordered a Franken Frappuccino and held up the whole line in Starbucks. Lady didn't know how to ring it up. Whatever.

— Drip Drano (@MadBlackPoet) October 30, 2014
Yuck RT @Eater: Starbucks has a new "secret" drink: The Franken Frappuccino http://t.co/nKNXJduDKy pic.twitter.com/dKNwbE7z3g"

— Penny M (@CalliopeCo) October 28, 2014
And someone was just having fun:
@amber_lcarter No coffee in it? DON'T WASTE MY TIME STARBUCKS

— Melissa (@mfloyd21) October 30, 2014
View Comments and Join the Discussion!
Posted-In: social media curation Starbucks secret drinkCrowdsourcing General Best of Benzinga