Mixed Reactions To Tesla's 'D' Unveiling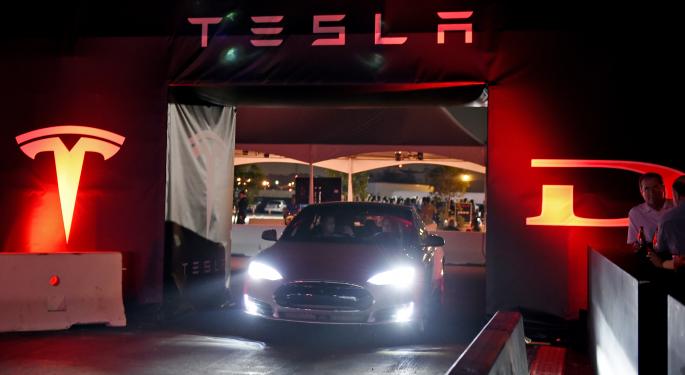 Days of speculation finally came to an end Thursday night after Tesla Motors Inc (NASDAQ: TSLA) CEO Elon Musk finally unveiled the mysterious "D."
It turns out, to the disappointment of some, that the D is an all-wheel drive version of the Model S that can go from 0 to 60 mph in 3.2 seconds and 275 miles on a single charge.
Related Link: Why Tesla Motors Inc Isn't A Car Company
Others had anticipated a driverless car, among other things. Naturally, Twitter was full of responses to the unveiling:
$TSLA down 7% on news that it's built the fastest car ever that also drives itself. Because logic.

— Mark Brooks (@TMFKnightly) October 10, 2014
If you bought $10K of $TSLA the day Romney called it a 'loser' you'd have $85K today — enough to buy a Tesla D

— Steven Dennis (@StevenTDennis) October 10, 2014
Some people weren't very excited by the new features:
I am not sure I want a car that reads speed limit signs and then goes that speed. #Tesla

— janewells (@janewells) October 10, 2014
Tesla d - Because there are so many daily situations where I need to go from zero to sixty in 3 seconds $tsla

— howardlindzon (@howardlindzon) October 10, 2014
What happens if and when the auto pilot on the Tesla malfunctions? Who will be blamed? How will the blame be proven?

— Balaji (@MrSandhubaadh) October 10, 2014
Others thought it was the greatest thing since sliced bread:
Say what you will about $TSLA, but they sure know how to dream big. http://t.co/YzRSKUPM2L

— Jim Cramer (@jimcramer) October 2, 2014
In the car, you feel 1G acceleration. It's unbelievable. Unlike anything I've ever felt in the car

— Chris Ciaccia (@Chris_Ciaccia) October 10, 2014
Here at the Tesla event...what Elon has just shown is the most revolutionary movement forward in cars ever. Simply incredible.

— George Zachary (@georgezachary) October 10, 2014
Tesla proved electric cars are viable alternatives to gas cars. Tesla proved electric cars are viable alternative to the fastest cars.

— ファビリセ (@fabricetdc) October 10, 2014
Some took the opportunity to make a few jokes:
Breaking: I've drafted a letter to @elonmusk... $TSLA pic.twitter.com/QkBUqFBuo4

— Jeff Macke (@JeffMacke) October 9, 2014
If Tesla has cameras that recognize speed limit signs, could they also spot cop cars and hit the brakes in time? Asking for a friend.

— Nick Bunkley (@nickbunkley) October 10, 2014
Ubering a Google self-driving Tesla D in the future is going to be great.

— Aaron Levie (@levie) October 10, 2014
View Comments and Join the Discussion!
Posted-In: Elon Musk social media curation TeslaCrowdsourcing Events Tech General Best of Benzinga