The Daily Biotech Pulse: Blueprint, Roche Ink $1.7B Cancer Drug Collaboration, INmune's Positive Alzheimer's Readout, Edwards, Abbott Settle Patent Lawsuits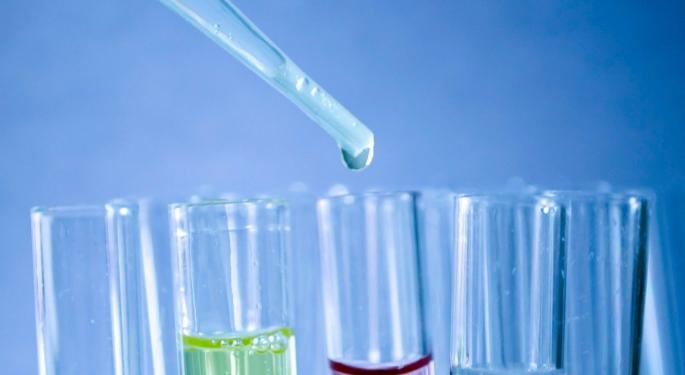 Here's a roundup of top developments in the biotech space over the last 24 hours:
Scaling The Peaks
(Biotech Stocks Hitting 52-week Highs July 13)
Altimmune Inc (NASDAQ: ALT) (announced positive preclinical data for its intranasal vaccine candidate AdCOVID)
argenx SE – ADR (NASDAQ: ARGX)
Axonics Modulation Technologies Inc (NASDAQ: AXNX) (reacted to preliminary second-quarter results)
Beigene Ltd (NASDAQ: BGNE) - announced $421 million in additional investment by Amgen, Inc. (NASDAQ: AMGN) in a $2.1-billion direct offering by the Chinese biotech
BioMarin Pharmaceutical Inc. (NASDAQ: BMRN)
Biondvax Pharmaceuticals Ltd – ADR (NASDAQ: BVXV)
Brainstorm Cell Therapeutics Inc (NASDAQ: BCLI)
Catalent Inc (NYSE: CTLT)
DexCom, Inc. (NASDAQ: DXCM)
Equillium Inc (NASDAQ: EQ (announced positive results for COVID-19 study of the drug it is co-developing with India's Biocon)
Fulgent Genetics Inc (NASDAQ: FLGT)
GENMAB A/S/S ADR (NASDAQ: GMAB)
Heat Biologics Inc (NASDAQ: HTBX)
Hologic, Inc. (NASDAQ: HOLX)
I-Mab ADR (NASDAQ: IMAB)
Inari Medical Inc (NASDAQ: NARI)
ITAMAR MED LTD/S ADR (NASDAQ: ITMR)
Meridian Bioscience, Inc. (NASDAQ: VIVO)
Novavax, Inc. (NASDAQ: NVAX)
Pacira Biosciences Inc (NASDAQ: PCRX) )
Quidel Corporation (NASDAQ: QDEL)
TFF Pharmaceuticals Inc (NASDAQ: TFF)
TIZIANA LF SCIE/S ADR (NASDAQ: TLSA)
West Pharmaceutical Services Inc. (NYSE: WST)
Down In The Dumps
(Biotech Stocks Hitting 52-week Lows July 13)
Stocks In Focus
Blueprint Out-Licenses Late-Stage Cancer Drug To Roche For Up To $1.7B
Blueprint Medicines Corp (NASDAQ: BPMC) and Roche Holdings AG Basel ADR Common Stock (OTC: RHHBY) announced a licensing agreement in which Blueprint will provide exclusive rights to Roche for global co-development and commercialization of pralsetinib outside the U.S., excluding Greater China. Prasetinib is Blueprint's investigational, once-daily oral precision therapy for the treatment of people with RET-altered non-small cell lung cancer, medullary thyroid cancer and other types of thyroid cancer, as well as other solid tumours.
The companies also said they plan to expand development of pralsetinib in multiple treatment settings and explore development of a next-generation RET inhibitor under the collaboration.
The agreement provides for Blueprint receiving an upfront cash payment of $675 million and a $100-million equity investment. In addition, Blueprint is eligible to receive up to $927 million in contingent development, regulatory and sales-based milestones, and royalties on net product sales outside the U.S.
In premarket trading Tuesday, Blueprint shares were jumping 9.59% to $84.
FDA Allows Expanded Access To Single Patient For Vanda's Gastroparesis Investigational Therapy
Vanda Pharmaceuticals Inc. (NASDAQ: VNDA) said the FDA has allowed a single patient in an Individual Patient Expanded Access protocol, enabling access to continued treatment with tradipitant for gastroparesis beyond the 12 weeks of a Phase 3 study in which he originally participated. The company said the treating physician had judged tradipitant was the only treatment that effectively managed the patient's gastroparesis symptoms.
The stock was up 11.8% premarket at $12.70.
Eisai, Biogen Begin Late-Stage Study Of Drug To Treat Preclinical Alzheimer's
The Alzheimer's Clinical Trials Consortium, along with Biogen Inc (NASDAQ: BIIB) and Eisai Co., Ltd (OTC: ESALY) said a new Phase 3 clinical study — dubbed AHEAD 3-45 — of BAN2401, an anti-amyloid beta protofibril antibody, has been initiated in the U.S. for individuals with preclinical Alzheimer's disease.
Such patients, according to the companies, are clinically normal and have intermediate or elevated levels of amyloid in their brains. BAN2401 is being studied in a pivotal Phase 3 clinical study in symptomatic early Alzheimer's disease.
The AHEAD 3-45 will be conducted in the U.S., Japan, Canada, Australia, Singapore and Europe, the companies said.
See also: The Week Ahead In Biotech: J&J Kickstarts Pharma Earnings, Repare Therapeutics IPO
Edwards Lifesciences, Abbott Settle Patent Heart Valve Repair Lawsuits
Edwards Lifesciences Corp (NYSE: EW) said it has reached an agreement with Abbott Laboratories (NYSE: ABT) to settle all outstanding patent disputes between the companies in cases related to transcatheter mitral and tricuspid repair products.
Although the companies said the settlement terms are confidential, Edwards Lifesciences said it will record a one-time settlement expense in the quarter ended June 30 and incur royalty expenses through May 2024.
Edwards shares were up 1.95% to $68.50 and Abbott was up 0.89% at $93.92 premarket.
Immunomedics, Roche Expand Cancer Drug Collaboration
Immunomedics, Inc. (NASDAQ: IMMU) announced an extension of its clinical collaboration with Roche to evaluate Trodelvy, the former's anti-Trop-2 antibody-drug-conjugate, in combination with Tecentriq, the latter's PD-L1-blocking checkpoint inhibitor, in patients with metastatic urothelial cancer and metastatic non-small cell lung cancer.
Immunomedics shares were up 2.08% at $40.80 at the time of publication.
INmune Reports Positive Early Readout For Alzheimer's Drug
INmune Bio Inc (NASDAQ: INMB) reported interim data from its Phase 1b clinical study of its lead drug XPro1595 in Alzheimer's disease, with the data demonstrating XPro1595 decreased neuroinflammation in patients with Alzheimer's disease.
XPro1595 decreased white matter free water, a biomarker of neuroinflammation measured by MRI, the company said.
"Not only do we see a clear reduction in neuroinflammation, but we also know where in the brain this is occurring, which may inform us on the domains of cognition that might be affected," said CJ Barnum, director of neuroscience at INmune.
The stock was jumping 65.54% premarket to $14.65.
Verrica's Viral Skin Infection Drug Rejected By FDA
Verrica Pharmaceuticals Inc (NASDAQ: VRCA) said the FDA issued a Complete Response Letter regarding the NDA for VP-102, its investigational, proprietary drug-device combination for the treatment of molluscum contagiosum.
The company said the CRL required additional chemistry, manufacturing and controls and human factors information, but did not raise any safety or efficacy issues.
The decision was expected, as the FDA had previously issued a letter noting deficiencies that precluded discussion of labeling and post-marketing requirements/commitments.
The stock was slipping 16.36% to $7.36 in premarket trading Tuesday.
VolitionRx Reports Positive Clinical Trial Results For Prognostic COVID-19 Test
VolitionRX Ltd (NYSE: VNRX) announced results from two proof-of-concept clinical studies using its Nu.Q assays, with the test showing correlation with more severe COVID-19 cases, implying strong prognostic potential.
The company said it is now focused on the completion of larger longitudinal studies that would be needed to support a potential COVID-19 product launch.
The stock was soaring 72.86% to $6.05 in premarket trading.
Galera Completes Patient Enrollment In Phase 1b/2a Pancreatic Cancer Study
Galera Therapeutics Inc (NASDAQ: GRTX) said it has completed patient enrollment in its pilot Phase 1b/2a safety and anti-cancer efficacy clinical trial of avasopasem manganese, codenamed GC4419, in combination with stereotactic body radiation therapy, in patients with locally advanced pancreatic cancer.
Offerings
Osmotica Pharmaceuticals PLC (NASDAQ: OSMT) announced the commencement of a proposed public offering of 5 million ordinary shares. All of the shares are being offered by the company.
The stock was falling 17.62% premarket to $6.36.
Altimmune said it intends to offer, subject to market and other conditions, shares of its common stock in an underwritten public offering and, to certain investors in lieu thereof, pre-funded warrants to purchase shares of its common stock. All of the securities in the offering will be sold by the company.
The stock was trading up 8% at $27 premarket Tuesday.
On The Radar
Adcom Meetings
The FDA's Oncologic Drugs Advisory Committee will discuss GlaxoSmithKline plc's (NYSE: GSK) biologic license application for belantamab mafodotin for the treatment of adults with relapsed or refractory multiple myeloma who have received at least four prior therapies including an anti-CD38 monoclonal antibody, a proteasome inhibitor, and an immunomodulatory agent. The drug linker technology for the product candidate was licensed from Seattle Genetics, Inc. (NASDAQ: SGEN).
Related Link: Attention Biotech Investors: Mark Your Calendar For These July PDUFA Dates
View Comments and Join the Discussion!
Posted-In: Biotech News Penny Stocks Offerings FDA Trading Ideas Best of Benzinga