The Daily Biotech Pulse: AbbVie Halts Lung Cancer Trial, Oncomed Merges With Mereo, Momenta Offering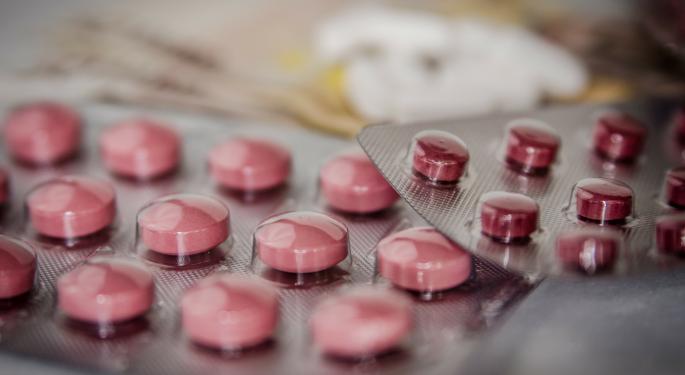 Here's a roundup of top developments in the biotech space over the past 48 hours.
Scaling The Peak
(Biotech stocks hitting 52-week highs on Dec. 4)
Down In The Dumps
(Biotech stocks hitting 52-week lows on Dec. 4)
Related Link: Attention Biotech Investors: Mark Your Calendar For These December PDUFA Dates
Stocks In Focus
AbbVie Shelves Small-Cell Lung Cancer Study
AbbVie Inc (NYSE: ABBV) has decided to stop enrolling patients for the TAHOE trial, a Phase 3 study that is evaluating its Rovalpituzumab Tesirine, or Rova-T, as a second-line therapy for advanced non-small cell lung cancer. The decision follows recommendation by an independent data monitoring committee, which found the overall survival to be shorter in the Rova-T arm relative to topotecan control arm.
AbbVie clarified that the halting is applicable only to the TAHOE study, and would not impact other Rova-T clinical trials.
Roche's New Single-agent Breast Cancer Drug Aces Late-stage Trial
Roche Holdings AG Basel ADR Common Stock (OTC: RHHBY) said the Phase 3 KATHERINE study that evaluated Kadcyla as a single agent for HER2-positive early breast cancer with residual disease after neoadjuvant treatment showed the pipeline candidate significantly reduced the risk of disease recurrence or death by 50 percent compared to Herceptin, thus meeting the primary endpoint.
"At three years, 88.3% of people treated with Kadcyla did not have their breast cancer return compared to 77.0% treated with Herceptin, an 11.3% improvement," the company said.
The results were presented at the San Antonia Breast Cancer Symposium and also simultaneously published in the New England Journal of Medicine.
Separately, Roche said the FDA has granted priority review for its Tecentriq in combination with chemotherapy for the initial treatment of extensive-stage small-cell lung cancer.
Supernus Reports Positive ADHD Late-stage Trial Results
Supernus Pharmaceuticals Inc (NASDAQ: SUPN) released positive top-line results for each its two Phase 3 studies of SPN-812 in patients 6-11 years old for treating attention deficit hyperactivity disorder, with both studies achieving the primary endpoint of robust statistical significance in improving symptoms of ADHD from baseline to end of study as measured by the ADHD Rating Scale-5.
The company said it will annouunce topline data from a late-stage study evaluating SPN-812 in adolescents by the end of Dec. 2018 and from a second study by the end of Q1 2019.
Supernus is targeting a regyulatory filing in 2019, and contingent on FDA approving its new drug application, it expects to launch the drug in 2020.
Oncomed to Merge With U.K.-based Rare Disease Drug Company Mereo
Oncomed announced a deal to merge with U.K.-based AIM-listed rare disease drug company Mereo BioPharma Group. The boards of both companies approved the transaction. The current Mereo shareholders will own 75 percent of the combined company, with OncoMed shareholders owning the remaining 25 percent stake.
Also, OncoMed shareholders will receive CVRs representing the right to receive future conditional cash payments and additional ADRs based on the achievement of certain milestones relating to OncoMed assets.
Momenta Pharma Announces $150 Million Common-stock Offering
Momenta Pharmaceuticals, Inc. (NASDAQ: MNTA) said it is commencing an underwritten registered public offering of $150 million worth of shares. All the shares in the offering are sold by Momenta.
Takeda Shareholders Approve Shire Buy
Japanese drug maker Takeda said its shareholders approved at an extraordinary general meeting its acquisition of Shire PLC (NASDAQ: SHPG).
On The Radar
Clinical Trial Results
OncoSec Medical Inc (NASDAQ: ONCS) will present Phase 1 data for its triple-negative breast cancer drug Tavo at the San Antonia Breast Cancer Symposium.
Sellas Life Sciences Group Inc (NASDAQ: SLS) is due to present further Phase 2b data on its NeuVax in combination with Roche Holdings AG Basel ADR Common Stock (OTC: RHHBY)'s Herceptin, being evaluated for single hormone receptor positive/double hormone receptor positive breast cancer.
View Comments and Join the Discussion!
Posted-In: Citron ResearchBiotech M&A News Offerings FDA Top Stories Trading Ideas Best of Benzinga