12 NYSE- And NASDAQ-Listed Stocks With Cannabis Exposure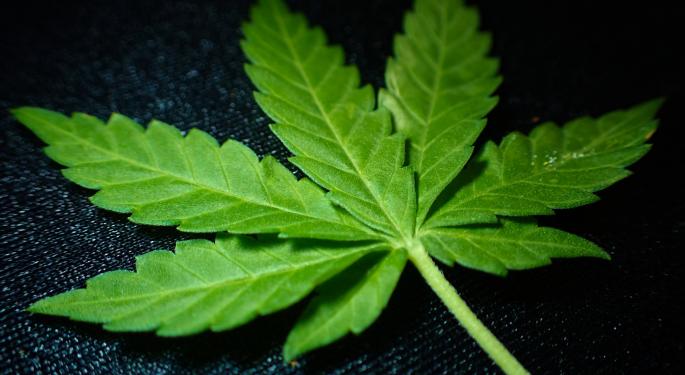 For investors who are seeking exposure to the cannabis industry but consider pure-play companies too risky, there are many other interesting investment opportunities.
Pharma and biotech companies have started to work with cannabis and its derivatives both natural and synthetic.
In many cases, cannabis represents only one of several drug pipelines that these companies have in their portfolios either as fully developed products or as candidates undergoing trials.
This story is a continuation of Benzinga's list of NYSE- and NASDAQ-listed cannabis companies and focuses on enterprises that have only partial exposure to the cannabis industry.
AbbVie Inc (NYSE: ABBV)
Market Cap: $122.3 billion
AbbVie is a large pharmaceutical company with a large portfolio of drugs. It has partial exposure to the cannabis industry through the drug Marinol, a synthetic form of tetrahydrocannabinol.
The drug is approved by the Food and Drug Administration as an antiemetic for chemotherapy patients and as an appetite stimulant for people with AIDS. Marinol represents only a small fraction of AbbVie's sales.
Arena Pharmaceuticals, Inc. (NASDAQ: ARNA)
Market Cap: $1.8 billion
Arena Pharmaceuticals is a biopharma with a part of its pipeline devoted to cannabinoids. Arena's APD371, or Olorinab, is a pain drug for Crohn's disease patients. It targets the CB2 receptor of the body's cannabinoid receptor system. In a Phase 1 study, APD371 showed promising results and has been moved to a Phase 2 study. The end goal is for APD371 to serve as an opioid replacement.
Cara Therapeutics Inc (NASDAQ: CARA)
Market Cap: $722.6 million
Cara Therapeutics is another biotech with ties to the cannabis industry. Cara's drugs are all in the clinical stage.
One of the drugs the company is developing, CR701, is a cannabinoid receptor agonist being studied as a treatment for neuropathic pain. Yet CR701 is still in the preparatory stage and is further behind compared to other pain drugs the company is developing.
Compass Diversified Holdings (NYSE: CODI)
Market Cap: $968 million
Compass Diversified Holdings owns a large portfolio of companies that it believes it can manage over the long run. What allows Compass Diversified Holdings to be classified as a cannabis stock is its majority-owned subsidiary Manitoba Harvest, a leading producer of branded hemp-based foods.
Intec Pharma Ltd (NASDAQ: NTEC)
Market Cap: $196 million
Intec Pharma is a clinical-stage biopharma with research centered around its Accordion Pill proprietary technology. Accordion Pill is an oral drug delivery system that uses efficient gastric retention and a specific release mechanism. Intec Pharma is studying the use of Accordion Pill technology to deliver CBD, THC or both for various indications, including back and neuropathic pain.
Insys Therapeutics Inc (NASDAQ: INSY)
Market Cap: $580.8 million
Insys Therapeutics is a bit of a controversial stock in the context of the cannabis industry. Similar to Cara Therapeutics and Arena Therapeutics, Insys has cannabinoid-based drugs in its pipeline.
One example is Syndros, which is based on a synthetic form of THC. Yet Insys has also come under fire for spending hundreds of thousands of dollars on efforts to block the legalization of marijuana.
In 2016, it donated $500,000 to an organization called Arizonans for Responsible Drug Policy. In addition, the company tried to convince the Drug Enforcement Agency to hold back from loosening restrictions on naturally derived THC and to loosen the restriction on synthetic versions of CBD.
Insys is conducting trials of a CBD oral solution for infantile spasms, a type of epilepsy which affects very young children.
Net Element Inc (NASDAQ: NETE)
Market Cap: $18.3 million
Net Element is a recent entrant in the cannabis industry. On Oct. 22, the tech company, which operates a payment-as-a-service platform for small and medium enterprises, announced the release of a payment processing solution for the legal marijuana industry.
The Unified Payment solution is aimed at simplifying transaction processes between cannabis merchants and consumers.
New Age Beverages Corp (NASDAQ: NBEV)
Market Cap: $183.8 million
New Age Beverages Corp. is engaged in development and marketing of beverages targeted at health-conscious consumers; the company has announced recently a line of CBD-infused drinks.
The product line was unveiled in October at the North American Convenience Store Show in Las Vegas. It includes CBD-infused relaxation teas, sparkling waters and CBD-infused shots, each containing 25 milligrams of full-spectrum CBD.
Marrone Bio Innovations Inc (NASDAQ: MBII)
Market Cap: $184.7 million
Marrone Bio Innovation is a producer of pest control and plant health products. One of its segments is focused on marijuana.
Marrone Bio Innovations' Regalia helps with prevention and control of powdery mildew. Two of its other products are Grandevo, which represents a strain of chromobacterium subtsugae; and Venerate, which is made from burkholderia bacteria and helps with mite control.
Psychemedics Corp. (NASDAQ: PMD)
Market Cap: $94.2 million
Psychemedics provides drug testing services. Its offerings includes a hair test that detects synthetic cannabinoids. In addition, it provides a five-panel drug test for cocaine, opioids, amphetamines, phencyclidine and marijuana.
Youngevity International Inc (NASDAQ: YGYI)
Market Cap: $153.8 million
Youngevity is a lifestyle company with a hybrid business model that includes direct selling, e-commerce and social selling. Its range of products covers health and nutrition, home and family, food and beverage, and spa and beauty, among others.
In August, Youngevity announced entering the cannabis industry with the launch of its Hemp FX product line, which included three hemp-derived cannabinoid products. In October, the Hemp FX line was expanded with two new products.
Scotts Miracle-Gro Co (NYSE: SMG)
Market Cap: $3.8 billion
Scotts Miracle-Gro is a leading provider of gardening products in the U.S., but for the last few years, the company has been focused on capturing market share in the cannabis space.
The company's Hawthorne Gardening subsidiary has acquired a number of hydroponics companies.
It paid $450 million for its latest acquisition, Sunlight Supply, which is the leading American hydroponics supplier. In August, Scotts Miracle-Gro teamed up with Canadian weed producer Flowr Corp to build a research facility to test Hawthorne's lights and fertilizers on cannabis.
Related Links:
What Is CBD — And How Can Investors Take Advantage Of It?
MJardin Group Expands North With Acquisition Of Canada-Based GrowForce
View Comments and Join the Discussion!
Posted-In: cannabinoid CBDBiotech Cannabis Health Care Top Stories Markets General Best of Benzinga