The Daily Biotech Pulse: Gilead's Q2, Syndax Breast Cancer Drug Setback, Synergy Pharma On Brink Of Default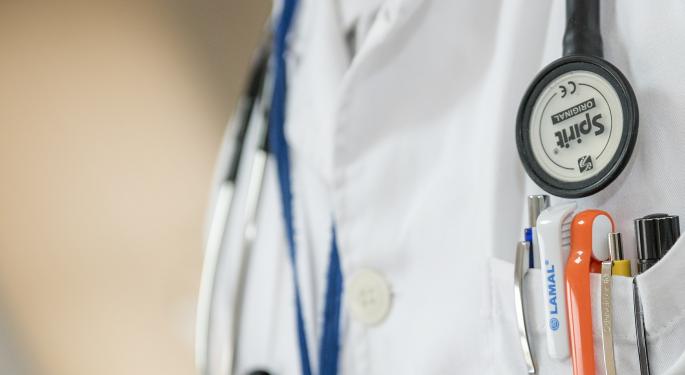 Here's a roundup of top developments in the biotech space over the last 24 hours.
Scaling The Peak
(Biotech stocks hitting 52-week highs on Oct. 26)
Down In The Dumps
(Biotech stocks hitting 52-week lows on Oct. 26)
Stocks In Focus
Syndax's Breast Cancer Trial Fails to Meet One of Primary Endpoint
Syndax Pharmaceuticals Inc (NASDAQ: SNDX) said its E2112 study that evaluated entinostat plus exemestane in hormone receptor positive, human epidermal growth factor receptive 2 negative breast cancer did not meet the first primary endpoint of improving progression-free survival. This, according to the company, would push backward regulatory filing.
The company said the trial will continue as planned until the overall survival, or OS, benefit -deemed to be another primary point, is observed or the final target number of events occur. The next interim analysis for OS primary endpoint is scheduled for Q2 2019.
The stock slumped 20.20 percent to $4.82 in after-hours trading.
European Commission Approves Label Update to Novartis' Cosentyx
Novartis AG (NYSE: NVS) announced the European Commission has approved a label update for its Cosentyx, its psoriatic arthritis treatment, to include dosing flexibility of up to 300 mg. This, according to the company, will provide clinicians with greater choice for their patients.
Biogen-Eisai's Alzhemier's Drug Candidate Shows Strong Efficacy at Highest Dose
Biogen Inc (NASDAQ: BIIB) and Japanese partner Eisai presented the latest data from the Phase 2 clinical study of BAN2401, an anti-amyloid beta protofibril antibody being tested for early Alzheimer's disease, which showed that the highest treatment dose demonstrated a statistically significant reduction in brain amyloid measured by positron emission tomography at 18 months. The dose also showed a statistically significant slowing of clinical decline on ADCOMS of 30 percent compared to placebo at 18 months.
The presentation was made at the 11th Clinical Trials on Alzheimer's Disease conference in Barcelona, Spain.
Fibrogen's Drug to Treat Anemia related to Chronic Kidney Disease Found Effective In Chinese Trial
FibroGen Inc (NASDAQ: FGEN) presented results of two Phase 3 studies of its Roxadustat for the treatment of anemia associated with chronic kidney disease conducted in China, which showed the pipeline candidate effectively corrected and maintained hemoglobin levels.
The data, presented at the American Society of Nephrology's Kidney Week 2018 meeting, is the basis of the company's NDA currently under review by the National Medical Products Administration.
The stock fell 2.91 percent to $46 in after-hours trading.
See Also: Neovasc Broadcasts Surgery With Mitral Valve Device Live At Medical Conference
Synergy Pharma Warns of Loan Default
Updating on its strategic review Synergy Pharmaceuticals Inc (NASDAQ: SGYP) said at this point of time, it does not believe it will obtain any offers that are significantly higher than those received to date. The company also said if its negotiation with its creditor for covenant relief fails, or if it fails to obtain any financing alternatives on commercially reasonable terms, it could default under the term loan agreement.
Also, the company said sales net sales for Trulance, its oral drug for treating chronic idiopathic constipation and irritable bowel syndrome with constipation, in 2018 could be $42 million to $47 million, below the minimum revenue covenant of $61 million set forth in its term loan agreement with its creditor.
The stock plummeted 71.22 percent to $0.40 in after-hours trading.
Earnings
Gilead Sciences, Inc. (NASDAQ: GILD) reported Q3 non-GAAP EPS of $1.84 on revenues of $5.60 billion. This compares to the year-ago numbers of $2.27 and $6.5 billion, respectively. Analysts, on average, estimated EPS of $1.63. The company slightly revised up its net product sales guidance for 2018.
BioMarin Pharmaceutical Inc. (NASDAQ: BMRN) reported 17 percent revenue growth to $391.7 million and a GAAP loss of 7 cents per share, flat with last year. On a non-GAAP basis, the company reported a profit of $60.7 million compared to $7.8 million a year ago.
The stock fell 1.12 percent to $95.39 in after-hours trading, Thursday.
Seattle Genetics, Inc. (NASDAQ: SGEN) reported Q3 revenues of $169.4 million compared to $135.3 million a year ago. The company reversed to a loss of 42 cents per share from a profit of 34 cents per share last year, with the loss attributable to a net investment loss of $23.8 million related to its common stock holdings in Immunomedics, Inc. (NASDAQ: IMMU).
Looking ahead, the company said it expects net product sales of $128 million to $133 million for Q4 and $473 million to $478 million for the full year.
The stock plunged 16.60 percent to $54.50 in after-hours trading, Thursday.
On The Radar
Clinical Trial Results
Regenxbio Inc (NASDAQ: RGNX) is due to present updated Phase 1 data for its wet age-related macular degeneration treatment candidate RGX-314 at the American Academy of Ophthalmology 2018 Meeting.
Regulus Therapeutics Inc (NASDAQ: RGLS) will make poster presentations on data from its ATHENA – a global natural history of disease study – for Alport syndrome at the American Society of Nephrology's Kidney Week 2018 meeting between 10 am and 12 pm.
View Comments and Join the Discussion!
Posted-In: Biotech News FDA Top Stories Trading Ideas Best of Benzinga