The Daily Biotech Pulse: Novartis Positive Liver Drug Trials, Krytstal Prices Offering, LogicBio To Debut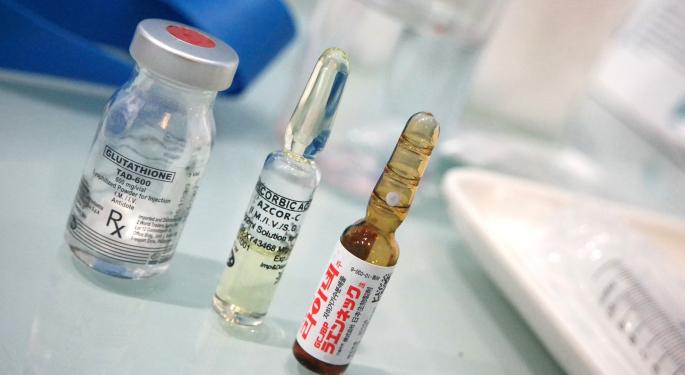 Here's a roundup of top developments in the biotech space over the last 24 hours.
Scaling the Peaks
(Biotech stocks hitting 52-week highs on Oct. 18)
Kezar Life Sciences Inc (NASDAQ: KZR)
Down In The Dumps
(Biotech stocks hitting 52-week lows on Oct. 18)
Stocks In Focus
Novartis To Present Positive Late-stage Trial Data For Liver Tumor Drug
Swiss drug giant Novartis announced it will present new data on Lutathera at the European Society of Medical Oncology 2018 Congress, showing significant improvement in progression-free survival, regardless of baseline liver tumor burden.
The study dubbed NETTER-1 showed that Lutathera brought about an 80 percent reduction in the estimated risk of tumor burden vs comparator, regardless of the baseline liver tumor burden.
Lutathera is an Advanced Accelerator Applications product, which was approved by the European Commission in Sept. 2017 and by the FDA in Jan. 2018.
Krystal Biotech Prices 3M Common Stock Offering
Krystal Biotech Inc (NASDAQ: KRYS) priced its previously announced common stock offering of 3 million shares at $20 per share. The company expects to generate gross proceeds of $60 million.
Shares fell 1.91 percent to $21 in after-hours trading.
Mylan Launches Generic Pregnancy-preventing Injection
Mylan NV (NASDAQ: MYL) said it launched in the U.S. Medroxyprogesterone Acetate injectable suspension USP, 150 mg/mL single-dose vial – a generic version of Pfizer Inc. (NYSE: PFE)'s Depo-Provera used for preventing pregnancy.
The stock fell 1.82 percent to $32.42 in after-hours trading.
Neon-Natera Collaborate In Cancer Vaccine Trial
Neon Therapeutics Inc (NASDAQ: NTGN) and Natera Inc (NASDAQ: NTRA) announced a research collaboration under which the latter's Signatera circulating tumor DNA assay will be used as a biomarker to assess treatment response to NEO-PV-01 in former's NT-002 clinical trial.
Neon's NT-002 trial is evaluating its cancer vaccine NEO-PV-01 in combination with Merck & Co., Inc. (NYSE: MRKP)'s Keytruda and a chemotherapy regimen of pemetrexed and carboplatin in untreated patients with advanced or metastatic non-squamous non-small cell lung cancer.
Neon Therapeutics rose 3.88 percent to $8.31 in after-hours trading.
On The Radar
Clinical Trial Results
Novartis is due to present Phase 3 data for Cosentyx for treating psoriatic arthritis at the 2018 American College of Rheumatology Annual Meeting between Oct. 19 and Oct. 24.
Deciphera Pharmaceuticals Inc (NASDAQ: DCPH) will present updated Phase 1 data for its gastrointestinal stromal tumor candidate DCC-2618 at the European Society For Medical Oncology 2018 Congress to be held in Munich, Germany.
IPO
LogicBio Therapeutics, a pre-clinical gene editing company developing therapies for rare diseases, priced its upsized offering of 7 million shares at $10, below the estimated price range of $12-$14. The company is to list its shares on the Nasdaq under the ticker symbol LOGC.
View Comments and Join the Discussion!
Posted-In: Biotech News Offerings IPOs Top Stories Trading Ideas Best of Benzinga