The Daily Biotech Pulse: Morphosys Expands Collaboration, Osiris Announces Product Launch, Argenx To Offer Shares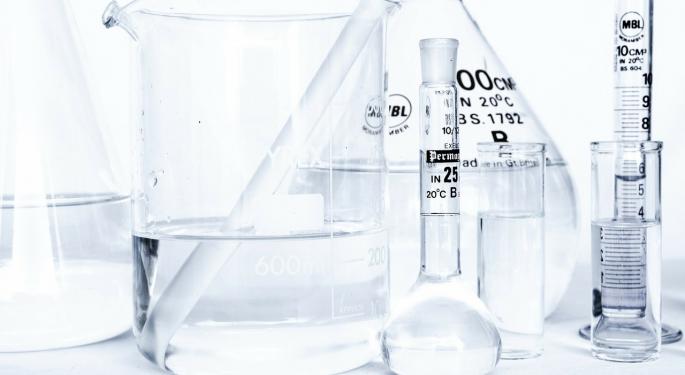 The following are top developments in the biotech space over the last 24 hours:
Scaling The Peaks
(Biotech stocks that hit 52-week highs on Sept. 17.)
Down In The Dumps
(Biotech stocks that hit 52-week lows on Sept. 17.)
Achaogen Inc (NASDAQ: AKAO)
Alkermes Plc (NASDAQ: ALKS)
Atossa Genetics Inc (NASDAQ: ATOS)
Avadel Pharmaceuticals PLC (ADR) (NASDAQ: AVDL)
Avenue Therapeutics Inc (NASDAQ: ATXI)
Edge Therapeutics Inc (NASDAQ: EDGE)
Exelixis, Inc. (NASDAQ: EXEL)
Genocea Biosciences Inc (NASDAQ: GNCA)
Insmed Incorporated (NASDAQ: INSM)
Neon Therapeutics Inc (NASDAQ: NTGN)
Neos Therapeutics Inc (NASDAQ: NEOS)
Neovasc Inc (NASDAQ: NVCN)
Paratek Pharmaceuticals Inc (NASDAQ: PRTK)
Radius Health Inc (NASDAQ: RDUS)
RXi Pharmaceuticals Corp (NASDAQ: RXII)
REALM THERAPEUTICS ADR (NASDAQ: RLM) (The company released an update stating that it has initiated a strategic review that may include the potential sale of the company.)
Titan Pharmaceuticals, Inc. (NASDAQ: TTNP)
Tonix Pharmaceuticals Holding Corp (NASDAQ: TNXP)
Vaccinex Inc (NASDAQ: VCNX)
Vital Therapies Inc (NASDAQ: VTL)
See also: New Class of Migraine Drug Creates Four-Way Pharma Development Race
Stocks In Focus
Morphosys, LEO Pharma Expand Existing Collaboration
MORPHOSYS AG/S ADR (NASDAQ: MOR) announced an expansion of an existing strategic alliance with LEO Pharma A/S on peptide-derived therapeutics for unmet medical needs,
The existing partnership agreement signed in November 2016 was forged to jointly discover and develop antibody-based therapies in dermatology.
The new agreement provides for LEO Pharma selecting targets after which Morphosys will identify lead molecules using its proprietary peptide technology platform. LEO Pharma will have exclusive worldwide rights and be responsible for development and commercialization of resulting drugs in dermatology, while Morphosys will have an exclusive option to secure worldwide rights to any oncology drugs arising from the collaboration.
"MorphoSys will receive R&D funding as well as success-based development, regulatory and commercial milestone payments, plus royalties on net sales of peptide drugs commercialized by LEO Pharma," the companies said.
Galapagos Closes US ADS Offering
GALAPAGOS NV/S ADR (NASDAQ: GLPG) announced the closing of its underwritten public offering of 2.96 million ADSs at $116.50 each to generate gross proceeds of 296.2 million euros. Consequent to the offering, the company said its share capital has increased, with the total share capital currently at 293.7 million euros and the number of securities conferring voting rights at 54,299,136.
The stock slipped 0.52 percent to $115.02 in after-hours trading Monday.
Osiris to Launch Wound Care Product Oct. 1
Osiris Therapeutics, Inc. (NASDAQ: OSIR) said its GrafixPL PRIME, a human placental membrane that can be stored at ambient temperatures, will be launch Oct. 1.
"GrafixPL PRIME is flexible and conforming and designed as a wound cover/barrier for application directly to hard-to-treat acute and chronic wounds, including but not limited to diabetic foot ulcers, venous leg ulcers and thermal burns," the company said.
Navidea Selected For NIH's Commercialization Accelerator Program
Navidea Biopharmaceuticals Inc (NYSE: NAVB) said it was selected for acceptance into the National Institutes of Health Commercialization Accelerator Program 2018-19, with the acceptance coming after the company completed a Small Business Innovation Research Fast Track grant from the NIH.
"CAP is designed to facilitate and accelerate the commercial success of SBIR-funded commercialization projects," the company said.
Navidea said it will participate in CAP for nine months beginning in October, when its rheumatoid arthritis imaging-related commercialization initiative will be given technical support by the program.
Separately, the company announced the closing of a $3-million private placement.
The penny stock rallied 21.88 percent to $0.22 in after-hours trading Monday.
Common Stock Offerings
Argenx SE – ADR (NASDAQ: ARGX) said it has commenced an underwritten U.S. public offering of $150 million of its ADSs, with each ADS representing the right to receive one ordinary share with a nominal value of 0.10 euros per share. All the shares earmarked for the offering are to be sold by Argenx.
The stock pulled back by about 3.52 percent to $90.50 in after-hours trading Monday.
G1 Therapeutics Inc (NASDAQ: GTHX) said it has commenced an underwritten public offering of 3 million shares of its common stock, with all the shares to be sold by the company.
Related Link: The Week Ahead In Biotech (Sept. 16-22): Conferences, PDUFA Dates, Clinical Trial Results And IPOs
Posted-In: Biotech News Offerings Trading Ideas Best of Benzinga
View Comments and Join the Discussion!