Intellia Confirms Crispr Risk Irrelevant To Its Program, With No Adjustments Needed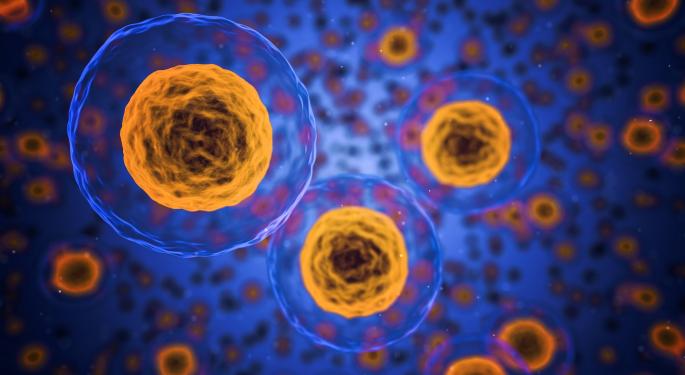 On Monday, Crispr Therapeutics AG (NASDAQ: CRSP) dragged down its community of clients, including Intellia Therapeutics Inc (NASDAQ: NTLA), after two scientific reports warned of a possible link between CRISPR-Cas9 applications and cancer.
Thomas Barnes, senior vice president of Intellia's innovative sciences, said the investor alarm was unwarranted.
As Barnes sees it, the findings have been "sensationalized."
Intellia: Reports Show Nothing New
Key nuances in the studies were overlooked, Barnes said.
"What these papers said, and this has been completely lost in the reporting, was some cells are very sensitive to double-strand breaks," Barnes told Benzinga. "Not all cells, some cells. When you are sensitive to a double-strand break, that might be induced by Crispr, but the clear implication is it might be induced by anything."
A third paper published concurrently with the Crispr results discussed the relationship between DNA damage and p53 in the context of RNAi activity.
The Crispr studies showed successful editing of the sensitive cell may naturally inspire cell death, and, if instructed not to die, the edited cell may do so by inactivating its p53 pathway, which predisposes it to cancerous mutations.
"But we already know that when we edit the cells we edit — they don't all die," Barnes said.
"That phenomenon is not actually taking place. So if you were a company that was working with cells of this type, cells that are notoriously difficult to edit in or do certain kinds of DNA repairing, then you should be careful, but the secondary point to that is, if you're working in these cell types, you already know that prolonged culture of those cells tends to accumulate mutations of exactly this type."
Barnes said Crispr editors already take precautions to ensure cells' karyotypes and genotypes are intact before therapeutic applications.
Intellia: Street Response Is Misguided
Considering these factors, it appears investors targeted the wrong Crispr affiliates.
As Barnes attests and STAT News confirmed, Intellia works with hematopoietic stem cells, T-cells and hepatocytes that aren't of the cell type sensitive to double-strand breaks. The firm has already moved beyond such risk questions through preclinical studies.
"It [the report] didn't flag a question which we should now address," Barnes said. "We're already beyond that point — not only us, I should say, but all the Crispr companies and indeed the other editing companies."
Intellia plans to stick to its strategic course.
"In a way, these papers essentially amounted to a cautionary tale of people doing certain kinds of experiments in vitro, Barnes said. "Be careful how you do it, because this phenomenon exists — but we already knew that phenomenon didn't exist in the cells we're working with, so that was my takeaway."
How To Trade Crispr Reports
Barnes first reacted to the reports not with worry, but with scientific skepticism. Previous studies that were ultimately found to be meaningless spooked investors twice in the last year.
"Every six months, basically some kind of giant-killer news comes out."
Crispr has become "famous" and "persuasive" and has built-in expectations, Barnes said: "What becomes 'news' is somebody basically saying, 'not so fast.'"
A 2017 article alerting to off-target effects was ultimately retracted, and the scientific community considered later concerns surrounding immunity to Cas9 to be solvable.
"In some ways the sensationalism around Crispr-cas is the world we live in, but I would say investors should begin to see a pattern here, every six months [that] some sort of announcement needs to come out — the sort of giant-killer type — and perhaps by now people should take a breath, pause and say, 'is this really what is being said right now?'"
Related Links:
3 Possible Outcomes From The Clinical Hold On Crispr Therapeutics's Sickle Cell Candidate
Posted-In: Thomas BarnesBiotech Health Care Top Stories Exclusives Interview General Best of Benzinga
View Comments and Join the Discussion!