Attention Biotech Investors: Mark Your Calendar For These April PDUFA Dates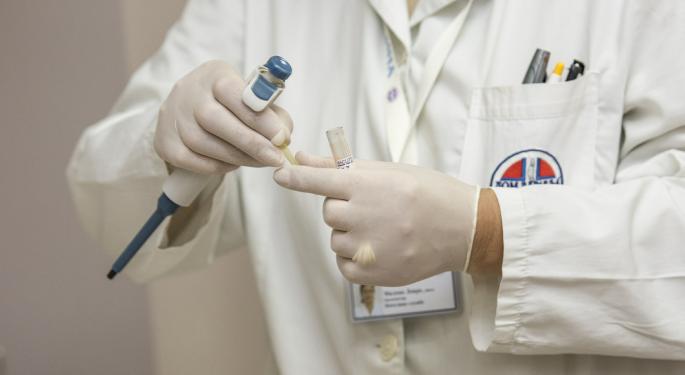 The biotech space wasn't immune to the broader market sell-off in March, although the degree of negativity was less pronounced among defensive biotech stocks. Rising demand for drugs, as the population ages, the prospects of the FDA expediting approval process as the Trump administration clamors for less stringent regulations, and the flight to safety into defensive sectors in the wake of market volatility are all working in favor of the biotech sector.
Here's a rundown on the PDUFA action dates scheduled for the month of April.
Merck Seeks Expanded Use For Its All-in-one Cancer Drug
Keytruda, Merck's immuno-oncology drug, a class of drugs which use the body's immune system to help detect and fight tumor cells, is indicated for several types of cancers such as melanoma, non-small cell lung cancer, or NSCLC, head and neck cancer, gastric cancer, urothelial cancer, classical Hodgkin lymphoma etc.
The mechanism of action is by blocking the interaction between PD-1 and its ligands, namely PD-L1 and PD-L2, which in turn activates T-lymphocytes.
The FDA accepted the sBLA, based on data from KEYNOTE-170 and the Phase 1b of the KEYNOTE-013 trial, which evaluated the safety, tolerability and efficacy of Keytruda monotherapy in various blood cancer, in December 2017.
Related Link: Goldman Sachs: Madrigal Pharma Has Blockbuster Potential In Liver, Cholesterol Treatments
Clovis Knocks The FDA Altar For Additional Indication For Ovarian Cancer Drug
The FDA accepted the sNDA in December 2017, granting it priority review status, following the submission of the application in October. Rubraca is already approved in the U.S. as a monotherapy for treating patients with deleterious BRCA mutations associated advanced ovarian cancer.
Will It Be Pain Or Gain For Pacira's Post-Surgical Pain Reliever?
Exparel is Pacira's lead drug, originally approved for single-dose infiltration into the surgical site to produce post-surgical analgesia. The company is awaiting an expansion in label to include administration via nerve block for prolonged regional analgesia.
Bristol-Myers' Opdivo-Yervoy Combo For Renal Cancer
The FDA accepted Bristol-Myers Squibb's sBLA for its Opdivo-Yervoy combo to treat intermediate- and poor-risk patients with advanced renal cell carcinoma in December. The agency had accorded the combo both breakthrough designation and priority review status.
ProMetic's Rare Pediatric Disease Therapy Up Before The FDA
Plasminogen, a naturally occurring protein synthesized by the liver, is important for wound healing, cell migration, tissue modelling and angiogenesis. Plasminogen deficiency is a rare congenital disease, in which the patients lack adequate plasminogen to degrade plasma proteins, and manifests as fibrinous lesions in various organs, mainly in the eyes.
The FDA had earlier granted Fast Track, Orphan Drug and Rare Pediatric Disease designations for Ryplazim.
Ultragenyx's Rare Pediatric Drug For Rickets
Burosumab, co-developed by Ultragenyx and its Japanese partner Kyowa Hakko Kirin, was earlier granted both breakthrough designation as well as priority review status. It was also designated as a drug for a rare pediatric disease.
X-Linked Hypophosphatemia is an inherited disorder, characterized by low phosphate levels in the blood due to the inability of the kidney to process phosphate. The disorder manifests in the form of rickets.
Rigel Seeks Approval For Drug Candidate To Treat Bleeding Disorder
Tavalisse was previously granted Orphan Drug designation for treating ITP – a disorder in which the immune system attacks the body's own platelets, which are responsible for blood clotting and healing.
FDA to Pronounce Verdict on Endometriosis Drug of AbbVie & Neurocrine Biosciences
Following the NDA filing in September, the FDA granted elagolix priority review on Oct. 27, rendering a PDUFA date of April 27.
Mallinckrodt Unit's Pediatric Constipation Drug At The FDA Altar
Mallinckrodt's Sucampo unit announced in early January that the FDA had notified an extension in the PDUFA goal date for Lubriprostone by three months following the submission of information related to a FDA request. The NDA, which was granted priority review status, was accepted for review in late September.
Amgen Awaits FDA Nod For Adding Overall Survival Results to Kyprolis Label
Based on overall survival data from the Phase 3 head-to-head ENDEAVOR trial that demonstrated that Kyprolis and dexamethasone reduced the risk of death by 21 percent and increased overall survival by 7.6 months compared to Velcade and dexamethasone, Amgen filed a sNDA to include the overall survival results in the label.
Kyprolis was approved in 2012 to treat relapsed or refractory multiple myeloma.
Novartis' Kymriah Up Before The FDA
Adcom Meeting Schedule
The Peripheral and Central Nervous System Drugs Advisory Committee of the FDA is set to meet on April 19 to discuss GW Pharmaceuticals PLC- ADR (NASDAQ: GWPH)'s Epidiolex - cannabidiol oral solution - for the adjunctive treatment of seizures associated with Lennox-Gastaut syndrome or Dravet syndrome in patients aged 2 years and older. The PDUFA action date for the candidate is set for June 27.
FDA's Arthritis Advisory Committee is set to meet on April 23 to discuss the NDA for the Eli Lilly and Co (NYSE: LLY)-Incyte Corporation (NASDAQ: INCY) combine's baricitinib tablets for treating adult patients with moderately to severely active rheumatoid arthritis, who have had an inadequate response or intolerance to methotrexate. The committee is set to deliberate on efficacy, safety, including the risk of thromboembolic adverse events, dose selection, and overall risk-benefit considerations.
Posted-In: Biotech News Health Care Previews FDA Top Stories Trading Ideas General Best of Benzinga
View Comments and Join the Discussion!