It's High Time For The Cannabis-Related Drug Pipeline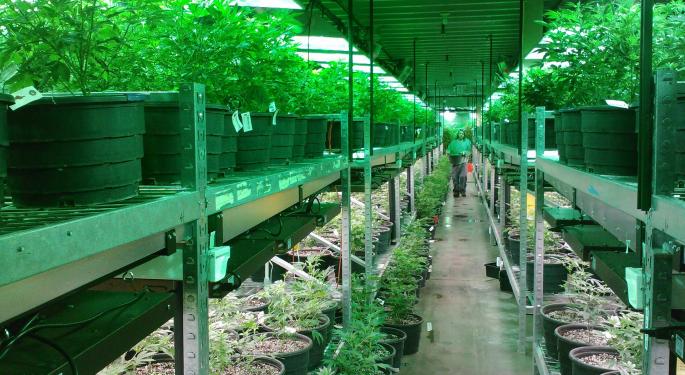 Zynerba Pharmaceuticals, Inc (NASDAQ: ZYNE) gave investors an update on its clinical program this week. Like weeds, specialty pharmaceutical companies have sprung up and engaged in developing commercially viable therapies based on cannabinoids, a primary compound found in cannabis.
In light of the impending results from Zynerba, below is a list of prominent cannabinoid product platforms in the clinical stage.
Zynerba
Zynerba expects top-line results from two trials in August. The STAR-1 trial, exploring its ZYN002 treatment for adult epilepsy, should see results released "soon" according to a press release, with data from its Phase 2 STOP trial in adult osteoarthritis due by month-end.
In addition, Phase 2 data is expected in September from a Phase 2 FAB-C trial of ZYN002 in Fragile X Syndrome in September of this year.
Update, August 7: Zynerba Phase 2 STAR 1 Trial of ZYN002 did not meet primary endpoint.
GW Pharma
GW Pharmaceuticals (NASDAQ: GWPH)'s lead product candidate is Epidiolex, a liquid cannabidiol being investigated in several indications such as Dravet Syndrome and Lennox-Gastaut Syndrome, the two conditions for which it expects to submit a New Drug Application with the Food and Drug Administration mid-2017.
European Union regulatory submission is expected for these indications as well as infantile spasms in the second half of 2017.
In epilepsy, GW Pharma expects Phase 2 data for its CBDV compound to be released by the end of this year.
Corbus Pharma
With Resunab, a endocannabinoid-mimetic drug, Corbus Pharmaceuticals Holdings (NASDAQ: CRBP) is looking forward to Phase 2 results in a dermatomyositis trial in the fourth quarter of 2017.
In systemic sclerosis, Corbus has an ongoing open-label extension to its Phase 2 study with data due by year-end, with a Phase 3 study expected to begin within that same time frame.
Insys Therapeutics
One of the only fairly well-known of the cannabinoid companies, Insys Therapeutics Inc (NASDAQ: INSY) is perhaps seeking to eschew the type of controversy its courted in the past with its synthetic opioid dispensing system - Subsys - by harnessing that technology to deliver cannabidiol.
The U.S. Department of Justice early this year announced it was bringing actions against the company for unfair marketing practices of Subsys.
Now, according to MedCity News, Insys hopes to use this "sublingual spray" tech to eventually compete with GW Pharma in the markets for Dravet and Lennox-Gastaut Syndromes, respectively.
With marijuana's regulatory status somewhat in limbo, it remains to be seen whether such a move will do much to burnish the company's reputation.
Cara Therapeutics
Honorable mention goes to Cara Therapeutics Inc (NASDAQ: CARA), which is developing its CR701 as an alternative to opioids, which have made news lately as America grapples with increasing levels of opioid addiction.
See Also:
States Are Firing Back At Opioid Drug Producers
How Marijuana Can Help Treat Addictions To Opioids, Other RX Drugs And Alcohol
Posted-In: Biotech Cannabis News Health Care Previews Events Top Stories Trading Ideas Best of Benzinga
View Comments and Join the Discussion!