Earnings Preview: Pharma Giant Pfizer Reports Q2 Results Tomorrow Morning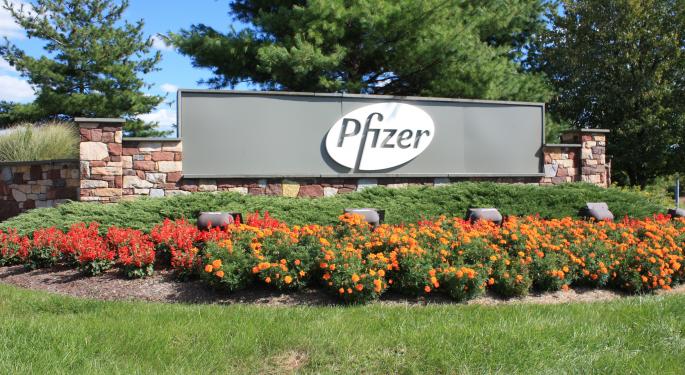 Pharmaceutical company Pfizer Inc. (NYSE: PFE) reports second-quarter earnings on Tuesday, August 1 at 10:00AM ET. For most major pharma companies, analysts and investors appear to be generally focused on the company's current drug portfolio and the pipeline.
Pfizer breaks its revenue down into two segments: Innovative Health and Essential Health. The company has a large product portfolio and some of its core drug franchises in its Innovative Health division include Prevnar 13, Ibrance, Eliquis, Lyrica, Xeljanz, and Xtandi. In the first quarter, the company reported revenue in its Innovative Health segment increased 5% year over year to $7.42 billion, while revenue in its Essential Health Segment declined 10% to $5.36 billion.
Depending on the drug, revenue and earnings can be impacted by competing treatments, reimbursement rates, and other factors. And eventually, drugs' patents will expire, which Pfizer management has pointed out will occur with Viagra in the U.S. later this year, and Lyrica at the end of 2018, resulting in a drop-off in revenue once those events occur. Since treatments eventually lose their exclusivity, companies have said they are continually looking to develop their pipelines.
Looking at Pfizer's pipeline, with its first-quarter results the company reported that it had 96 compounds at various stages of development—36 in Phase 1, 17 in Phase 2, 32 in Phase 3 and 11 are in the registration process awaiting regulatory approval. The compounds in development address a wide range of conditions, but there's always a degree of uncertainty as to which drugs will make it through the approval process.
In addition to its own research and development, Pfizer has added compounds to that pipeline through acquisitions over the years. It acquired Anacor Pharmaceuticals for $5.2 billion in June 2016, and Medivation for $14 billion in September 2016. Medivation's primary drug is Xtandi, which is co-promoted with Astellas Pharma, and generated $2.3 billion in sales in 2016, according to CFRA analysts.
In addition to acquisitions, Pfizer has also continued to use its cash to return capital to shareholders through share buybacks and dividends. The company reported it had repurchased $5 billion common stock in February 2017 as part of an accelerated share repurchase agreement, and still has a repurchase authorization of approximately $6.4 billion remaining as of May 2.
Turning to dividends, the stock currently offers a $0.32 quarterly payment, providing a dividend yield of about 3.8%.But you can never count on dividends and as Pfizer has shown in the past, it can be cut quickly depending on the circumstances. In 2009, management announced it would slash the dividend in half to help finance its $68 billion acquisition of Wyeth. It was only a few quarters ago that dividend increases brought it back to the same level it was at before the 2009 cut.
Aside from share repurchases and dividends, Pfizer's management has been keeping an eye on Washington and potential tax reform. Last quarter, CEO Ian Read said "we are closely monitoring the evolving political landscape and uncertainty coming out of Washington and are keenly aware that tax reform may open up additional avenues of capital deployment." Like many multinational corporations, Pfizer has a large amount of cash held overseas on its balance sheet.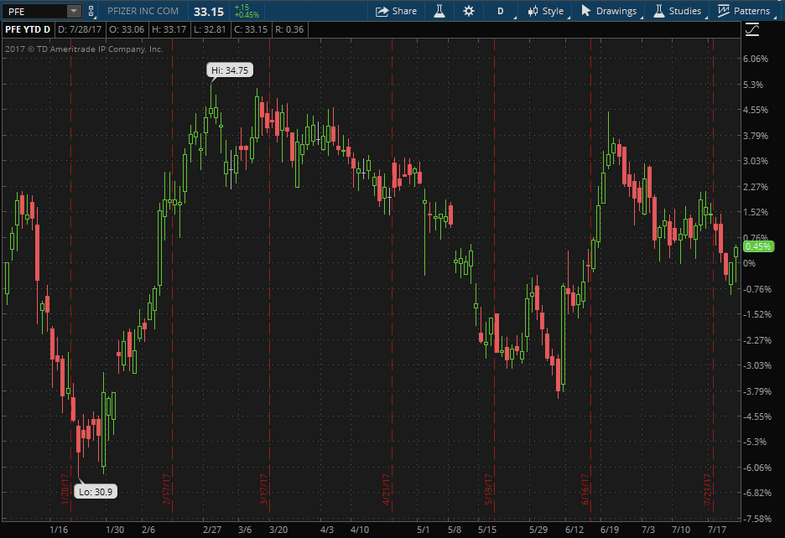 FIGURE 1: FLAT ON THE YEAR. Since February, Pfizer's (PFE) stock has been trading between a range of about $31.50 and $34.50, and is pretty much flat on the year with a 0.45% year-to-date increase. Chart source: thinkorswim® by TD Ameritrade. Data source: Standard & Poor's. Not a recommendation. For illustrative purposes only. Past performance does not guarantee future results.
Pfizer Earnings and Trading Activity
For the second quarter, Pfizer is expected to report earnings of $0.65 per share, up slightly from $0.64 in Q2 2016, on revenue of $13.02 billion, according to Wall Street analyst estimates. Revenue is projected to decline 1% from $13.15 billion in the year-ago period.
Pfizer management has cautioned that revenue is expected to be negatively impacted by the divestiture of Hospira Infusion Systems, which Pfizer sold in February 2017, as well as the negative impact of foreign exchange. In the past four quarters, the company has had a mixed performance, beating earnings and revenue estimates in two of them, and missing estimates in the other two.
Pfizer's stock has been rangebound since February, trading between roughly $31.50 and $34.50. With the stock closing at $33.15 on Friday, it's up 0.45% year to date compared to a 9.49% increase in the S&P 500 (SPX).
Options traders have priced in about a 2.3% potential share price move in either direction around Pfizer's upcoming earnings release, according to the Market Maker Move indicator on the thinkorswim® platform. In short-term trading at the August 4 expiration, calls have been active at the 33 and 33.5 strike prices while puts have been active at the 33 strike. As of this morning, the implied volatility sits at the 26th percentile.
Note: Call options represent the right, but not the obligation, to buy the underlying security at a predetermined price over a set period of time. Put options represent the right, but not the obligation to sell the underlying security at a predetermined price over a set period of time.
Looking Ahead
Among the big earnings event this week is Apple Inc (NASDAQ: AAPL) reporting second-quarter results after the closing bell tomorrow. On top of that, we'll also see results from Tesla Inc (NASDAQ: TSLA) as it starts rolling out its new Model 3.
_____
Image used under Creative Commons License
Attribution: Montgomery County Planning Commission
Posted-In: Biotech Earnings News Previews Options Markets Trading Ideas General
View Comments and Join the Discussion!