On, Wisconsin: University Wins Half Billion In iPhone Patent Suit, Another Sign Schools Are Research Cash Cows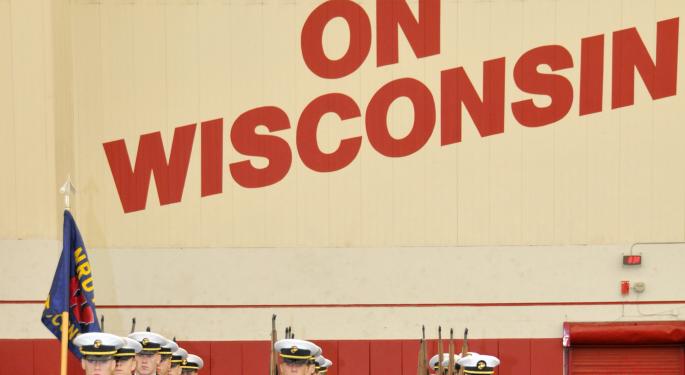 In another sign that universities mine vast fortunes from their research, a federal judge has ordered Apple Inc. (NASDAQ: AAPL) to pay the University of Wisconsin $506 million for infringing on a patent related to iPhone tech.
U.S. District Judge William Conley in Madison added $272 million to a $234 million jury verdict the Wisconsin Alumni Research Foundation won against Apple in October 2015. Conley said the school is owed additional damages because Apple continued to infringe on the patent until it expired in December 2016.
Apple is appealing Conley's ruling, Reuters reported. It said that University of Wisconsin computer science professor Gurindar Sohi and three of his students obtained the patent in 1998.
Apple Allegedly Poached A Special Circuit
The school sued Apple in 2014, alleging that the processors found in some versions of the iPhone infringe on a patent for a circuit that improves processor speed by predicting what instructions a user will give the system.
Apple denied any infringement during a 2015 jury trial, and the tech giant asked the U.S. Patent and Trademark Office to review the patent's validity. The agency rejected Apple's bid.
WARF brought a separate lawsuit against Apple in 2015, alleging chips in later versions of the iPhone infringe the same patent. Conley said he would not rule in that case until Apple has had an opportunity to appeal the 2015 jury verdict.
It's a little-known fact that many research institutions profit enormously from the patents that their professors and students come up with in the lab. Turning research to Lotto winnings began in 1980 when Congress passed the Bayh-Dole Act.
Some examples:
Stanford University
In 1972, Stanley Cohen, an associate professor of medicine at Stanford University, met Herbert Boyer, a biochemist at the University of California, at a conference and became interested in each other's work. The result was recombinant DNA. They patented the essential beginnings of genetic engineering in 1980 and the two schools pocketed $255 million in licensing revenues during the 25-year life of the program.
In fiscal year 2015-16 alone, Stanford received $94.22 million in gross royalty revenue from 779 technologies.
Stevens Institute Of Technology
The school, named for Colonel John Stevens III, the founder of the U.S. Patent and Trademark Office, makes tens of millions of dollars annually off its tech patents. Last September, it partnered with Accenture Plc (NYSE: ACN) to patent a key component in the incredibly hot sector of blockchain technology.
The Hoboken, New Jersey-based Stevens has patents in robotics, defense, fintech and even a steering wheel that can sense if you're having a heart attack. Stevens even trademarks its education process–called "Technogenesis"–in which students and professors work on research and commercialization simultaneously.
New York University
NYU consistently ranks at the top of licensing revenues among all U.S. research schools. It's made hundreds of millions of dollars alone on Remicade, a rheumatoid arthritis drug developed along with Johnson & Johnson (NYSE: JNJ).
University of Pennsylvania
Not all schools win a patent case. Earlier this month, the Patent Trial and Appeal Board ruled against Penn's patent claim on a tumor treatment Thursday, handing a win to Eli Lilly and Co (NYSE: LLY), which faced allegations that its cancer drug Erbitux infringed the patent.
Related Link: Nano One File Lithium Iron Phosphate Patent
_______
Image Credit: By Scott A. Thornbloom - http://www.defenseimagery.mil/imageRetrieve.action?guid=5670fe3bd8b90b5f792cda6287ca6b40321d617d&t=2, Public Domain, via Wikimedia Commons
Posted-In: AppleBiotech News Education Entrepreneurship Legal Tech General Best of Benzinga
View Comments and Join the Discussion!