Why Is AstraZeneca Sinking Today?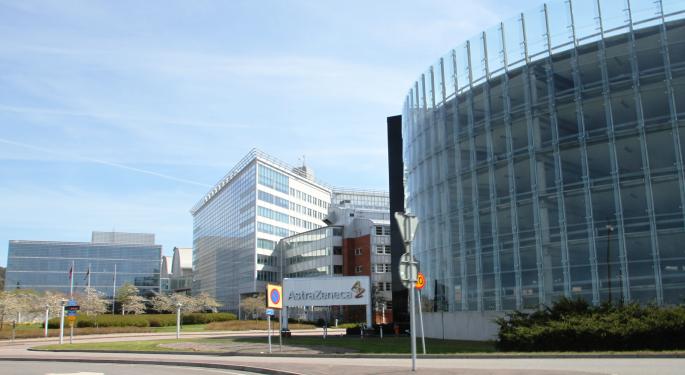 AstraZeneca plc (ADR) (NYSE: AZN) shares were down sharply in pre-market trading amid multiple news flow concerning the U.K.-based pharma giant. The strong reaction reflects investor pessimism over the company's long-term goal of doubling its revenues by 2023, established amid the company's attempt to ward off a takeover threat from Pfizer Inc. (NYSE: PFE) in 2014.
AstraZeneca along with its global biologics R&D research arm MedImmune announced that their immune-oncology combo-treatment for non-small cell lung cancer, or NSCLC, did not meet the primary endpoint in a late-stage study.
The trial dubbed MYSTIC evaluated Imfinzi (durvalumab) monotherapy or Imfinzi in combination with tremelimumba for treating previously untreated patients with metastatic Stage-1V, first-line NSCLC. The combo was compared with the platinum-based standard of-care chemotherapy.
The companies said the combo did not meet the primary end point of improving progression free survival, or PFS, compared to chemotherapy in patients whose tumors express PD-L1 on 25 percent or more of their cancer cells.
See also: Analyst Prescribes Neutral Rating For Pfizer Shares
The failed study is a major setback for the company's efforts to pose a potent threat to established players in the NSCLC space such as Merck & Co., Inc. (NYSE: MRK) and Bristol-Myers Squibb Co (NYSE: BMY).
"As a secondary endpoint, although not formally tested, Imfinzi monotherapy would not have met a pre-specified threshold of PFS benefit over SoC in this disease setting," the companies added.
Meanwhile, AstraZeneca said the trial will continue to assess two additional primary endpoints of overall survival for Imfinzi monotherapy as well as the combo.
Final overall survival data is expected during the first half of 2018.
AstraZeneca also stated that it had recently received accelerated approval for Imfinzi in previously-treated patients with locally advanced or metastatic urothelial carcinoma.
Meanwhile, separately, AstraZeneca announced that a late-stage study dubbed FLAURA that evaluated Tagrisso compared to the current first-line standard of care treatment, namely erlotinib or gefitinib, showed statistically significant and clinically-meaningful PFS benefit. The treatment option was evaluated in previously-untreated patients with locally-advanced or metastatic epidermal growth factor receptor mutation-positive, or EGFRm, NSCLC.
AstraZeneca also announced financial results for the first-half, with second quarter earnings and revenues topping expectations. This is despite the company's drug sales falling, as it is yet to recover from the loss of patent for its blockbuster cholesterol drug Crestor.
At time of publication, shares of AstraZeneca were down 15.41 percent at $28.71 in Thursday's pre-market session.
______
Image Credit: By Bjoertvedt - Own work, CC BY-SA 4.0, via Wikimedia Commons
Posted-In: Biotech Earnings News FDA Movers Trading Ideas General Best of Benzinga
View Comments and Join the Discussion!