8 Of The Biggest Biotech Announcements Out Of The 2016 ASH Meeting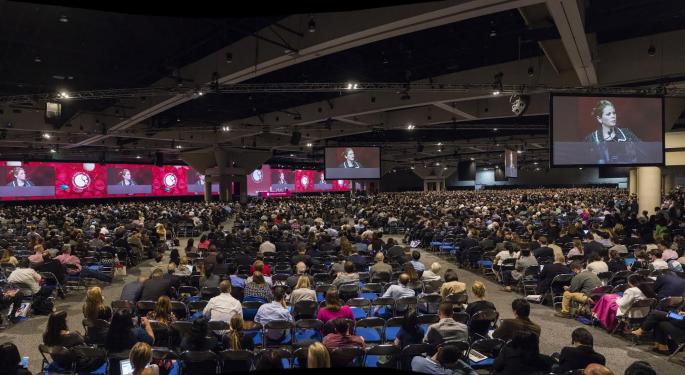 The American Society of Hematology, a 58-year-old organization of hematologists, wraps up its annual meeting in San Diego Tuesday.
The conference is key for investors; it features many of the biggest names in the pharmaceutical and biotech industries and serves as a platform to announce new drugs, clinical trial results and initiatives for the future. ASH 2016 was the biggest meeting ever and is the largest hematology meeting in the world, with over 27,000 in attendance this week.
"Many investigators choose to unveil their important results at our meeting. This is really a forum for the data to be publicly presented. It is the first time a lot of the details of trials are presented," Stephanie Lee, secretary of the American Society of Hematology, told Benzinga.
"There are a lot of new things going on in all of hematology. Everyone is interested in immunotherapy, and we are seeing a lot of interest, because we are seeing progress in hematology advances," added Lee.
Notable BZ Pro Headlines From The 4-Day Event
Abbvie presented encouraging results on its cancer drug IMBRUVICA
in patients with relapsed/refractory (R/R) marginal zone lymphoma (MZL). Data from a phase II study showed that 79 percent of patients experienced some tumor reduction and overall response rates were at 48 percent. IMBRUVICA is currently approved to treat patients with chronic lymphocytic leukemia (CLL)/small lymphocytic lymphoma including patients with 17p deletion; patients with mantle cell lymphoma (MCL) who have received at least one prior therapy; and patients with Waldenström's macroglobulinemia (WM).
"Results from the Phase 1/2 study of ALXN1210 presented at ASH continue to support earlier findings that this highly innovative molecule has the potential to offer rapid, complete, and sustained complement inhibition for patients suffering from the devastating effects of PNH. We are now focused on enrolling patients with PNH and aHUS in our Phase 3 registration programs to evaluate ALXN1210 administered every eight weeks," said Martin Mackay, Ph.D., executive vice president and global head of R&D at Alexion.
"We have made significant progress with our BPX-501 program since initiating the BP-004 clinical trial in children two years ago. To date, we have treated more than 100 patients in Europe and the U.S. Results thus far have been impressive — including GvHD- and disease-free outcomes in children with a range of blood cancers and genetic diseases," said Bellicum CEO Tom Farrell.
"We believe the enduring responses seen in this study - in the patients with TDT as well as the patient with SCD — demonstrate the continued promise of LentiGlobin gene therapy in both of these patient populations," said David Davidson, M.D., chief medical officer of bluebird bio.
"[The study] not only offers hope for the potential of LentiGlobin to benefit other patients with SCD, but also provides important insights into this complex disease that we are applying to our ongoing HGB-206 study," he added.
Bluebird bio has been having a very good week from a stock perspective; shares have gained over 21 percent in the last five days.
Celgene announced results from three phase I/II studies evaluating CC-486 in patients with myelodysplastic syndromes (MDS), chronic myelomonocytic leukemia (CMML) and myeloid leukemia (AML) who had received prior hypomethylating agents (HMA).
"The results of this analysis suggest that prior HMA exposure does not preclude future response to CC-486," said Guillermo Garcia-Manero, M.D., chief, section of myelodysplastic syndromes at MD Anderson Cancer Center. " As we look toward new options for patients with MDS, CMML and AML, this oral epigenetic therapy deserves further evaluation," he said.
"Patients have long been in need of a new therapy for treatment of SCPC, the most common and debilitating complication of sickle cell disease," said Bruno Strigini, CEO of Novartis Oncology.
"We are pleased that data from the SUSTAIN study show SEG101 may have the potential to become the first new option for patients dealing with SCPC since hydroxyurea was approved for use in sickle cell anemia about 20 years ago."
"Acute myeloid leukemia is a rapidly progressing blood cancer for which new treatment options are needed," said Mace Rothenberg, M.D., chief development officer, oncology, Pfizer global product development. "Pfizer is excited about the promising data seen in AML patients treated with glasdegib and is working to explore further opportunities to evaluate glasdegib in the treatment of this disease."
"The ALCANZA clinical trial represents the fourth consecutive registrational trial with a positive outcome for ADCETRIS, which we are evaluating broadly as the foundation of care for CD30-expressing lymphomas. Based on the results of this trial, the FDA has granted Breakthrough Therapy Designation and we plan to submit a supplemental Biologics License Application in the first half of 2017 for approval in this setting," Jonathan Drachman, M.D., chief medical officer and executive vice president, research and development of Seattle Genetics.
"The ASH conference is the beginning of the debate about where novel approaches and new agents should fit into our treatment algorithms," concluded Lee.
Image Credit: Used with permission.
Editor Note: Changes were made to the AbbVie entry following correspondence.
View Comments and Join the Discussion!
Posted-In: Biotech News Health Care Events Movers Trading Ideas Interview General Best of Benzinga