Heat Biologics CEO Interview Abuzz With Zika Developments: Collaboration, Vaccine And Other Initiatives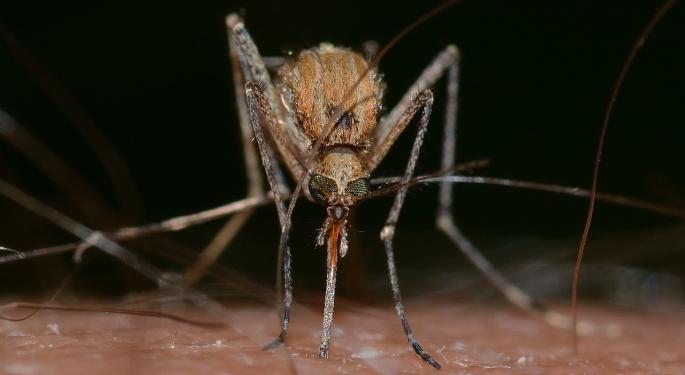 Last Tuesday, Heat Biologics Inc (NASDAQ: HTBX) announced its collaboration with the University of Miami to research a Zika virus vaccine. The research will implement the existing gp96 platform.
Essentially, gp96 is a molecule present in all human cells, which interacts with proteins to trigger an immune response, explained Heat Biologics CEO Jeff Wolf.
"There was a lot of work done at Sloan Kettering in the 1990s to characterize this protein, gp96, and to outline its importance to the immune cascade," said Wolf, "Gp96 is really the primary activator of T-cells yet discovered."
Heat Biologics and the University of Miami formulated the idea to create a cell that constantly pumps gp96 in order to activate cells against infectious disease, according to Wolf.
"In the case of Heat Biologics, we focus on activating T-cells against cancer," said Wolf. "The cells continually pump out gp96 to active immune response against antigens contained by the patient's cancer cells. So that's one of the products we have been pursuing."
Heat Biologics recently completed two stage II trials of its gp96 platform against lung cancer and bladder cancer and will report the results of both in this quarter, said Wolf.
Subsidiary Zolovax's primarily researches gp96 implementations into the treatment of infectious disease. Zolovax is currently developing gp96-based vaccines for targeting HIV, West Nile, dengue, yellow fever and now Zika.
"We actually have quite a bit of data to show that this approach works well, and so we've received grants from the National Institute of Health (NIH) and also grants from the U.S. military to research the development of vaccines against HIV and malaria," said Wolf. "In most of those cases, what we're seeing is that we're providing great vaccine-type protection utilizing this gp96 approach."
The main public health risk posed by Zika presents itself in pregnant women, causing microcephaly and other birth defects.
"It would be a vaccine taken by the mother to offer fetal protection to prevent the virus transmission from the mother to the fetus," explained Wolf of the gp96 vaccine.
Natasa Strbo, M.D., D.Sc., a reproductive immunologist focused on the immune system's interaction with the placenta, will be leading up the study, according to a press release.
"Current approaches against Zika have not been shown to protect the placenta or transmission of Zika to the fetus," Strbo was quoted as saying. "In NIH-funded studies, a gp96-based vaccine effectively protected primates from acquiring the SIV (primate equivalent of HIV) virus and induced T-cells to infiltrate cancer tumors after human vaccination."
View Comments and Join the Discussion!
Posted-In: gp96 Jeff Wolf microcephalyBiotech Health Care Top Stories Interview General Best of Benzinga