Importance Of Phase 2 Trials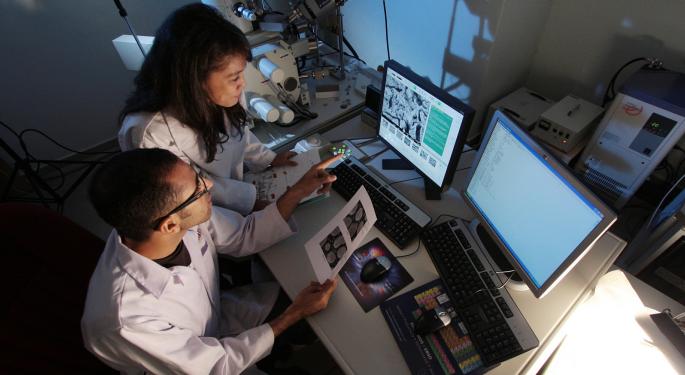 Healthcare and pharmaceutical companies begin evaluating a drug they wish to sell to the public through a series of clinical trials.
A Phase I trial consists of a company testing its drug or therapy on a small group of 20 to 100 healthy volunteers. Chiara Russo, a stock analyst for Cantor Fitzgerald described the first phase as being on a "first date" and to make sure there are no serious side effects before moving on to the next stage.
Related Link: Importance Of Phase 1 Trials
A Phase II trial is performed on a large group of people, typically in the range of 100 to 300. The objective of this phase is to assess how well the drug in question works and continue gathering safety assessments.
A Phase II trial could be split into two. A Phase IIA trial intends to evaluate dosing requirements, or how much of the drug should be given to a patient.
A Phase IIB trial closely looks at how well the drug performs at the prescribed dose.
According to Russo, the average investor typically doesn't place much emphasis on Phase II data. She said that it is more important how a company translates the Phase I data to Phase II. The design and endpoint goals of a Phase II trial is also important to follow.
Sage Pharmaceutical Reports A Phase II Study Achieved Its Objectives
SAGE Therapeutics Inc (NASDAQ: SAGE), a bio-pharmaceutical company that develops medicines to treat central nervous system disorders, reported on July 12 that a Phase II clinical study of its SAGE-547 therapy achieved its primary endpoint for the treatment of severe postpartum depression.
Related Link: Sage's Phase 2 Clinical Trial Of SAGE-547 Achieves Primary Endpoint In Severe Postpartum Depression
SAGE-547 is an allosteric modulator of both synaptic and extra-synaptic GABAA receptors.
The Phase II study consisted of a randomization trial of up to 32 women suffering from severe postpartum depression that was developed in the third trimester of within four weeks of childbirth.
The objective of the study was to evaluate the effect of SAGE-547 on depression as measured by the Hamilton Rating Scale for Depression, (HAM-D) compared to a placebo.
The study found that patients who received the company's drug saw a significant reduction in the HAM-D score compared to the placebo. Moreover, a remission from depression was seen in seven of 10 patients who took the company's therapy compared to just one out of 11 women who were given the placebo.
Did you like this article? Could it have been improved? Please email feedback@benzinga.com with the story link to let us know!
View Comments and Join the Discussion!
Posted-In: Chiara Russo Clinical Studies Phase 1 TrialBiotech Education Health Care Trading Ideas General Best of Benzinga