Exclusive: NuVasive CEO Talks M&A, Brazil, And The Company's Biggest Weakness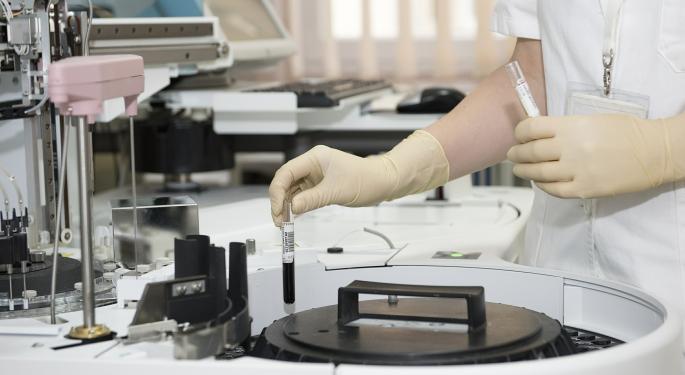 The Benzinga news desk recently had the opportunity to speak with Greg Lucier, CEO of NuVasive, Inc. (NASDAQ: NUVA). Below is a partial transcript of the call.
BZ: Want to start off with the Biotronic acquisition, an Ann Arbor company. You mentioned the service footprint in your PR. I wanted to find out what attracted you in terms of the geographic coverage. Why did this specific market appeal to Nuvasive?
Greg: We at NuVasive already had a service business, but did this neural monitoring of spine surgeries and our business was positioned geographically in a way that the acquisition of Biotronic would complement. So where Biotronic was located was where we were not. So this acquisition allowed us to expand our footprint demonstrably in more geographies and therefore cover more surgeries than we had in the past.
BZ: You mentioned the deal would be accretive. I don't know if you had spoken to your CFO or any of the other management team yet. Is there any idea, maybe single, double digits in terms of what this might be accretive to going forward?
Greg: What we said in the press release was it was supportive of our guidance in terms of revenue growth percentage, our expansion of operating margin, and also supporting the return on invested capital goals we've laid out in the past, but in terms of specific numbers, we're going to wait until the deal closes and then give that updated guidance at our second quarter earnings call.
BZ: I watched your interview with Cramer last week and they mentioned Brazil so I know that you guys acquired your Brazilian distributor. Was there any concern with any of the macro environment and turmoil that might be going on down there or do you really think maybe you're getting in at a good time and got a good deal because of maybe some of the other risks that are taking place down in Brazil right now?
Greg: You have the same concerns that Cramer had when he asked the question. My response to them is, as it is today, which is we're starting from a very small base. We take a very long-term view of the growth of our business, and we were able to acquire in that distributorship at a very good price and so over the next 10 years we think it's a very strategic play given the population growth of Brazil and the very active lifestyle there and the rise of more spine surgeries in that country. So we're not too worried about the near term stuff because it's such a small footprint, but for us it's a long-term plan.
BZ: And there is, from your channel checks, you've kind of seen some growing business in that area? I didn't know that they had that going on in Brazil, that they are trending upwards in terms of spine surgeries taking place.
Greg: Well again, you have population growth, you have an improving healthcare system there, and so those are the conditions that then are conductive for more spine surgery.
BZ: I know you guys have a large international base, I want to get a question in on which area you might be most excited for in terms of your international business? You know it seems like you guys are kind of spread out in a bunch of different areas of the world, kind of wanted to get your thoughts personally on what you are really excited for with initiatives the company is taking moving forward.
Greg: So overall, our market share internationally is probably only 4 percent and yet domestically it's more like 10 percent or 11 percent. So you can see that there's a big opportunity for us to have the international business be sized the same as it is here in the U.S. Now the way we're approaching that gap is to pick certain countries and make sure that we can go really deep into them in terms of our penetration and market growth and so we've got a couple great examples of where we're doing particularly well. One would be Japan where we're growing at 30+ percent, Europe where we think we have the right dynamics now to grow in high single digits, strong double digits, and in particular Germany and Italy where we're having great success because of the uptake of our XLIF surgery, our minimally invasive surgery.
BZ: One of the other things I wanted to ask was what do you think is NuVasive's biggest weakness or thing that you could work on the most moving forward to gain share for Medtronic and J&J?
Greg: Right now , it's just doing more of the same. It is procedural selling, it is more minimally invasive surgical technology, and it's more expansion geographically in key countries around the world. If we just do those things well, we're going to grow high single digits over the next several years.
BZ: Any country particular that you'd really like to get into next based on demographic or population?
Greg: We have a list of countries that we're not in yet, that we want to go direct into, ranging from China to some of the key Middle Eastern countries to some of the Eastern European countries. So there's a lot of inventory, if you will, or places we can penetrate. We just want to make sure the countries we're in today go exceedingly well.
BZ: Is there any more M&A than you think the company will do throughout the rest of the year or do you think you'll just kind of focus on getting operationally sound and growing sales from here?
Greg: We have a great business organically. We don't need to acquire anybody and so an acquisition for us has to be particularly good to want to invest that extra money. That's why the Biotronic acquisition for us was a great one because it doubled the size of our service business. So yes, you'll see us continue to look at deals, but there's no guarantee that we'll get anymore done this year. But it's an important thing to continue to have a scanner out there and always be looking about what can make us even stronger.
Posted-In: brazilBiotech News M&A Top Stories Exclusives Interview General Best of Benzinga
View Comments and Join the Discussion!