Novavax Gets FDA's Fast Track Designation For Its RSV Vaccine For Older Adults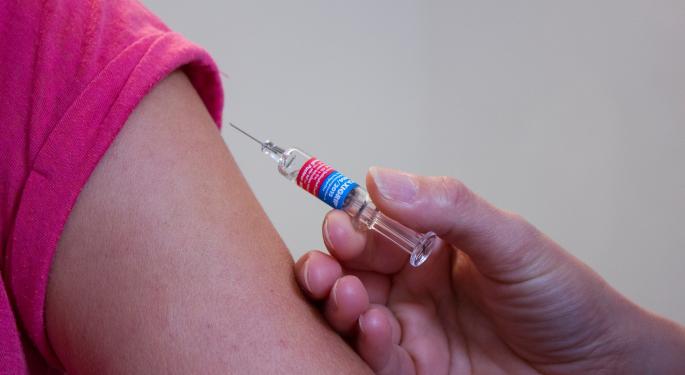 Novavax, Inc. (NASDAQ: NVAX), a clinical-stage vaccine company, revealed Wednesday that the U.S. Food and Drug Administration has granted Fast Track Designation to its RSV F-Protein nanoparticle vaccine candidate (RSV F Vaccine) for the protection of older adults.
According to the company, an estimated 16,000 older adults die of RSV infection or its complications every year in the America with about 900,000 medical interventions for a total economic burden of disease of about $28 billion. The company indicated that it fully enrolled the Resolve Phase 3 clinical study of its RSV F Vaccine in 11,850 older adults in December last year.
Novavax said that the primary efficacy objective of the Resolve study was the prevention of moderate-severe RSV-associated lower respiratory tract disease, as defined by the presence of multiple lower respiratory tract symptoms.
Related Link: Report: Medivation Committed To Selling Itself
The company's president and CEO, Stanley Erck, said, "The FDA's granting of Fast Track designation for our RSV F Vaccine in older adults underscores its recognition of RSV as a significant unmet medical need in this large population segment. This joins our prior Fast Track designation for the RSV F Vaccine for the protection of infants via maternal immunization. Fast Track designation could allow for an expedited timeline to licensure, accelerating the access to this vaccine for the most vulnerable populations."
Similarly, its R&D president, Gregory Glenn, also commented, "RSV is a widespread disease that causes infections of the lower respiratory tract. While RSV affects individuals of all ages, it acutely impacts older adults and infants. Our Phase 3 Resolve trial will examine the efficacy of our RSV F Vaccine and further define the burden of disease in older adults. We look forward to announcing data from the trial in the third quarter of this year."
In the pre-market trading on Wednesday, the stock traded 6.4 percent higher.
View Comments and Join the Discussion!