Jury In Repatha Patent Case Ruled In Favor Of Amgen, Against Regeneron And Sanofi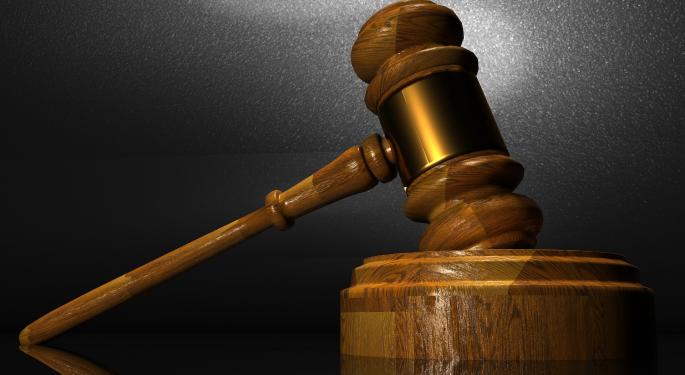 Amgen, Inc. (NASDAQ: AMGN) has won a patent suit against Regeneron Pharmaceuticals Inc (NASDAQ: REGN) and its partner Sanofi SA (ADR) (NYSE: SNY) over its cholesterol-lowering drug Repatha.
Amgen said a Delaware jury ruled in favor of the company on the validity of two Amgen patents that describe and claim monoclonal antibodies to proprotein convertase subtilisin/kexin type 9 (PCSK9).
In October 2014, Amgen sued Regeneron and Sanofi alleging that their drug Praluent violated patents that Amgen held on Repatha.
"The jury found that Defendants had failed to prove the patents invalid for lack of written description and enablement. Prior to the case going to the jury, the Court dismissed Defendants' case on obviousness," Amgen said in a statement.
Both Sanofi and Regeneron said they strongly disagree with the ruling and plan to appeal the judgment.
"This decision is the first step in this ongoing litigation and does not impact Praluent or our ability to deliver it to physicians and patients at this time," the companies said in a statement.
"It has always been and remains our position that Amgen's asserted patent claims in this matter are invalid," said Karen Linehan, Executive Vice President and General Counsel, Sanofi.
"This is a complex area of law and science, and we believe the facts and controlling law support our position," said Joseph LaRosa, Senior Vice President, General Counsel and Secretary, Regeneron.
The FDA approved Praluent in July 2015 and Repatha in August last year. Both Repatha and Praluent sell at high costs. The U.S. Wholesale Acquisition Cost (WAC) of Repatha for one 140 mg dose is $542.31, or $14,100 annually. On the other hand, U.S. WAC price of Praluent is $40 per day ($14,600 annually) for both the 75 mg and 150 mg doses.
Shares of AMGN were down 0.25 percent at $142.85, REGN fell 0.37 percent at $365.86 and SNY dipped 1 percent at $40.74.
View Comments and Join the Discussion!