7 Biotech Traders Pick Their Favorite Stocks For 2016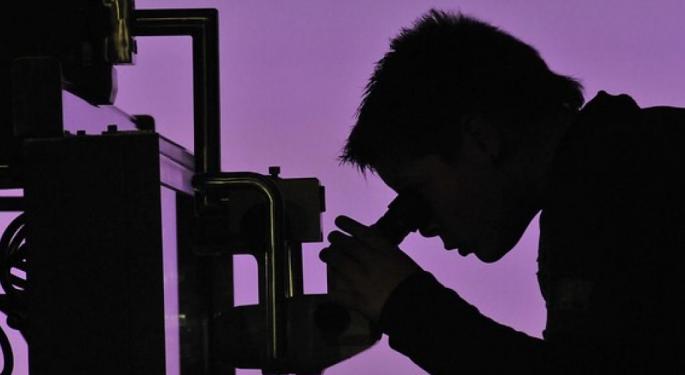 Earlier this month, Jefferies said Biogen Inc (NASDAQ: BIIB), Celgene Corporation (NASDAQ: CELG), The Medicines Company (NASDAQ: MDCO) and a handful of small-cap stocks like Alder Bio (NASDAQ: ALDR) and AMAG Pharma (NASDAQ: AMAG) are their top biotech stock picks for 2016. What are your biotech picks this year and why?
The ClosingBell community — an investment research network comprised of thousands of independent stock analysts, investors, traders, corporate finance professionals and subject matter experts — was asked what they thought about this question.
I personally like: Synergy Pharmaceuticals (NASDAQ: SGYP), due to the collapse in share price and pending pivotal Phase 3 data in IBS-C; Alkermes Plc (NASDAQ: ALKS) for 5461 data read out; OHR Pharmaceutical (NASDAQ: OHRP) for a partnership of OHR-102 based on analysis of Phase 2 failed study and expert interview with Dr. Boyer; and Valeant Pharmaceuticals (NYSE: VRX), as the company continues to generate cash flows, it will be able to put the 2H15 issues behind them.
David Wellman
There's a significant shift in the biotech market to data analysis, data science and all things big data. The driving thesis is that biotech is a computer science problem that just happens to have medical benefits, and one day a computer will cure cancer. Today, this part of biotech looks like microcomputers in 1980, and wondering who these tiny young companies, Microsoft and Apple are. Or looking at the internet in 1999 and guessing what Google, Amazon and Netflix will become. There is one company that I am investing in, Illumina, Inc. (NASDAQ: ILMN) because of their next generation DNA sequencing machines. They are building the machines that the rest of the market will use to revolutionize biotech.
I've just liquidated my Celgene (CELG) position, and will likely buy puts if the downtrend continues. Nevro (NVRO) is my top pick. While the vast majority of biotech has been getting smacked around, NVRO has trended higher. I'm using a 14-day period 10Average True Range stop-loss. I'll exit the trade if the price falls to $40. I'm putting at risk 2% net assets. Fundamentals can get you into trouble in a bear market. Buying the dip works wonderfully until it doesn't.
Mike Howell, Former Investment Banker And Active Trader
Biotech companies with strong balance sheets and steady revenues: Gilead Sciences, Inc. (NASDAQ: GILD) and Sanofi SA (NYSE: SNY).
The following four small-cap biotech companies were selected from our coverage universe and each company's lead products that have important data readouts in 2016. Each of these companies currently trade at a significant discount to their target price and thus represents compelling investment opportunities for risk-tolerant investors looking for companies with event-driven catalysts in the upcoming year: MEI Pharma (NASDAQ: MEIP), Pieris Pharmaceuticals (NYSE: PIRS), Tonix Pharmaceuticals (NASDAQ: TNXP) and Palatin Technologies (NYSE: PTN).
Alexander Benton Chemistry Field Service Engineer, Beckman Coulter-Danaher Corp
Gilead Sciences took some big hits lately, but is still a great stock to get in while its down. It has the biggest grip on the HCV market and won't slow down anytime soon. An up-and-coming company I've been watching (and owned in the past) is Achillion Pharmaceuticals (NASDAQ: ACHN) — also in the HCV market, they were recently contracted with Johnson & Johnson (NYSE: JNJ) to work on new HCV treatments. They've in the past year or so also been looked at as a possible buyout from larger competitors like Gilead or Johnson & Johnson. Still possible and plenty of upside.
Asterias Biotherapeutics (NYSE: AST) is one of my micro-cap biotech ideas this year. It is said to have been previously working with Celgene Corporation (NASDAQ: CELG) on a partnership/deal. Gilead is my other biotech pick for 2016, simply as it is one of the larger, more consistent plays within the abnormally volatile sector. On top of that, I do believe that the M&A activity will substantially decrease throughout 2016.
Image credit: Public Domain
Posted-In: closingbellBiotech Long Ideas Trading Ideas General Best of Benzinga
View Comments and Join the Discussion!