10 S&P 500 Companies With Green Operations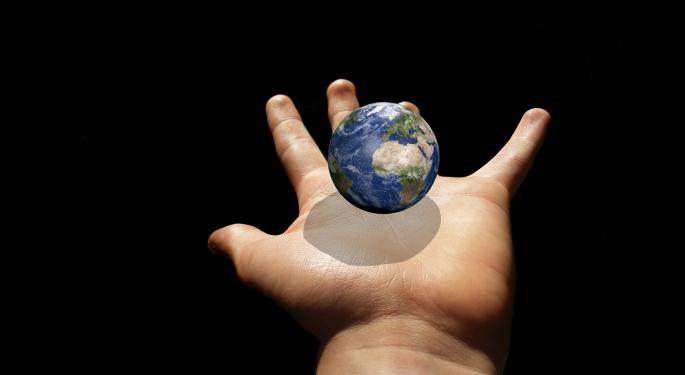 There has been an increased push among Americans to cut down on the nation's carbon footprint and reduce the negative impact that human activity has had on the environment.
As green practices have begun to matter more to consumers, many U.S. companies have started to reform their operations in order to cut down waste and use energy more efficiently.
In an effort to give the public a better idea of whether their favorite brands are helping or hurting the environment, Newsweek worked together with Corporate Knights Capital and HIP (Human Impact+Profit) Investor Inc. in order to measure how environmentally friendly each U.S. S&P 500 firm was.
The study took into account several metrics – including each company's energy productivity, greenhouse gas productivity, water productivity and waste productivity – to create a combined score that was then ranked against the rest of the nation's largest firms.
Here's a look at the top ten greenest S&P 500 firms from Newsweek's list.
Related Link: SYSPRO Wins Green Supply Chain Award
10. Mead Johnson Nutrition CO (NYSE: MJN)
Mead Johnson manufactures, distributes and sells pediatric nutrition products like infant formula, children's vitamins and breastfeeding products. Based in Illinois, the firm operates across the globe in Asia, Latin America, Europe and North America.
In Newsweek's study, Mead Johnson received a 75.7 percent total score, making it the 10th greenest firm in the S&P 500.
Back in 2009, the firm set lofty goals to reduce waste and greenhouse gas emissions significantly by 2020. So far, the company has been on track in meeting those goals; one of Mead Johnson's manufacturing plants in the Netherlands met its goal to send zero waste to landfills in 2013, making it the second Mead Johnson plant to do so.
9. AFLAC Incorporated (NYSE: AFL)
Insurance giant Aflac Incorporated secured a place at number nine on the list by creating a corporate culture that values environmental sustainability.
The firm celebrated Earth Day by having its employees sift through a day's worth of the company's waste to separate out recyclable waste. Despite the fact that Aflac is considered much greener than many of its peers, the company wants to keep pushing itself to improve its sustainability, a message it drills into its employees each year.
The company's headquarters in Columbus, Georgia, boast an on-site composting system, and the firm has reduced energy usage by 35 percent since 2010.
8. The Coca-Cola Co (NYSE: KO)
Coca-Cola's efforts to clean up its operations over the past decade landed the beverage maker at number eight on Newsweek's list of greenest companies.
Not only does Coca-Cola stand out as one of the top 10 greenest firms, but the company is the only beverage maker to make the list. Headquartered in Atlanta, Georgia, Coca-Cola has worked to promote sustainability from the inside out. The firm promotes green living through its "Live Positively" campaign, and 14 of its sites have reduced their waste-to-landfill status to zero over the past eight years.
The firm has also set lofty goals for the future, including a "water neutrality" initiative in which Coca-Cola plans to return as much water to the earth as it uses. In-line with the water neutrality goal, Coca-Cola's bottling business is planning to cut its water use intensity by 30 percent over the next five years.
Related Link: Volkswagen Denies New EPA Allegations Regarding Porshe & Audi Motors That Cheat Emissions Tests
7. Ecolab Inc. (NYSE: ECL)
Ecolab provides water, hygiene and energy technologies and services to customers across a varying cross section of industries. The firm helps other companies operate more efficiently by creating products that allow them to use fewer natural resources, like a sanitizing product that doesn't require rinsing and cuts down on water use.
Not only does Ecolab improve sustainability at its customers' locations, but the firm takes its own carbon footprint seriously as well. In Lerma, Mexico, an Ecolab plant was able to cut down on water usage by 200,000 gallons and save 25,000 kilowatts of energy per year after installing reverse osmosis technology. The firm is committed to improving efficiency at its plants around the world, and for that reason, it received a 77.8 percent score on Newsweek's scale.
6. Hershey Co (NYSE: HSY)
Hershey is the largest chocolate and confectionery maker in the United States, and the firm creates everything from chocolate bars to baking products. Headquartered in Hershey, Pennsylvania, the company's products can be found worldwide in places like Asia, Latin America and the Middle East.
The firm has increased its focus on sustainability over the past decade, reducing the amount of waste its plants produce at locations around the world. Hershey has already achieved zero waste-to-landfill status at six U.S. plants, which make up 97 percent of its U.S. production.
As a leader in the chocolate industry, Hershey has also set the bar high, saying it will source 100 percent of its cocoa through sustainable farms by 2020.
5. Sigma-Aldrich Corporation (NASDAQ: SIAL)
Life sciences and technology firm Sigma-Aldrich develops, manufactures and distributes biochemical and organic chemical products used in scientific research found in some 160 different countries around the world.
The company's commitment to cleaning up its operations earned it a score of 81.3 percent on Newsweek's study and put the company in the top five greenest S&P 500 firms.
One of Sigma-Aldrich's loftiest goals has been to reduce solid waste by improving packaging materials. By changing its packaging over the past few years, the firm has reduced its annual use of polystyrene by 210,000 cubic feet and worked together with a local waste provider to recycle more than 20 tons of shrink wrap each year.
4. Broadcom Corporation (NASDAQ: BRCM)
Broadcom Corporation is a semiconductor firm that creates solutions for wired and wireless communications for everything from broadband modems to Ethernet switches and processors.
Broadcom's efforts to reduce its operations' environmental impact earned it a score of 81.3 percent in the Newsweek study. The firm's headquarters in Irvine, California, has caused execs to focus on sustainability, especially when it comes to water conservation. Broadcom's Irvine location is the largest user of reclaimed water in the area, reusing over 17 million gallons for landscape irrigation each year.
3. Adobe Systems Incorporated (NASDAQ: ADBE)
Software maker Adobe is one of the greenest S&P 500 firms in the United States, with a score of 82.6 percent and a place in the top three on Newsweek's list.
The company has been revamping its operations since 2002 and its efforts have yielded a 50 percent decrease in energy usage and a 30 percent drop in natural gas usage. Last year, the company installed an energy intelligence system that allows Adobe to store energy and better manage sudden increases in electricity usage.
However, perhaps the most impressive figures outlined the firm's declining water and irrigation usage, which fell by 79 percent and 71 percent respectively over the past 13 years. As Adobe is headquartered in San Jose, California, where water is at a premium, the firm's conservation efforts have been highly regarded.
Related Link: Clean Power Plan Opponents Not Ready To Go Down Without A Fight
2. Allergan PLC (NYSE: AGN)
Pharmaceutical firm Allergan is best known for its wrinkle-reduction treatment Botox, but the firm also makes a variety of drugs and medical devices to treat a wide range of conditions.
While sustainability has only become a popular metric in measuring a business' success over the past decade or so, Allergan began working to cut down on its carbon footprint in the early '90s. The company began evaluating its water use early on and has since cut its water needs by 12 percent.
The firm recently has begun reworking its supply chain with an eye on the environment by partnering with Ecodesk to monitor energy and water usage as well as waste production. Last year, the company was recognized by the Environmental Protection Agency for its efforts to make its business more sustainable.
1. Biogen Inc (NASDAQ: BIIB)
Biopharmaceutical company Biogen develops, manufactures and delivers therapies for a wide variety of neurological, hematologic and autoimmune disorders. The firm is behind popular treatments for conditions like lymphoma and multiple sclerosis.
Biogen was able to achieve a score of 89.2 percent on Newsweek's list of greenest companies, placing it firmly at the top. The company has been focused on reducing water usage, an environmental hurdle that many biotech firms face.
So far, the firm has implemented infrastructure that helps its plants harvest rainwater and reuse around 2.4 million gallons of water that would otherwise be lost due to evaporation.
Image Credit: Public Domain
View Comments and Join the Discussion!
Posted-In: Biotech Long Ideas Education Health Care Commodities Topics Top Stories Markets Best of Benzinga