Add 3D Printing To Your Portfolio With These Stocks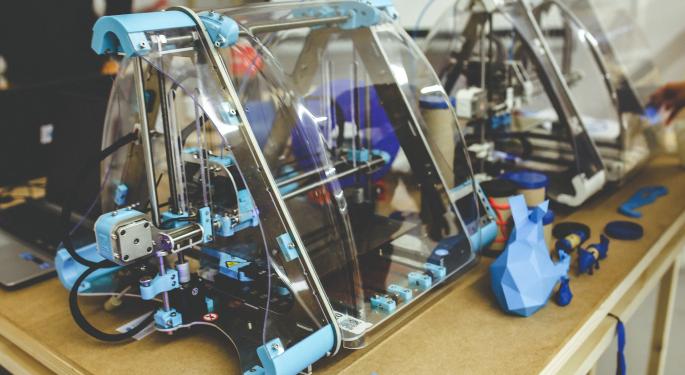 Traders have been looking to 3D printing as a tech investment for years, as the technology has had some promising developments over the past decade.
While the printers haven't taken off in popularity just yet, there has been a growing use case for the machines in several sectors, making them an interesting investment choice. Many analysts see the 3D printing industry making significant strides in the coming years, so exposure to the sector could add value to long-term investors' portfolio.
A Wohlers Report from 2015 predicted that the 3D printing industry will grow by 31+ percent per year over the next five years to eventually become a $21 billion industry.
Related Link: 3D Printing Preview: 3D Systems And Stratasys
While news about the industry's potential has been abundant, many analysts are still skeptical, as the sector has been beaten down in recent years due to what some say was overdone hype about the technology. So far, 3D printing has been unable to live up to claims that it would become the "new frontier" in architecture.
Past 'Overdone Hype' Doesn't Necessarily Spell Trouble
However, the sector's downfall has lowered share prices and could become an opportunity for investors looking to buy into the trend before it becomes an expensive investment. Currently, there are several options from big name firms dipping a toe into the 3D printing pool to small, innovative tech companies focusing solely on 3D printing technology.
Here's a look as some firms participating in the 3D printing space, making them attractive bets for those looking to capitalize on the industry's future growth.
1. Stratasys, Ltd. (NASDAQ: SSYS)
One of the most well positioned firms in the 3D printing space is Stratasys, which has already sold and installed hundreds of thousands of printers. The printers that Stratasys has installed are razors, which consume blades that need to be continually replaced. Because the firm already has a steady stream of recurring revenue from razor sales, it is in a good position to benefit for years to come if it continues to establish itself as a market leader.
The firm also recently invested in Desktop Metal, a 3D printing firm that creates printers that print metal objects rather than plastic ones. At the moment, metal printers are some of the most expensive on the market, but the use case for creating metal parts on the spot is promising. While Desktop Metal is still far from creating a product that is ready for the market, the investment could give Stratasys a leg up on competitors in the future.
Related Link: 3D Systems Rallies Despite Q3 Miss
2. 3D Systems Corporation (NYSE: DDD)
3D Systems is another big name in the 3D printing space, although the firm lags behind Stratasys in the number of machines sold and installed.
However, what 3D Systems lacks in breadth, it makes up for in depth; the company offers seven different printing technologies, which give the firm the potential to cater to a wide range of customers. The firm has acquired more than 50 smaller companies over the past four years in an effort to expand its product base. Housing so many different products has created some execution issues for 3D Systems, but many investors are willing to overlook the firm's current shortcomings in hopes that it will iron out those challenges as it moves into the future.
3. Hewlett Packard Enterprise Co (NYSE: HPE)
Hewlett Packard has struggled over the past few years, as sales of personal computers and printers declined around the world.
The firm has begun to focus its efforts on some of its other business services, but it hasn't given up on the printing space just yet. Hewlett Packard is planning to roll out an inkjet-based 3D printer called Multi Jet Fusion in 2016. The printer has been heavily anticipated by investors, as the company already has a great deal of experience within the printing industry. Not only will its reputation as a printing specialist help, but the new printer is expected to be 10 times faster than its competitors' versions, an appealing feature for customers.
4. Canon Inc (ADR) (NYSE: CAJ)
Hewlett Packard won't be the only firm to make the switch from 2D to 3D printing. Japan's Canon announced in October that it was taking on the 3D printing space with a machine of its own.
While details about the type of 3D printer and how it will work have been scarce, the company has hinted that much like Hewlett Packard, its speed will be one of the main draws. Canon's 3D printer, also expected to be released in 2016, will be capable of printing in a range of materials and will cut down on the need for secondary processing by finishing products with a smooth surface. It remains to be seen whether Canon's new offering will disrupt the 3D space, but the firm's size and cash reserves suggest that it could be a release to watch.
5. Materialise NV (ADR) (NASDAQ: MTLS)
Materialise has emerged as one of the hottest 3D printing firms in Europe. However, the firm makes most of its money from 3D printing software rather than the devices themselves.
Presently, the bulk of its revenue comes from industrial sales, but the firm has also been working to expand its presence in as a 3D printing service provider in the medical industry. Materialise has kept its focus on the software aspect of 3D printing and created Build Processor software, which firms can use to control a wide range of different 3D printing machines.
The innovative software has made Materialise a popular choice for 3D printing manufacturers that want to partner with Materialise to sell complete systems. Netherlands-based Additive Industries recently teamed up with Materialise to create a metal 3D printer that is set to debut in mid-November.
6. Voxeljet AG (ADR) (NYSE: VJET)
German 3D printing firm Voxeljet caters to a very specific segment of the market, as the firm creates large printers capable of printing objects as large as eight cubic meters.
Voxeljet has sold its specialized printers to firms in several different sectors, including the automotive, aerospace and architecture industries. While the company has been under fire for offering customers favorable contracts in order to sell more machines, many see the firm as having good potential for future growth. Over the past year, Voxeljet shares have fallen more than 50 percent, making them a cheap buy for investors looking to gain access to the space.
Related Link: The Lesser-Known Way To Play Metal 3D Printing
7. Organovo Holdings Inc (NYSE: ONVO)
Organovo is relatively small compared to the other companies on this list, but the firm has a great deal of potential; it represents the only firm working in the bioprinting space.
Although most of Organovo's products are still in the research phase, the firm has released its first commercial product – human liver tissue. Organovo developed a 3D printer capable of creating organic tissue. The tissues created can be used for research and could be an attractive offering for pharmaceutical companies that need to test out new drugs.
At the moment, the firm is spending more than it is taking in, but as the only company capable of printing organic tissue, many believe the potential revenue could exceed 100 million in the short to medium term.
8. ExOne Co (NASDAQ: XONE)
ExOne is one of just four publicly traded firms that focus solely on 3D printing. While the firm has a foothold in the industry, many analysts have been cautious on the Pennsylvania-based firm.
The firm has missed earnings and revenue estimates for eight consecutive quarters and has been operating at a loss. Some believe that ExOne is suffering from overdone expectations on the success of the 3D printing space and that the firm has been unable to deliver on the hype.
Still, ExOne has opened new facilities in Russia and Italy, and recently created a new 3D printer capable of printing larger volumes called the Exerial. Investors who believe that the 3D printing space still has a great deal of potential haven't given up on ExOne; instead, they are hoping that the firms efforts to expand into new markets will set it up for growth in the future.
Image Credit: Public Domain
Posted-In: 3D Printing Additive IndustriesBiotech Long Ideas Top Stories Tech Trading Ideas General Best of Benzinga
View Comments and Join the Discussion!