Carl Icahn: Best U.S. Companies May Leave In 'Exodus,' But Here's How To Stop It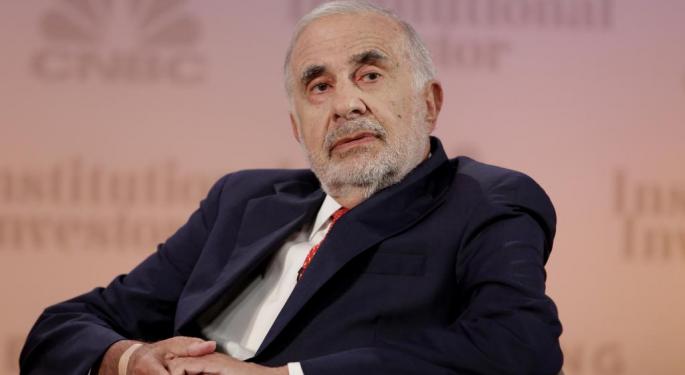 Hedge fund manager Carl Icahn is at it again. This time, he's talking Pfizer Inc. (NYSE: PFE), Allergan PLC (NYSE: AGN) and big pharma. In a tweet-storm, Icahn said, "Unfortunately, my warning concerning the imminent exodus of many of our best companies is coming true."
He added, "Today Pfizer confirmed they are planning to move out of the country. The situation is much more dangerous than most people believe. There is no reason Congress cannot act now to pass international tax reform with the Highway Bill." (Both companies said they were in friendly discussions to potentially merge earlier on Thursday.)
The Highway Bill?
Also of note, Icahn previously wrote about the international tax reform legislation, more commonly known as the Highway Bill, on October 20. At that time, he explained the logic of how a Highway Bill could work:
"How does international tax reform prevent further inversions? The answer is simple. American corporations currently have over $2.2 trillion deposited abroad. They earned this money abroad and have already paid taxes on it to the country in which it was earned. These companies want to bring this money back to the United States, but they choose not to because we require they pay a "double tax" if they do. We are the only country in the world that does this, and it's counterproductive because it creates an incentive to keep the money abroad. A lower "double tax" would solve this problem. Most of these companies would be willing to pay a 5% to 10% incremental tax on this money upon bringing it back to the United States where much of it would be invested in new capital and used to create new jobs."
What's Icahn Saying About Pfizer And Allergan?
Icahn also released a new letter. In what is essentially an update to his first discussion, Icahn explained how a Pfizer-Allergan merger would hurt the US:
"Allergan is domiciled in Ireland, and if consummated, this will be the largest corporate inversion to date, and as a result our country will lose Pfizer, its tenth largest company. The imminent planned exodus of many of our best companies is extremely dangerous, especially in our fragile economy, as it will cause the loss of thousands of jobs, as well as hundreds of billions of dollars of future tax revenue and investment in the United States."
"As I said in my October 20th letter, it's not too late if we act now," he concluded.
A couple relevant tidbits to note:
Icahn said last week he would commit at least $150 million to form a super-PAC to support the passage of the Highway Bill.
In August, Icahn said he'd accept a nomination for Secretary of Treasury if Donald Trump becomes President of the United States. Most opinion polls shows Trump won the third GOP debate this week.
Posted-In: Biotech News Health Care Politics Events Top Stories Movers General Best of Benzinga
View Comments and Join the Discussion!