Biogen And Gilead Sciences Catch The Eye Of Short Sellers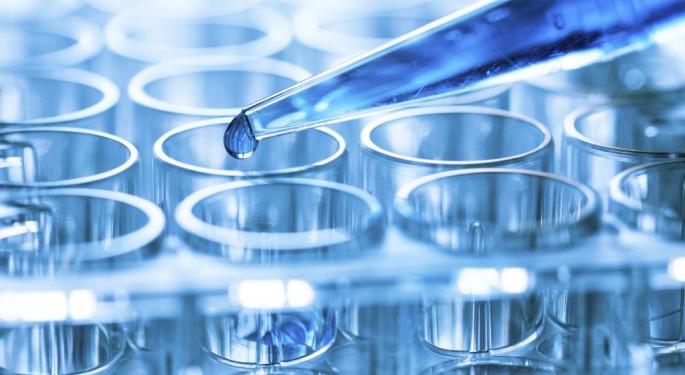 Between the July 31 and August 14 settlement dates, the number of shares short in the leading biotech and emerging pharmaceutical stocks was mixed. Short sellers were especially drawn to Biogen Inc (NASDAQ: BIIB), Gilead Sciences, Inc. (NASDAQ: GILD) and Vertex Pharmaceuticals Incorporated (NASDAQ: VRTX) in those two weeks.
Here is a quick look at how these three stocks have fared recently and what analysts expect from them. That is followed by a glance at short interest moves in other leading biotech stocks.
See Also: Gilead Sciences: Here's What A Bull And A Bear Are Saying
Biogen
This S&P 500 component saw short interest grow more than 13 percent during the two weeks to more than 2.67 million shares. That was about 1 percent of the float, but also the most shares short since mid-May. At the average daily volume, it would take more than a day to cover all short positions.
The company develops and markets therapies for the treatment of neurodegenerative diseases, hemophilia and autoimmune disorders. There has been concern about how rising interest rates would affect biotechs. The market capitalization is near $70 billion, and the long-term earnings per share growth forecast is more than 15 percent.
The consensus recommendation of the 21 analysts polled by Thomson/First Call is to buy shares. Their mean price target, or where they expect the share price to go, suggests there is more than 23 percent upside potential. Note that shares traded higher than that consensus target as recently as July.
Short sellers watched the stock rise about 6 percent early in the month, only to give it all up by the end of the period. The 50-day and 200-day moving averages formed a "death cross" in that time. Over the past six months, Biogen has underperformed not only the broader markets, but larger competitor Pfizer as well.
Gilead Sciences
Short interest in this biopharmaceutical company increased about 16 percent to more than 21.72 million shares. That was less than 2 percent of the float, and it ended five consecutive periods of declining short interest. It would take more than two days to close out all of the short positions.
Gilead Sciences focuses on human therapeutics for the treatment of life-threatening diseases such as HIV infection and pulmonary arterial hypertension. More than just shorts moved on the stock during the period. It has a market cap of around $157 billion. The dividend yield is about 1.6 percent.
Of the 22 surveyed analysts, six rate the stock at Strong Buy, and 13 more also recommend buying Gilead Sciences shares. Note that a move to their mean price target would be a gain of more than 15 percent for shares, and also that the consensus target would be a new multi-year high.
During the short interest period, shares rose about 2 percent but ended up almost 2 percent lower. The stock is up less than 3 percent in the past six months, yet is outperformed not only the broader markets in that time, but the likes of other biotech giants Amgen and Celgene as well.
Vertex Pharmaceuticals
After falling by a similar amount in the previous period, short interest in this Cambridge, Massachusetts-based company recovered about 12 percent to total more than 3.33 million shares. That was less than 2 percent of the total float. It would take about two days to cover all short positions.
Vertex manufactures small molecule drugs for the treatment of serious diseases such as hepatitis C and cystic fibrosis. It has a market cap of less than $32 billion and it periodically has been a rumored takeover target. Note that its return on equity and operating margin are both in the red.
Half of the 24 analysts polled recommend buying shares of Vertex, with five of them rating the stock at Strong Buy. The mean price target is more than 7 percent higher than the current share price. Note though that shares traded higher than that consensus target last week.
The stock increased more than 5 percent and then gave up most of the gain during the two-week period, compared to a marginal decline for the Nasdaq in that time. Vertex has not only outperformed larger competitor Merck over the past six months, but the Nasdaq and the S&P 500 as well.
See Also: Stress Testing Apple's Bear Case
And Others
The number of shares short in BioMarin Pharmaceutical, Juno Therapeutics, Medivation and Receptos also swelled in the early weeks of August, but the short interest in Incyte, was about the same at the end of the period as is was in the beginning.
Short sellers shied away from Acadia Pharmaceuticals, Alexion Pharmaceuticals, Amgen, Baxalta, Celgene, Illumina, Intrexon and Regeneron Pharmaceuticals between the settlement dates.
At the time of this writing, the author had no position in the mentioned equities.
Keep up with all the latest breaking news and trading ideas by following Benzinga on Twitter.
Posted-In: Biogen Gilead Sciences vertex pharmaceuticalsBiotech Short Ideas Trading Ideas General Best of Benzinga
View Comments and Join the Discussion!