LifeSci Capital's Andrew McDonald On How To Invest In Booming Biotech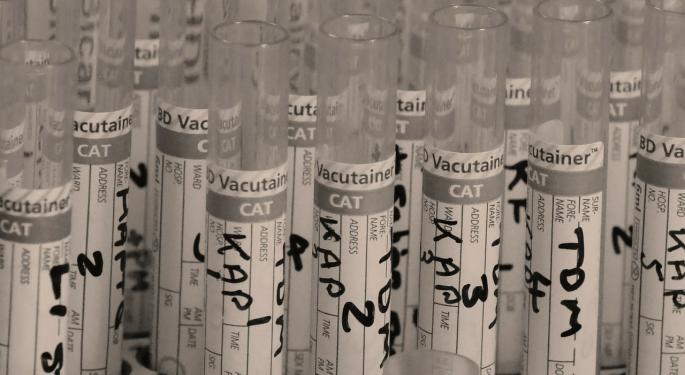 "Biotech is booming," says LifeSci Capital co-founder and co-manager of the BioShares exchange traded funds, Andrew McDonald.
McDonald, along with fellow LifeSci co-founder Paul Yook, spoke with Benzinga about innovations in biotech and how investors might take advantage.
BZ: What is driving the boom in biotech?
AM: Biotech has been the best performing subsector in the S&P over the last five years.
What we're seeing involves three factors: massive innovation, a record number of FDA approvals of new drugs and thirdly, record sales fueling the sector.
Related Link: A Closer Look At 2 New Biotech ETFs
BZ: What are a couple of examples of biotech companies showing growth?
AM: One company, Pharmacyclics, Inc., was recently acquired by AbbVie for $21 billion. They were purchased for Imbruvica, their drug for the treatment of CLL (chronic lymphocytic leukemia).
In the oncology space, Medivation, Inc. has a drug called Xtandi that is selling record amounts in prostate cancer.
You are seeing these biotech companies bringing new products to market and achieving blockbuster sales levels in a pretty short order of time.
BZ: How do the BioShares ETFs classify biotech companies?
AM: We divide the biotech universe into two classes.
One class consists of those companies that have achieved FDA approval and have products on the market. Those are in the BioShares Biotechnology Products ETF and include companies like Pharmacyclics and Medication that I mentioned earlier.
Then you've got this other class of biotech companies that are really innovative. These companies still have drugs in human clinical trials. They are still in development, so we put them in the BioShares Biotechnology Clinical Trials ETF.
BZ:What are some hot companies in BBC?
AM: You're probably aware that immuno-oncology is a particularly hot area. Immuno companies that are high flyers include companies like Kite Pharma, ZIOPHARM Oncology Inc and Bluebird Bio.
These companies are developing immuno-oncology products with the next generation of that technology.
BZ: Can investors who lack knowledge about the biotech sector take advantage of the boom?
AM: That's exactly why we created the biotech ETFs, because biotech is thought of as a risky and complicated sector for most investors. We're fortunate that we've got seven PhDs who work here.
What's even more interesting is that when you look at professional fund managers that invest in biotech, almost none of them can beat the index.
BZ: How does knowing this help the average investor?
AM: What that tells you is that you should just own the index.
If you look at the performance of biotech, which is about 23-24 percent on the year, or if you look over the past five years where we are up over 30 percent annually, I would tell the average investor just to buy the index. It's very difficult to pick individual stocks.
BZ (To Paul Yook): How difficult is it to predict the "next big thing" in biotech?
PY: The fact is, we don't know what's going to be hot next year. We don't know what's going to be hot in the next five years.
I will tell you this: The public companies in an index basket probably have those companies – whatever they are.
BZ: Are there other areas of biotech worth watching?
PY: There's a lot of hot exciting technology, not just in immuno-oncology.
There's a company called Alnylam Pharmaceuticals, Inc. These guys do something very innovative called RNAi.
Also, gene therapy companies, a space that once was thought dead. Within the last 6 to 12 months has really gained a lot of excitement.
Who knows which are going to be the hot ones? You ought to own them all.
Related Link: Analyst Points At 3 Upcoming Biotech Lock-Up Expirations
BZ: How did BioShares go through the process of separating biotech companies and are you the only ones who have done this?
AM: We went through every single biotech company and we appropriately designated it as a product company or a clinical trial company.
We did analysis and noted that the BBP companies had the lowest beta. That made sense because these are stocks that have made some revenues and earnings.
The BBC companies are higher beta because they trade on clinical data and move more wildly.
And, yes, we are the only ones who did that.
At the time of this writing, Jim Probasco had no position in any mentioned securities.
Image Credit: Public Domain
View Comments and Join the Discussion!
Posted-In: AbbVie Alnylam Pharmaceuticals Inc. Andrew McDonald BioShares Biotechnology Clinical Trials ETFBiotech Exclusives Interview General Best of Benzinga