EXCLUSIVE: Organovo CEO Keith Murphy Talks Pipeline, Market Misconceptions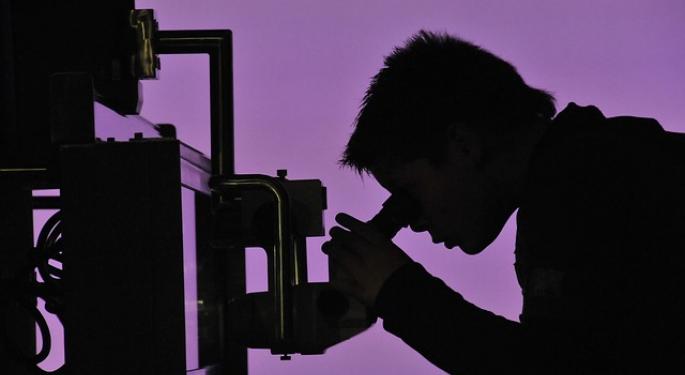 "We may not have communicated well enough to investors about what to expect," said Organovo Holdings (NYSE: ONVO) CEO Keith Murphy in an exclusive interview with Benzinga.
Murphy outlined two factors that, in his view, may have contributed to impatience on the part of investors.
Cadence
"Number one," Murphy said, "is the normal cadence of when a company releases its financials."
Murphy noted that the company's first commercial product, a 3D human liver tissue for use in toxicology and other preclinical drug testing, launched last November.
"The first actual full quarter after launch," he pointed out, "is going to be the quarter ending March 31."
A Different Market
In addition, Murphy said, the company did not do a good job of communicating to investors that the market in which Organovo operates develops much more slowly than a more traditional market.
"We're not selling a consumer product," he said, "where you do a big product launch and it's in stores that day and everyone is buying it."
"This is the kind of thing where product launch essentially means we are engaging with customers throughout pharma regarding, for example, a liver for toxicological use."
It Takes Time
According to Murphy, the typical time to contract is somewhere between six and nine months.
"Once we sign the contract and start the work for any of these customers," he said, "it takes four to five months to actually execute the contract and return data to them."
Related Link: Organovo Holdings CEO Won't Rule Out Sale
Only then, he said, can Organovo book revenues.
Please Be Patient
"What we tried to communicate to investors," Murphy said, "is that the first quarter you're even going to see revenues that represent contracts that were signed after launch is going to be the quarter ending June 30."
"It's hard to say 'Please be patient,'" he said, "but that's really the bottom line on that."
Looking Ahead
Meanwhile, as Organovo works on a potential revenue stream, product development continues.
Coming up next in the pipeline, Organovo will present data on its 3D kidney tissue at the Experimental Biology Conference in Boston the week of April 1, according to Murphy.
The presentation in Boston, Murphy said, would serve as proof of concept.
Then, following a timeline similar to that of the liver, Murphy said he would anticipate a product launch for the kidney sometime around September 2016.
Other Products
Other products previously mentioned by Organovo, include 3D skin and a breast cancer tumor model.
None of these has reached the projection of a timeline yet.
Moreover, none would carry the expectation of becoming a profit center for the company in the same time frame as would be the case with liver and kidney.
Therapeutic Tissues
Another aspect of Organovo's business Murphy mentioned was therapeutic tissues.
"We've always talked about these," he said. "This involves bio printing, for example, liver tissue that could actually be surgically transplanted into a patient and add benefit to someone who may be nearing the need for a liver transplant."
Although not a full organ transplant option, Murphy said the notion of a "liver patch" that could forestall a liver transplant for a year or more was achievable with current technology.
Nothing Has Changed
According to Murphy, "Nothing has changed from the company's perspective."
This includes the expectation that company revenue would be significant once the marketing process played out.
"Each of those," he said, referring to the various product lines, "we believe has a hundred million plus revenue potential."
At the time of this writing, Jim Probasco had no position in any mentioned securities.
Image credit: Public Domain
View Comments and Join the Discussion!
Posted-In: Biotech News Previews Management Events Exclusives Trading Ideas Interview Best of Benzinga