The Politics Of Sunshine: Trump Pulling Out Of Paris
The signatures of ex-U.S. President Barack Obama and Canadian Prime Minister Justin Trudeau on the United Nations' Framework Convention on Climate Change (UNFCCC) Paris Agreement brightened solar industrial skies worldwide. However, a White House announcement, Thursday, threw a shadow on that sunny landscape.
While French and the Canadian Québécois (Canadian francophones) refer to the agreement, signed by 195 countries, as the "Accord de Paris," English speakers call it the Paris Agreement. The UNFCCC signatures committed the North American continent "... to combat climate change and unleash actions and investment towards a low carbon, resilient and sustainable future."
Solar companies understood this as legal support to their cause. Thursday, though, the United States' President, Donald Trump, announced intentions to withdraw the United States from the Agreement signed.
MAC on Track with the Solar Trend The MAC Global Solar Energy Index (Guggenheim Solar ETF (NYSEARCA:TAN)) tracks the solar stock market (See the red line [TAN] on Figure 2). It includes a diverse representation of the solar industry stocks, including, according to Guggenheim Investments, "all major segments of the solar industry (photovoltaic, solar thermal and solar lighting) and the entire value chain (raw materials, manufacturing, installers, etc.)."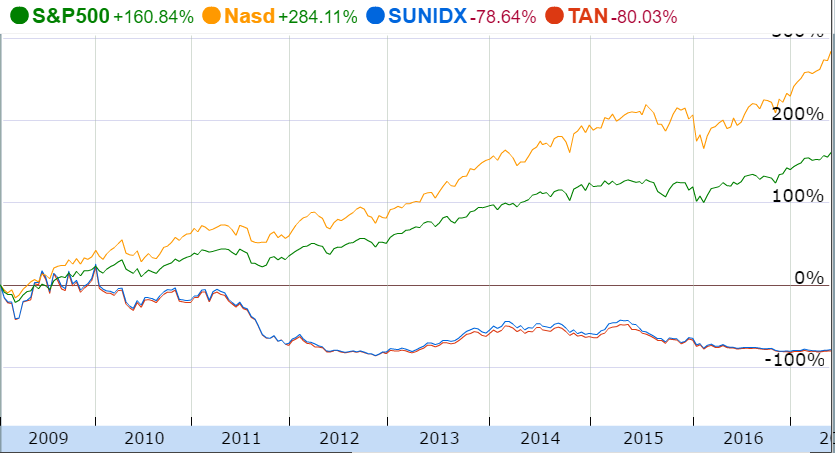 Figure 1: While the NASDAQ Composite Index (INDEXNASDAQ:.IXIC) (Nasd, yellow) and S&P 500 Index (INDEXSP:.INX) (S&P500, green) have edged higher since 2009, the Shanghai Composite Index (SSE Composite Index [SHA: 000001]) (SUNIDX, blue) and solar stocks, as represented by the MAC Global Solar Energy Index (TAN, red), have fallen and, since 2012, stagnated. Image created from Google Finance Chart.
The solar market has largely followed the Shanghai SSE Composite Index (SHA:000001). Asian governments, unlike those of North America, find themselves with an urgent need to connect their residents to the grid. Much of Asian does not have access to reliable electricity, and the cost ($0.08 per KiloWatt hour), while lower than North American electricity costs ($0.10 - $0.12 [USD] per KiloWatt hour), makes it unattainable in these countries with very low minimum wages. The United Nations Development Programme (UNDP) estimates that 66% of the people in India do not have access to electricity.
Both Canada and the U.S. enjoy relatively reliable, widely available electrical supplies, resulting in little pressure upon Americans to invest in clean, renewable energy. High solar start-up costs and long investment recovery periods have kept North American investors out of expensive solar energy infrastructure in the two largest North American countries. In addition, the global petroleum glut has been critical to dwindling solar company valuation. Solar stocks tend to follow oil prices, despite the apparent competitive nature of the two energy industries.
Stocks to Watch on the Trump Paris Play
Worldwide, individual solar stocks rise and fall with the political weather of different countries, and, although the solar industry tends to pair with the Asian market, U.S. and Canadian politics do affect the Shanghai and the MAC Indices. Trump's announcement and upcoming follow-up could change the solar market climate.
North American Solar Companies
One of North America's most watched renewable energy companies, First Solar, Inc.(NASDAQ:FSLR) has taken its solar future into its own hands by developing complementary areas. Its products and services begin with cadmium telluride (CdTe) solar module component design and follow through with system development, construction, operation, and maintenance.
Based in the U.S., with some manufacturing in Malaysia, the company finds its price down 23.11% from that of a year ago. SunPower Corporation (NASDAQ: SPWR) actually beat the solar market, powering up 10.08% over its price a year ago. This California-based company, like First Solar, has basically jumped in head first, dominating all aspects of the industry to assure its security in the solar market. SunPower operates in residential, commercial, and power plant environments, providing individual solar power components and mounted systems upward through utility-scale photovoltaic power plant operation and maintenance.
SolarCity Corp (NASDAQ: SCTY) has moved all over the chart during the past year. Its stock took a beating, beginning in July of 2016, when competition from other solar companies, a maladapted leasing model, lowered guidance, two quarters of missing estimates, and a possible buy-out by Tesla Motors (NASDAQ:TSLA) all added weight to $27.50 to $16.77.
Currently the stock trades just above $20, down 8.63% from a year ago. Canadian Solar Inc. (NASDAQ:CSIQ), with its headquarters in Canada, manufactures its goods in Asia and has expanded to other parts of the world. Like many solar stocks, it fell during the last year; starting at $18.06. It fell to $10.65 and now trades $13, only 2.63% below its price a year ago. Even so, it has held its own in the stock market, with financial projects, the recent sale of two Chinese solar power plants to Shenzhen Energy Nanjing Holding Company Limited, and the introduction of efficient black silicon cell technology Ku poly modules.
Other North American solar companies to keep an eye on include Sunrun Inc (NASDAQ: RUN), Vivint Solar Inc. (NYSE: VSLR), 8Point3 Energy Partners LP (NASDAQ: CAFD), Pattern Energy Group Inc. (NASDAQ:PEGI), Enphase Energy Inc. (NASDAQ: ENPH), and TerraForm Global Inc. (NASDAQ:GLBL).
Asian Solar Companies
Solar stock companies, after an explosive start, as the century turned its page, soon saw cloudy skies. A number of renewable energy companies got rained out, and Asian solar companies picked up many of the washouts. Even so, stocks have not completely recovered from the 2015 drop in prices.
Chinese Yingli Green Energy Holding Co Ltd (ADR - NYSE:YGE), less than a year ago, sold at $4.60 and has since fallen to less than half that price. The company recently announced an alliance with Tempress Systems B.V., of the Amtech Group, to construct the largest bifacial photovoltaic plant in Europe, near Tempress' Vaassen headquarters, in the Netherlands.
Their PANDA bifacial modules have greater power than traditional monofacial modules, and their low-light sensitive solar cells offer an advantage under the northern European sky. JinkoSolar Holding Co., Ltd. (NYSE:JKS), also of Asia, weathered the dip across the S&P 500, holding its price to within less than a dollar below its high of $21.81 a year ago.
The company recently signed a financial agreement at the Emirates Palace, for the Solar PV Independent Power Project, at Sweihan, Emirate of Abu Dhabi, United Arab Emirates, on the south shore of the Persian Gulf. Energon Solar will use the company's high-efficiency Eagle Series modules for a major solar energy project in Medak, Telangana, India. Other Asian solar stocks to watch as Trump's deals the Paris hand include JA Solar Holdings Co., Ltd. (ADR - [NASDAQ:JASO]), Azure Power Global Ltd (NYSE: AZRE), and Spi Energy Co Ltd. (NASDAQ: SPI). Watch these and other renewable energy stocks as Trump moves ahead on the Pairs Agreement while stock indices waffle near record highs.
The preceding article is from one of our external contributors. It does not represent the opinion of Benzinga and has not been edited.
View Comments and Join the Discussion!
Posted-In: General