AnythingIT CEO Explains The Move Into The Marijuana Space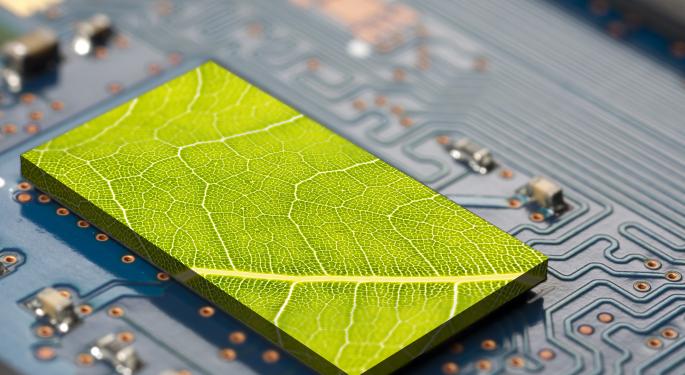 Anything IT (OTC: ANYI) CEO David Bernstein recently sat down with 420 Investor Alan Brochstein for an interview.
AnythingIT, which is an OTCQB company looking to capitalize on cannabis through their new website Weedhire.com, has traditionally managed the recyling of electronic devices.
In terms out market capitalization, the company is very small, with only 38mm shares outstanding. Below is a transcript of their conversation: 
Alan: David, thanks for taking the time to talk about your company. Before we discuss it, can you tell us about your background and the core business?
David: After graduating college, in 1992, Vlad Stelmak and I started AnythingIT and for the last 22 years, together we have grown the company to be a provider of green technology solutions, managing the equipment disposition needs of government and commercial clients by buying, reselling, or recycling, in an environmentally and regulatory compliant manner, computers and other technology hardware through our two 30,0000 foot locations in Fair Lawn, New Jersey and Tampa, Florida. As a secure, compliant end-of-life information technology ("IT") asset management and disposition service we provide our clients with a clear audit trail of the asset, and settlement reports for every returned asset. Our clients include major government and enterprise organizations and we hold the highest standards within the e-waste industry.
Back in 2011 we took AnythingIT public through a direct offering of shares. As such AnythingIT has never been a shell company. This is the first and only publicly company Vlad and I have ever been involved with and since becoming a reporting public company we are proud to say we have always reported our financials on time.
Alan: You are attempting to tackle a very interesting part of the industry. Why have you selected employment services? What is the opportunity, and how will you go about pursuing it?
David: We selected employment services simply because of the sheer number of jobs that the legal cannabis industry is about to create over the next decade alone. Legalized Marijuana we believe should create thousands of new jobs across the nation, as new companies are created all of whom require staffing and HR. Unlike the tech boom of the 1990's, the cannabis industry is attracting individuals from all sectors and ages.
The legal cannabis world has a number of opportunities. As Marijuana across <st1>America becomes legal, all types of professions are going to be needed. This nascent industry has already created a demand for licensed growers, food processors and retailers. Lawyers knowing the laws and regulations and compliance are needed. Service people are needed for warehouse production, kitchens and dispensaries. HVAC, plumbing, electrical, and security systems are needed alongside horticulture specialists, soil and hydroponic growers, and trimmers. Chemists and lab techs are needed. As well as sales and marketing positions are needed along with specialized professionals to provide, financial, accounting, real estate and business consulting, along with packaging, printing, and IT.</st1>
Unlike our equipment recycling industry where we are limited to the amount of recyclable product we can handle each year and can physically process, the employment services field for legal marijuana is wide open and full of growth.
Industry estimates from trade journal Medical Marijuana Business Daily says the $1.5 billion legal market could reach $6 billion by 2018 and according to Harvard economist Jeffrey Miron the best way to estimate the potential size of the legal market for cannabis begins with the illegal market, which is somewhere north of $18 billion a year. To understand the growth that already has occurred about 2,000 legal dispensaries are open around the <st1>United States; according to Phoenix-based consulting firm 4Front Advisors all of whom have hired employees across the wide spectrum I mentioned above.</st1>
As of now in 2014, 13 states have initiatives to legalize marijuana, 16 states have medical marijuana up for consideration, and five states have decriminalization on their agendas.There are already more than 20 states that have some form of medical marijuana decriminalization. <st1>Colorado now allows marijuana for recreational purposes with <st1><st1>Washington <st1>State offering the same just around the bend. As states add legal Marijuana as a product available the amount of people to service job growth associated with Cannabis reform will also grow.</st1></st1></st1></st1>
Our goal simply is to become the leading cannabis related employment career website. Our primary objective is to maximize the potential of our website pursuing the following strategies:
Grow the size, quality and uniqueness of the community;

Execute on customer acquisition;

Build brand awareness;

Enhance content and community features;

Expand into new verticals.
Our primary marketing objective is to cost-effectively promote our brand and to build sales through our direct channel. We intend to use a combination of online and traditional offline advertising and promotional strategies to accomplish this objective. Offline advertising is to be used to encourage customers to visit our website. We intend to reach our target audiences primarily through career fairs and trade shows. Our online advertising strategy includes the use of keyword search campaigns, affiliate programs and demographically segmented, compliant opt-in email campaigns. We hope to place online banner advertising through a variety of websites and ad networks. We intend to generate brand awareness for our website in various press, television and radio outlets. Moreover, we want to have our brand promoted through celebrity spokespersons, if possible, who would appear in our advertising.
Alan: Why should your investors expect you to succeed in this new area?
David: As the C.E.O of a business that has operated continuously for over 20 years we understand what it takes to be successful, persistent, and of a positive mindset through good times and bad. We know that a successful business has to take reasonable chances when opportunities present themselves, but more importantly understand that money whether earned or raised is a precious commodity not to be squandered but respected and spent prudently.
Alan: This is the first of what sounds like several potential opportunities in the cannabis-related space. You made it clear that you won't touch cannabis, but what are the areas where you will focus?
David: Right now our focus is Weedhire.com. The are many areas which could be a terrific vertical, but at this moment in time Weedhire is the only item we have announced and are limited in what we can legally say.
Don't forget to register for the 1st Annual Cannabis Investor Conference...check it out here!
Posted in: Interview General Best of Benzinga