What Does Your Shinola Watch Say About You?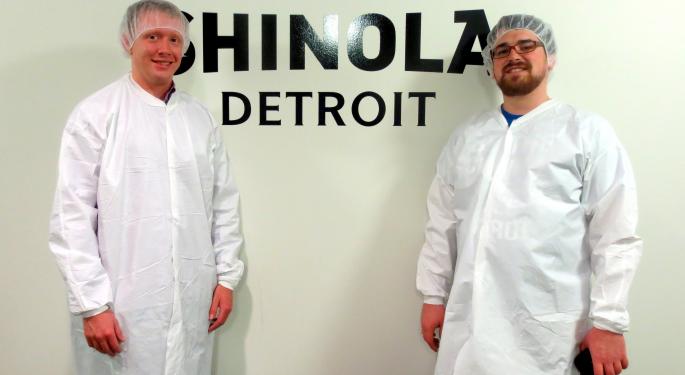 "Made In Detroit."
This statement is one of the main reasons that Shinola wound up the Motor City.
Not because the city needed the industry or because there was any superfluous incentives, but because those three words mean something.
At least, more than "Made In Raleigh," or "Made In Dallas."
See also: An Exclusive Look Into Shinola's Detroit Factory
So for fun, we decided to ask the question: Does the style of your watch really dictate your personality?
The answer is no.
However, in this article, we've compiled some rough estimates of the parameters of one's personality based on the color combination of the Shinola Runwell watch that they wear, just for fun.
Of the five Shinola Runwell-style watches at Benzinga HQ, here's what we came up with:
Posted-In: Runwell ShinolaReviews General Best of Benzinga
Orange Face Runwell, President

Flashy, look-at-me conversation piece that shows colorful personality and sharp mind.

Relates to professionals and children alike and is a definite youthful workhorse that lets no one get in his way.

On the weekends you'll find him reading books to keep pace with the latest organizational trends while either barbecuing on the back patio or traveling to the next volleyball competition.

Of course, he always makes time for a work meeting.

Watch is only on display during important events when representing the public face of the company.

"I love when people come up to ask me about this watch, because not only does it represent our company colors, but it also helps me create new relationships simply by striking up a conversation based on what's on my wrist." - Kyle Bazzy, President at Benzinga

Blue Face Runwell, CEO

Still calls attention, but much more subtly.

Probably worn 90% of the time and goes with most outfits from suits to jeans and a t-shirt. Wants to be noticed, but doesn't like the attention.

On the weekends, you'll find him trying to score tickets to Miley Cyrus (guilty pleasure) or making Costco trips to stock the office snack bin. Hosts regular weekend meetings at his home (his wife doesn't mind) and knows how to throw a party.

Irony factor: This guy is always late despite the fact that his watch works perfectly.

"It's great to have such a fine watch that was made in Detroit. Much better than the broken one I wore for the last two years and represents the muscle and work ethic I try to share with my colleagues at the office every day." - Jason Raznick, CEO at Benzinga

Black Face Runwell, Managing Editor

Classy, classy, classy.

His watch is black, his car is black, his sense of humor is, well...dark.

Most classic look available for the behind the scenes kind of guy that knows quality when he sees it.

Takes a keen eye to notice this piece, but those that do have already earned his respect.

On the weekends you'll find him working from home and trying to recharge his batteries in between social events with friends and family.

"I wanted this watch from the first moment I saw one. Plus, their customer service has been outstanding!" - Joe Young, Managing Editor at Benzinga

Matte Black Bezel, Tan Band, 41mm, Newsdesk Analyst

Outdoorsy type that enjoys mountain biking, hiking, throwing themed parties and buying hot tubs on Craigslist.

Look for a bike attachment on the back of his Mazda 3 and a turkey sandwich with almonds and sliced apples on the side for his lunch.

On the weekends when he's not watching Prime Time reruns on CNBC, he's probably getting into light trouble by attending "Whiskey Business" in Royal Oak.

"Best birthday gift from my parents I could have gotten. They even let me pick which one I wanted before gifting it to me!" -Jake L'Ecuyer, Benzinga Pro Newsdesk Analyst

Matte Black Bezel, Tan Band, 47mm, COO

Big face, big ego?

Possibly, but may be more likely to use the watch so that acquaintances forget that he went to Harvard.

This guy is cool as a cucumber under extreme pressure, even though he's oblivious to the fact that the way he eats oatmeal is slightly offensive to those in the room. But it doesn't matter, he went to Harvard.

On the weekends, you'll find him spending time with his growing family (cutest kids ever, because their dad went to Harvard) and drinking red wine (because what else is there?) and thinking about how to make his latest project the most successful endeavor ever.

"My wife thinks that getting me the watch was her idea, so I let her think that because in the end, I still have everything I've ever wanted. Oh, and I love the watch, too." - Fernando Prieto, COO at Benzinga

Other Shinola Highlights...

Check out these other Shinola highlights from the Benzinga crew:
View Comments and Join the Discussion!