6 Top Rated Commercials From Super Bowl Sunday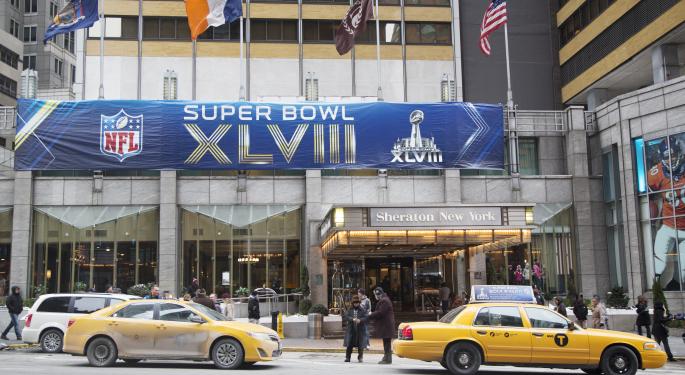 The one time of year that most of the TV-watching public cares about ads is on Super Bowl Sunday and with the game not being much of a game, all eyes were even more focused on the most expensive ads of the year.
Aside from the Seahawks, who scored a big win Sunday night?
Honda (NYSE: HMC)
Bruce Willis was the star of a funny spot where he looks to be setting up a public service announcement with a "life is short" kind of statement but as the camera pans down, comedian Fred Armisen is seen clinching Willis. From there it turns into a car commercial.
Chobani Yogurt
Any commercial with a giant bear has great potential. In this case, a bear enters a store and attempts to purchase Chobani Yogurt while, of course, scaring everybody else in the store. Bob Dylan and Mandy Patinkin added a little star power to the spot.
Beats Audio
If you like Ellen DeGeneres, you loved the Beats Audio commercial. Ellen, being Ellen, is searching for the perfect music to match her mood. To compliment her, there's a cameo by an iPhone 5S and people with animal heads. The spot resonated well with viewers despite the creepy dancing half-animal-half-humans.
Dannon Oikos
Yes, more yogurt but this time, complete with a Full House reunion. John Stamos is putting the moves on a woman when his yogurt "accidentally" falls on his pants. Looking like things will get a little more "intimate", fellow Full House stars Bob Saget and Dave Coulier show up to ruin the moment.
Radio Shack (NYSE: RSH)
If you miss all of the pop culture icons of 30 years ago, you loved the Radio Shack commercial that brought back the likes of Hulk Hogan, Teen Wolf, Alf, and Kid 'n Play to name a few.
In the spot, the blast from the past stars barge in, take all of the dated electronics, and leave the store bare. The line, "its time for a new Radio Shack," resonated well with customers who see the store as outdated.
Budweiser (NYSE: BUD)
The top rated ad of the night was Budweiser's "Puppy Love" ad that combined two animals that everybody loves: puppies and Clydesdales. The cute factor seemed to win over audiences. With 36 million views on YouTube, Budweiser is getting its mileage out the spot.
Now we ask you, what were your favorites of the night? Maybe the T-Mobile commercials or that disturbing Pistachio spot where Stephen Colbert peels his head apart? Let us know below.
Disclosure: At the time of this writing, Tim Parker had no position in the companies mentioned.
Posted-In: Budweiser Dannon radio shackGeneral Best of Benzinga
View Comments and Join the Discussion!