Fiorina To Lead Senate Like She Led HP: Into The Ground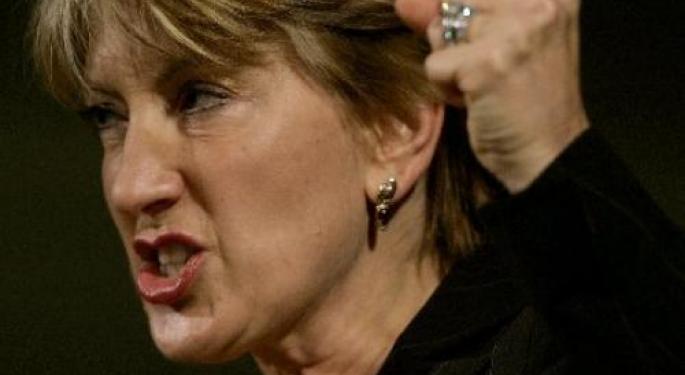 With her victory yesterday in the California Republican primary, former HP CEO Carly Fiorina is priming herself for a heated general election contest against incumbent Sen. Barbara Boxer (D-CA).
Californians should be doing more than priming themselves in the event of a Fiorina win - they should be bracing themselves instead.
Fiorina, the CEO of Hewlett-Packard (NYSE: HP) from 1999 to 2005, claims to have an inside track on job creation, stating, "I know, this team knows, that government does not create jobs." Neither did HP under Fiorina's tenure, unless you count the thousands of jobs HP outsourced to India at the expense of heavy domestic layoffs.
The Republican candidate for Boxer's senate seat is a woman who oversaw a clumsy and ill-advised merger with Compaq, the aforementioned layoffs, and HP's stock value dropping like a rock from around $52 a share in 1999 to $21 per share in 2005.
Coincidentally, HP's stock rose 7% on the day that the Board of Directors booted Fiorina from the office.
Think about that for a moment. Investors, shareholders, and company officials thought that HP's value was increased by millions just by having Fiorina out of office.
She was also John McCain's chief economic advisor during his 2008 presidential campaign - a campaign lost in part because of McCain's erratic and out-of-touch positions on the economy.
In an economy that in some ways is still very much on the ropes, with sustained unemployment and a future that is far from certain, the last person we need added to the U.S. Senate is someone as chronically incompetent as Fiorina - who also has the audacity to stake her worth as a potential Senator on something so laughable as her record with job creation.
I have no love lost for Sen. Boxer, and would've preferred to see Fiorina's primary rival Tom Campbell win. But it's a relief to know that Boxer will probably win against Fiorina - who shouldn't be elected to any legislative body, much less the U.S. Senate.
View Comments and Join the Discussion!
Posted-In: Barbara Boxer Carly Fiorina john mccainPolitics Economics General