tastytrade, IG Group Join Forces In $1B Deal To Democratize Global Markets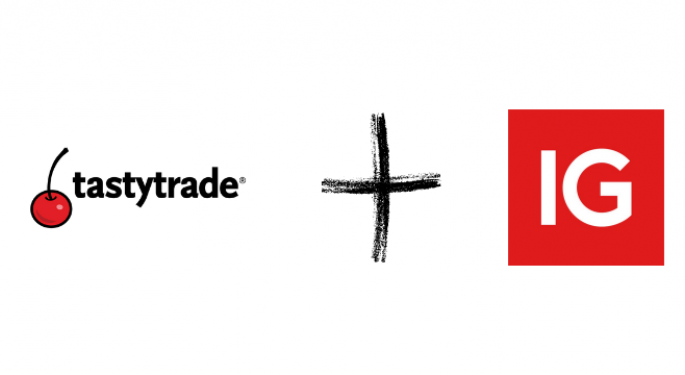 Key Points:
tastytrade challenges investors to think and trade strategically.
IG Group and tastytrade to innovate and scale access to product.
Management teams for IG and tastytrade will remain the same.
IG Group Holdings, a global online trading platform, formally announced it would purchase tastytrade, Inc, a financial network advocating for and empowering individual investors, for $1 billion.
What Happened: tastytrade is a holistic platform dedicated to changing the culture of investing.
Founded a decade ago by the trading veterans that developed and sold thinkorswim to TD Ameritrade in 2009, tastytrade challenges investors to think and trade strategically through the tastworks and Dough online brokerage platforms, as well as The Small Exchange, a futures exchange.
As part of a vision to engage over 900,000 unique registrants with free, interactive content, tastytrade is teaming up with IG Group to innovate and scale global access to its products, while further democratizing markets.
"We created tastytrade with a vision to challenge self-directed investors to think and trade strategically," said Kristi Ross, co-Founder and co-CEO of tastytrade. "We built an ecosystem to empower them. No other firm has built a retail trader ecosystem in quite the same way: delivering authentic, fun and actionable research-based content through our uniquely developed financial media network; to our two revolutionary brokerage firms with intuitive front-end technology and built on high frequency middleware; to a retail-focused futures exchange."
Ross said IG shares tastytrade's mission: "Most importantly, we share a customer-centric philosophy. We are excited to work with IG to make derivatives trading more accessible for retail investors around the world."
Management teams for IG and tastytrade will remain the same, and operations will continue seamlessly.
Why It Matters: The strategic partnership comes after a period of tremendous growth in financial markets participation. Retail investors are taking advantage of lower fees and increased access to take control of their financial wellness.
"I am thrilled to welcome tastytrade to the IG Group family. This acquisition will materially expand and scale our business in the U.S. and see us further diversify into the exciting high growth market of U.S. retail options and futures, a market which is adjacent to IG's core retail trading skill set. The U.S. market has more than 1.5 million retail traders and is the largest derivatives market in the world," said IG Group CEO June Felix.
"tastytrade has grown impressively and proven itself to be an innovative market disrupter passionately committed to delivering for their clients. The financial and strategic rationale underpinning this deal are compelling. I am confident that with our shared client centric ethos, passion for innovation and growth – IG and tastytrade will prove a winning combination."
View Comments and Join the Discussion!
Posted-In: dough IG Group June Felix Kristi Ross tastytradeFintech M&A News Best of Benzinga