'Beat The Suits And Ties': How SweepCast's Option Order Flow Insights Help You Make Money In The Market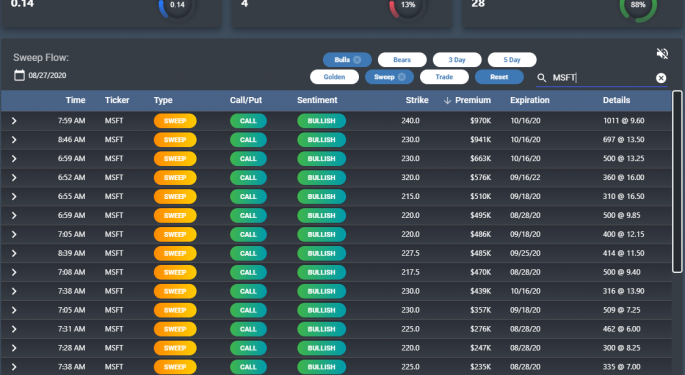 Benzinga will be holding its annual Benzinga Global Fintech Awards, a day of dealmaking, networking, and recognition in the financial technology space, on Nov. 10, 2020.
In recognition of those disruptive innovators creating positive and diverse change within the financial services space, Benzinga chatted with Mehul Chaudhari, founder at SweepCast.
About SweepCast
Alongside the COVID-19 coronavirus lockdowns, participation in financial markets rocketed, sparking interest in resources that provide added trading insights. One solution is option order flow, an often costly resource.
Founded in 2020, SweepCast is a fintech specializing in low-cost option order flow analysis tools. In the simplest way possible: SweepCast is a provider of alerts on unusual options activity.
"What we're looking to do is really narrow down the scope and offer a product that is only providing unusual options activity flow," the founder said.
"Our slogan is to beat the suits and ties. In a very simple manner, we deliver data in a way that can be digested easily by retail traders, so everyone you see on Stocktwits or even Benzinga, Webull, and Robinhood."
Core Product Portfolio
"We've launched an early stage product at the moment which is going to have more features coming soon."
SweepCast comes as a holistic solution, allowing retail traders increased insight into unusual and often significant stock market activity.
The company's core platform offers users access to real-time and historic option order-flow, voice alerts, transaction analysis, as well as search and sort functionality.
"Our platform narrows down what we believe is the best indicator of what an equity may do in the marketplace, by following what actual orders have taken place in real time."
Innovation Outlook
"Our platform is driven by feedback."
Though SweepCast is in its early stages, the company has big plans to democratize access to actionable stock market insights.
"We're looking to add order fulfillment in the platform by linking to brokers like E-Trade or thinkorswim, as well as setting up some type of automation that allows you to follow orders based on certain criteria."
Additionally, through a partner company -- Pineapple Stocks Live Trading -- SweepCast aims to provide guidance to those unfamiliar with options trading and order flow insights.
"It's an educational resource that allows new traders to come in, understand what options are, the strategies, as well as what option flow really means to the marketplace."
To learn more about SweepCast, click here.
View Comments and Join the Discussion!
Posted-In: SweepCastFintech Options Markets Interview Best of Benzinga