'Tracking In One Place': Holfolio Introduces An Easy Way To Follow Your Investments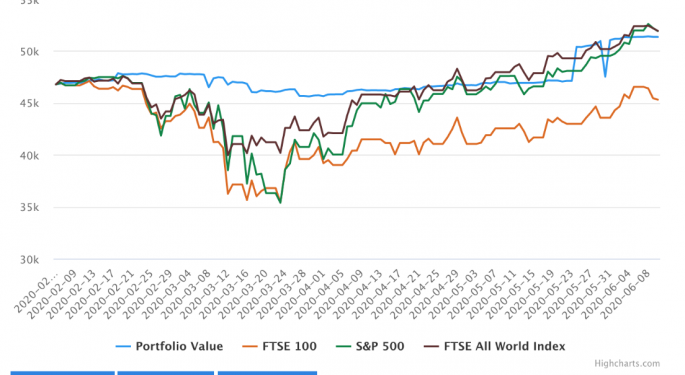 Benzinga has built an incredible brand and following, attracting the use of professionals and novices in its broad effort to democratize access to financial services.
Ahead of the Global Fintech Awards, a day of dealmaking, networking and recognition in the financial technology space, Benzinga sat down with Ben Kinnard, founder at Holfolio, to discuss how his firm is helping investors stay organized amid recent market volatility.
Benzinga: How Did Holfolio Come To Be?
Kinnard: I had investments in different asset classes and it was getting more and more difficult to keep track of them.
I decided to make a website to track everything in one place. And then, separately, I was talking to friends about their investments, and it was kind of a pain to keep everything up-to-date. I was losing track of what friends were holding at different times, and when I realized I could sort of combine those two things -- tracking investments in one place and sharing them with other people -- that was the genesis of Holfolio.
What Are Some Impactful Tools Users Have Access To?
We take a holistic view on equities, crypto and private investments.
It's all in one place. If it is cash, if it is equities, if it is crypto, it's all your money, in one place. So, I think that's one thing that people find valuable. Just to keep it all in one place.
We also have a customized dashboard where you can see dividends, earnings, and watchlists of stocks you're interested in.
What Makes Holfolio Different From Competitors?
It's the social side -- a sort of movement we're trying to ride.
Previously people were private about their money and investments, and no one was really sort of willing to discuss it with each other. By making it more public through Holfolio, it is less intimidating, and will hopefully encourage people to begin investing.
You publicly share what you're investing in, but not how much. It's a sort of public investment track record where you can see how other people are doing overtime. It is the decision that is public.
Also, every investment you have, you can Tweet it out.
Plans For The Future?
Broker integration.
Right now, the platform is all manual entry. But, if we can speed that up and integrate with brokers, then I think that will make it more useful and durable for users. That's a big focus coming up. Secondly, it's just a website at the moment, so we will have an iOS and Android version coming out early next year.
To learn more about Holfolio, click here.
View Comments and Join the Discussion!
Posted-In: Ben Kinnard HolfolioFintech Exclusives Interview Best of Benzinga