'Breaking The Information Asymmetry': Capital Market Laboratories Launches Technical Analysis Chart Profit Builder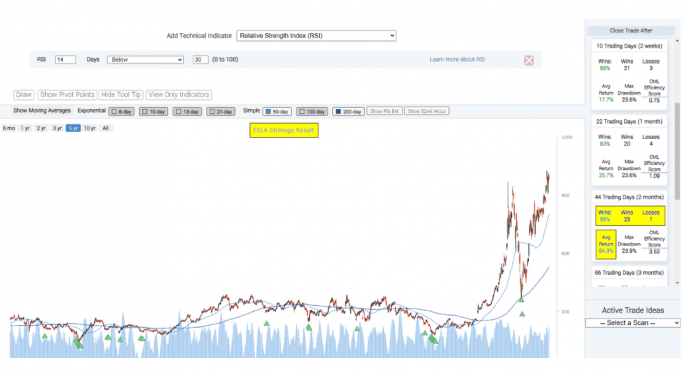 "The goal of Capital Market Laboratories is to break the information asymmetry between institutional finance and retail finance."
Ophir Gottlieb, CEO, and co-founder at Capital Market Laboratories (CML) is a career finance professional. His time as Director of Client Services and Algorithmic Trading for Livevol, as well as Managing Director and Product Manager of Quantitative Research for GMI, gave him unique insight into the asymmetry between retail and institutional investing.
"I spent most of my life in institutional finance and I think you have to be in institutional finance to realize what a big information asymmetry there is," he says. "You have to see it and then get out of it to recognize how big the difference is."
According to Gottlieb, traditionally, retail investors look at charts to extrapolate and make presumptions about the future.
"In the world where people trade in the tens of millions, hundreds of millions, and billions, they don't draw a line on a chart. They draw 100,000 lines on 100,000 charts. They don't look for it to work on one stock at a time, they look to see if it worked on 10,000 stocks, across all types."
In bringing the institutional methodology to retail finance, Gottlieb created CML, the intersection of computation and human visual ability. The firm's core product portfolio consists of scanning, alerts and backtesting tools.
Gottlieb's core focus at CML is the evolution and incorporation of AI, technical analysis, and backtesting in investment decision making.
CML's new product -- the Stock Trading Machine -- is a technical analysis chart profit builder in which users can instantly view the result of technical conditions applied onto a stock chart.
The tool is a play on proprietary techniques and AI modeling Gottlieb helped develop and use during his tenure in institutional finance.
"We want to create the collision of computation with drawing on a chart," he said. "When people look at their charts and draw or pick technical indicators, they are simultaneously and instantaneously seeing the results of that thought process."
Upon launch, the tool will enable users to visually build technical triggers and view test results, in real-time, for stocks only. However, Gottlieb suggested CML may add new asset classes as interest in the product grows.
"We're driven in large part by what our membership requests," the co-founder said. "This one product will be stock only, but certainly, we could look to commodities or futures."
Unlike the CML's core product -- Trade Machine -- which retails for $2,400 per year, Stock Trading Machine can be accessed as a stand-alone product for $27 per month.
"We've changed the way stock charts work. If you want to try a technical trigger, you can see it visually and computationally, instantaneously."
To access the Stock Trading Machine for free or other Capital Market Laboratories offers, click here.
The Stock Trading Machine platform. Courtesy photo.
View Comments and Join the Discussion!
Posted-In: Capital Market Laboratories CML GMI Livevol Ophir Gottlieb Stock Trading MachineFintech Interview Best of Benzinga