Fintech Focus Rewind: How This CEO Uses Data To Measure Portfolio Risk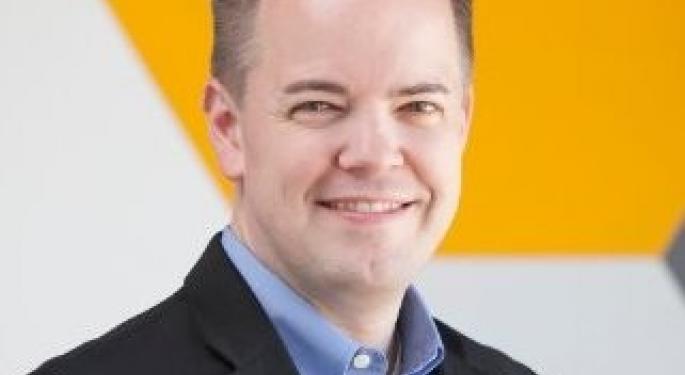 The Fintech Focus Rewind is a recurring feature in which we revisit previous episodes of Benzinga's Fintech Focus Podcast. To get the Fintech Focus delivered to your inbox weekly, subscribe to the Fintech Focus newsletter. Don't forget to check out upcoming programming at Benzinga events.
Investing can be complicated. Portfolios can be risky.
But how complicated? And how risky?
Answer those questions is the mission of Aaron Klein, who wants to use data to accurately assess just how risky a portfolio actually is.
Klein is the CEO of Riskalyze, a financial services software company that provides financial advisors a way to better capture a client's risk tolerance using data. The data in turn helps clients better capture and meet their investing expectations, and helps advisors understand how suitable a client is to take on.
Too Much To Know, Not Enough To Understand
Klein said the idea to start Riskalyze came about when he noticed investors and financial advisors lacked adequate knowledge and tools to succeed in the markets.
"It was really around this realization that investing felt very broken for the average individual, that individual investors really struggle to understand how to think about risk, and their financial advisors were frankly equipped with really, really bad tools," Klein said. " [We wanted] to help them understand it and communicate it well with their clients."
A risk number tool was created by Klein and co-founder and CTO Matt Pistone to help financial advisors quantify risk a client can handle. Klein and Pistone felt a risk number of say, 45 out of 100, was much easier for both parties to understand than a 'moderate investor' label. This helps the advisor and client find alignments that work with the client's portfolio and analyze the amount of success an investment had.
Klein said the risk number was invented because different clients have different needs, even though traditionally they "should" be investing in a certain way at their age.
"The two different approaches that financial advisors used were old wives tales," Klein said. "If you're 20 years old you should have 20% in bonds, 80% in equities, and if you're 80 years old you should have 80% in bonds, 20% in equities. The reality is people are individuals and they have different levels of tolerance for risk, and you've got to take that into effect and not just stereotype people based on age."
Maintaining Focus With Accelerating Growth
Focus has been the key for Riskalyze, which won a Benzinga Fintech Award for Best Financial Advisor or Wealth Management Platform in 2018, and has helped maintain pace in the growth of the company.
"I think one of the biggest challenges that entrepreneurs face is that they frankly try to do everything, try to do too much," Klein said. "One of our core values has been focus, and we like to say it this way: 'We want to do a small number of things really, really well so that we can make a deep impact on our customers rather than trying to boil the ocean'.
"We think that if we became one of those companies that tries to be all things to all advisors, tries to own every piece of the advisor stack, that we would end up being kind of mediocre at everything and not particularly good at any one thing."
Maintaining a focus on its core product has also helped Riskalyze manage pressure from clients to create new products or enter new industries they do not feel ready for. It's also made Klein cognizant when presented with M&A opportunities.
"We are incredibly focused on the culture of our organization, and it's really challenging to meld two organization together," Klein said. "I think it's doable, but it's one of those things that we care very deeply about so we're thinking very closely whenever we look at an M&A deal about the culture of the organization we might acquire."
Fintech Start-Up In A Non-Fintech Area
Headquartered in Auburn, California, Klein feels being in a smaller town has benefited the company. Klein said many engineers have left the Bay Area due to cost of living, and his company being headquartered in Auburn helps with recruitment.
"You know, from our perspective it has been one of the best decisions that we made to start our company in a smaller city like Auburn, California," Klein said. "I mean, the Sacramento region is about half a million people, Auburn is about 30,000 people. It's not your stereotypical place to start a technology company, but from our perspective here's what we've found; we've found lots of great talent."
Along with the small-town location, Klein said he has worked with the best team he has ever been with throughout his career, and this has convinced him to stay in this journey for the long run.
"We work in the best industry with the best customers, the best partners, and we've assembled the most incredible team that I've ever had the pleasure of working with in my career," Klein said. "So, I look at that and I just go, "I want to stay engaged in this for a long, long time."
Listen to the full podcast episode below.
View Comments and Join the Discussion!
Posted-In: Fintech Focus RewindFintech Success Stories Startups Interview