Venmo Co-Founder Andrew Kortina's Next Move: Turning Sci-Fi AI Assistants Into Reality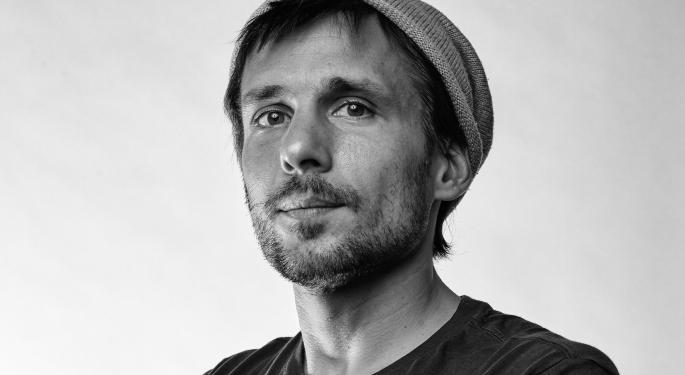 The Benzinga Fintech Summit is a gathering of the top leaders in payments, lending, capital markets, blockchain and cryptocurrencies in San Francisco Nov. 14. Ahead of the Summit, Benzinga is profiling fintech thought leaders who are speaking at the event.
For this installment, Benzinga interviewed one of our keynote speakers, Venmo founder and current founder of AI digital assistant Fin Andrew Kortina. Kortina and Greycroft venture investor Kamran Ansari will present the keynote talk on how fintech founders can build ubiquitous products.
Benzinga: What is Fin? What inspired you to create an AI assistant?
Kortina: Fin provides high quality executive and personal assistance as a cloud service. Historically, if you needed administrative help, your only real options for quality work were hiring someone full time or doing tasks yourself. Full time help can be pretty inefficient, because you probably don't need exactly 40 hours of help every week (but you have to pay someone in 40-hour work week chunks).
Similarly, doing your own admin work gets incredibly expensive if you're an executive and spending even a few hours per week on things that don't require your skills (see this post for more detail).
With Fin, you get the benefit of a team of skilled people doing high quality work combined with the flexibility of a cloud / software service.
Artificial intelligence is getting smarter every year, and the key to Fin is that it begins to learn your habits over time—how is this increased intelligence changing the way we work with digital assistants? How do people react to talking to Fin on the phone, like you do in your weekly phone syncs?
The key technology enabler that makes Fin possible is the way our system learns about you (all of your hundreds of preferences, your context) and about the world (for example, all of the different processes and workflow steps that an assistant might do to help their boss).
If we did not have a system built to capture every new piece of knowledge acquired by someone on our team, there's no way we'd be able to efficiently scale hiring and training new members of our team. But with the tools we have built, we can take someone who has never done a task for you before, and possibly has never done a task of a particular type (say, booking a restaurant reservation) before, and instantly present them with all of the information they need to know about you, about booking restaurant reservations, and about how you specifically like this done, so that they can do the right thing the first time they are asked to do so.
So, in short, the answer to the first part of your question, is that software helps us really speed up how quickly we can scale a team of people to do high quality work that requires lots of context.
To answer the second part of your question about people talking to Fin on the phone, our customers really dig it. I think most of the rest of the consumer support services are delegating more and more work to the customers -- you have to navigate phone trees or fill out detailed web forms just to ask a question. So when we have a real person -- someone smart and empathetic -- call you on the phone to plan your week with you, I think it's a breath of fresh air.
Venmo solved a daily problem for people, and quickly became an application millions of people use every day. How did you apply the lessons you learned from building that product to building something that's even more integral to peoples' daily lives?
Well, I wouldn't necessarily say one is more integral than the other. And they are pretty different products -- the audience for software exchanging money is absolutely everyone, whereas (at least today) the market for executive and personal assistance is a bit smaller, in terms of the number of potential customers. But there are always lessons to learn from the past.
I guess one lesson from Venmo is that it's really a privilege to work with a bunch of smart and driven people who are also your friends. There is some adage about never working with your friends, but to me, that makes no sense, because you're going to be spending so much time with these people. And nothing brings people closer together than struggling together.
How does it feel to see something you built become so ubiquitous?
It's a little bit surreal and makes me feel grateful and lucky. I subscribe to technological determinism the idea that if a technology is useful, it will eventually be built by someone. This makes you feel a bit less special about being involved in building something that is broadly adopted.
Where I think there's a bit more room for expression, then, is in the style of how you do something. If Venmo did not exist, there would surely be some other easy way for people to exchange money with their phones. But would it have the same fun / social flair as Venmo? Probably not -- more likely, it would be a purely efficient / utilitarian app lacking any sense of style or fun.
So, if there's anything we can feel is the result of some sort of personal sense of expression as the people that built Venmo, it's a bit of panache, not the core technology.
Related Links:
Meet The 28-Year-Old Immigrant Behind An App Helping Blue-Collar Workers Find Decent Jobs Quickly
A Q&A With Benzinga's CEO On The Fintech Industry: 'We Want To Be Connectors'
View Comments and Join the Discussion!
Posted-In: Andrew Kortina artificial intelligence Benzinga Fintech Summit Fin GreycroftFintech Top Stories Interview Best of Benzinga