3 Screens That Hint At Which Stocks May Outperform In Q4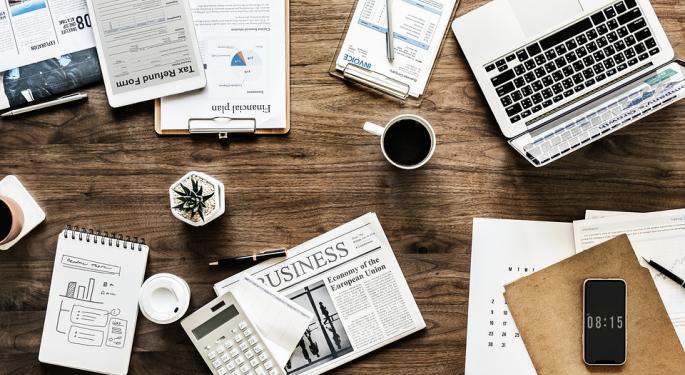 As the U.S. equities market barrels into 2018's final quarter, the major indices are looking to finish the year pushing to new all-time highs after spending most of the year playing catch up following a late February correction. Subsequent stumbles in traditional bull market leaders like tech and banks stocks have made the bounce a months-long affair.
Now that the S&P and Dow are both above their previous records, let's attempt to suss out which areas of the market are set to carry the year's gains past the finish line using some of the metrics and rankings available on Finscreener's proprietary stock screener.
There are several approaches to stock analysis we can take with Finscreener's segmented screener categories, but we'll start with a look at which stocks are showing the strongest fundamental upside in the coming weeks into Q3 earnings.
Fundamental Leaders
Since we're just looking to get a flavor of which sectors might be best positioned for growth, we'll cast a wide net with our fundamental screen by looking at large cap stocks (+$2bn) above $5 on all three major indexes (NYSE, NASDAQ, AMEX).
To get a sense of which stocks have the highest growth potential, we'll limit the screen to those with +10 percent upside potential that have reached similar positive price moves over the past year by setting the 52-week price range ration to 10 percent or more. And, for a little extra perspective, let's also check for with a $+10 consensus price target. If we were looking for specific stocks, we could also set a range for all of the categories to narrow our results, but for now we'll keep our survey broad.
You can see that, at the time of the writing, Nektar Pharmaceuticals (NASDAQ: NKTR) and Micron Technologies, Inc. (NASDAQ: MU) are leading the pack on upside potential, However, further down are a smattering of energy and utility outfits like Quanta Services, Inc. (NYSE: PWR) and Pioneer Natural Resources (NYSE: PXD), which seems to make a case for the continued strength in energy and utilities, particularly given the projected upswing in oil prices late in the year.
If you are more interested in what the experts expect from this contingent, you can sort the stocks by analyst outlook which reveals a slightly different picture, with financials like The Western Union Company (NYSE: WU) and regional banks like Huntington Bancshares Incorporated (NASDAQ: HBAN) and Regions Financial Corporation (NYSE: RF) showing the most bullish growth over the coming quarter as interest rates are expected to rise.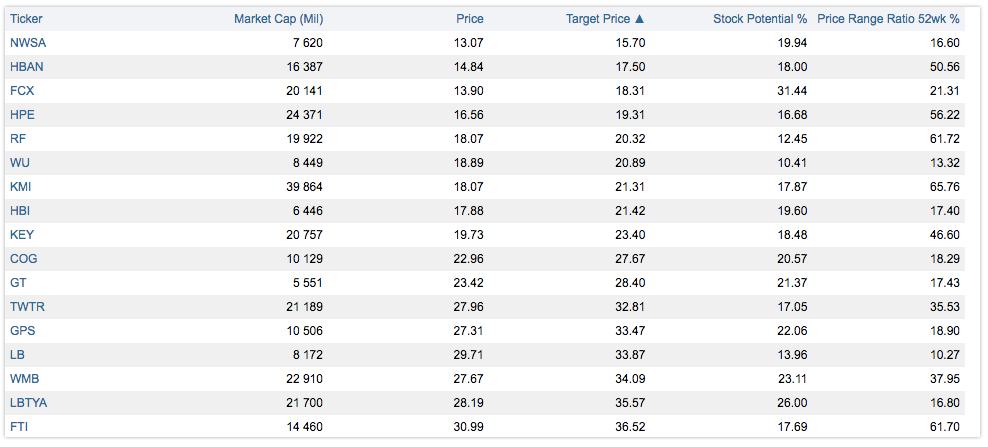 Technical Leaders
Of course, in the interest of equal time regulations, let's also take a look at some of the technical factors underlying the market. We'll keep the basic exchange, price and market cap metrics, but add some perspective on how some popular charting indicators might change the outlook.
In this case, We'll look for stocks that have shown positive return on capital as well as those that have also maintained a good momentum range without being overbought, as gauged by return on capital and cash flow index score.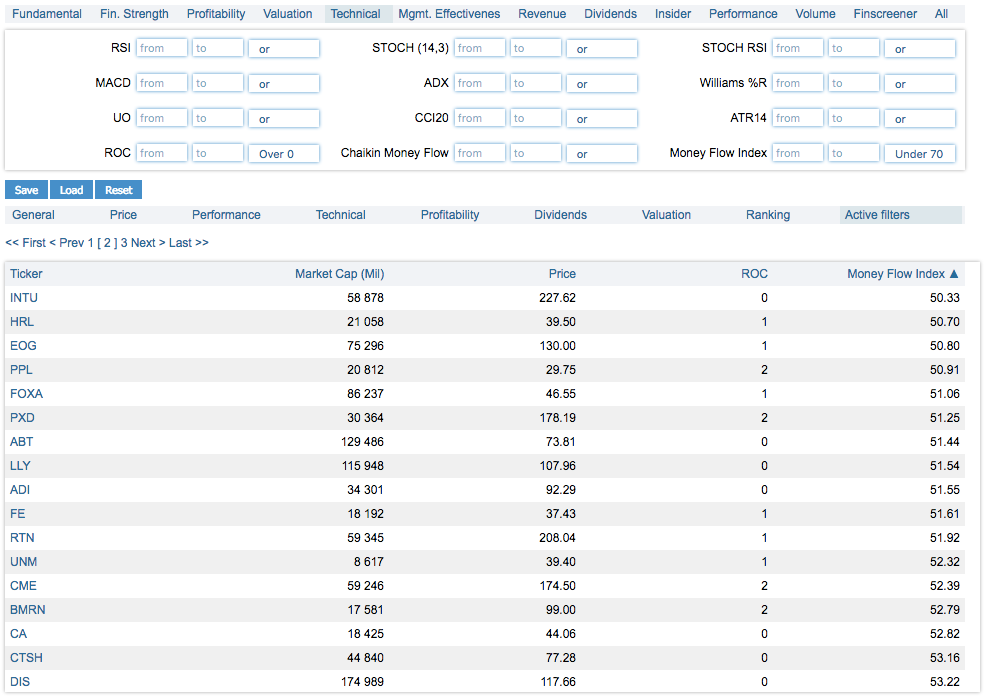 Sorted by those stocks with a mid-range money flow score, finance and again biotech seems to overwhelm the sweet spot on this screen, with Abbott Laboratories (NYSE: ABT) and Eli Lilly and Co (NYSE: LLY) eing a few strong performers this year. Grouped within this selection are several IT names like Intuit Inc. (NASDAQ: INTU) and CA, Inc. (NASDAQ: CA) alongside financials CME Group Inc. (NASDAQ: CME) and Unum Group (NYSE: UNM). Finally, this breakdown also includes safety investments like energy concerns Pioneer, First Energy Corp. (NYSE: FE) and consumer staples like Hormel Foods Corp. (NYSE: HRL).
Finscreener Rankings
Finally, to cap off this unscientific survey of possible upcoming performance factors, let's take a look at Finscreener's own proprietary ranking screen, which take into consideration metrics from across, fundamental, technical, valuation management and dozens of other criteria to sort equity performance.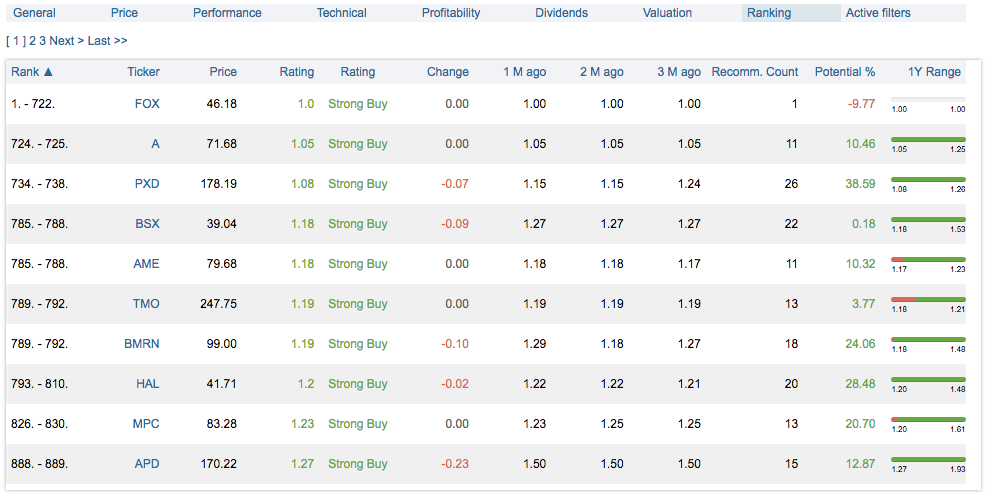 Materials names pepper the list, alongside stocks with healthcare exposure like Boston Scientific Corporation (NYSE: BSX) and Biomarin Pharmaceutical Inc. (NASDAQ: BMRN). However, one familiar name again makes an appearance: Pioneer Natural Resources. Given this hat trick, as well as potential inflation occurring globally and the headwinds facing crude utilities might be in for a strong Q4.
View Comments and Join the Discussion!
Posted-In: FinscreenerFintech Technicals Topics Markets Trading Ideas General