The Institutional Innovators Competing At The Benzinga Global Fintech Awards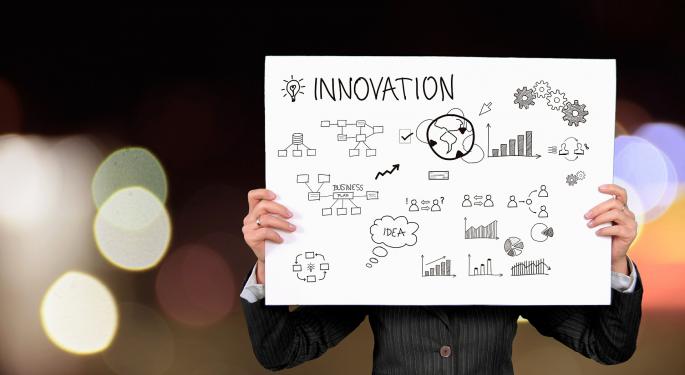 The Benzinga Global Fintech Awards are a yearly showcase of the greatest advances in fintech from leaders and visionaries in the worlds of finance and technology. This year, executives, developers and innovators from the likes of Facebook, Amazon, IBM, JP Morgan, Zelle, TD Ameritrade, TradeStation, Fidelity and so many more attending the Oscars of Fintech.
The BZ Awards, which take place May 15 and 16 Iin New York City, are half party, half business development bonanza—they're a rare chance to meet and network with everyone in finance from CNBC's Josh Brown to the head of financial services at Facebook to the heads of trading at every major brokerage.
To offer more clarity on who is competing for the prize of most innovative in each category, Benzinga is breaking out the finalists in each category and offering more information about what they do.
The finalists for the Institutional Innovators category are:
AutoGravity Corporation
CEO: Andy Hinrichs
Description: AutoGravity technology is revolutionizing the digital car-buying experience. Harnessing the power of the smartphone, AutoGravity's award-winning platform empowers car shoppers with transparency, convenience and speed.
Laurel Road
CEO: Gary Lieberman
Description: FDIC-insured and established in 2006, Laurel Road Bank has helped tens of thousands of professionals with graduate and undergraduate degrees across the country to refinance and consolidate over $3 billion in federal and private school loans, saving these borrowers tens of thousands of dollars each, on average.
OpenFin
CEO: Mazy Dar
Description: OpenFin uses a modern, open technology stack to create a common operating layer for the thousands of desktop applications powering capital markets, enabling rapid development and deployment, while simultaneously improving security.
Pri-Num Ltd.
Description: Pri Num is a blockchain-based mulitservice wallet that operates in a mulitservice digital wallet ecosystem with exchange and conversion functionality.
USAA
CEO: Stuart Parker
Description: USAA is a top skill provider for Amazon Alexa.
West Loop Ventures
CEO: Jeff Carter and Kenneth Estes
Description: West Loop Ventures is a firm specializing in early round B2B fintech investment where customers are institutional.
Zenmonics
CEO: Riaz Syed
Description: Zenmonics is a global provider of omnichannel software that supports all channels in a financial institution on a single platform. The company is committed to transforming the financial industry to ensure that financial institutions stay continuously engaged with their customers.
Posted-In: Benzinga Global Fintech AwardsFintech Best of Benzinga
View Comments and Join the Discussion!