Benzinga Fintech Awards Finalist Laurel Road Wants To Kick Student Debt To The Curb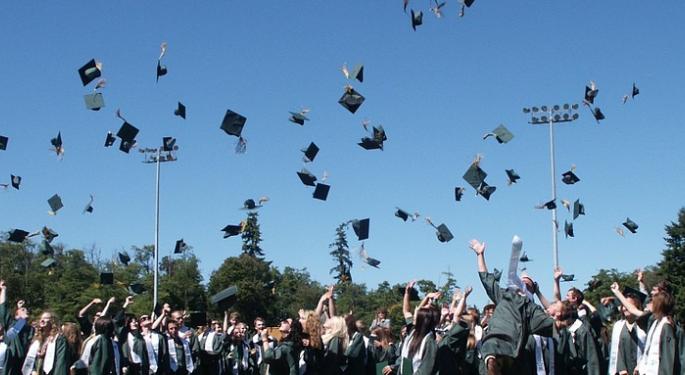 The Benzinga Global Fintech Awards are a yearly showcase of the greatest advents in fintech from leaders and visionaries in the worlds of finance and technology. This year, we have executives, developers and innovators from the likes of Facebook, Amazon, IBM, JP Morgan, Zelle, TD Ameritrade, TradeStation, Fidelity, and so many more.
The BZ Awards is an oscar-like event to showcase those companies creating technology that is paving the way for the future of financial services and capital markets. In preparation for its biggest installment yet this May, we're profiling the companies that have moved to the final round of judging for the BZ Awards.
In this feature we focus in on Laurel Road.
What does your company do? What unique problem does it solve?
Alyssa Schaefer, CMO and Head of Product Experience: We fill a unique role in the Fintech ecosystem, as an FDIC-insured bank with a proprietary online lending platform. Unlike most banks, we have an incredibly talented in-house engineering team that builds our proprietary platforms and customer experiences, allowing us to create a personalized and seamless end-to-end user experience. We're also a trusted financial partner, adhering to industry-leading compliance and risk management. We've helped tens of thousands of professionals with graduate and undergraduate degrees across the country to refinance and consolidate over $3 billion in federal and private school loans, saving these borrowers tens of thousands of dollars each, on average.
Who are your customers?
Schaefer: As a lender, we target young, high-achieving professionals who take their finances seriously and are dedicated to their professions. Many of our customers have pursued advanced degrees in medicine, dentistry, law, business and finance.
How long have you been in business?
Schaefer: We've been in business since 2006, and started with a strong community banking foundation on which we built our business. We built out our online lending platform to originate our first student loan in 2013.
Where are you located?
Schaefer: We're based in New York and Connecticut, but have a strong national online presence across all 50 states.
Who is your company's leadership? What kind of experience do they have?
Schaefer: We actually recently completed our executive team late last year. Our Chairman Gary Lieberman leads our team, drawing on 35 years of experience in building and restructuring businesses in the financial sector. Complementing Gary's deep industry expertise, our full management teams brings a wealth of experience across the financial services sector, including: George Sclavos, Chief Financial Officer; Scott Skorobohaty, EVP of Community Banking; John Chung, Chief Operating Officer; Josh Van Hulst, Chief Compliance Officer & General Counsel, as well as myself, serving as the Chief Marketing Officer.
Who are your investors, if any?
Schaefer: Gary Lieberman is the Chairman of Laurel Road and founder of our online lending business. He had an impressive career on Wall Street and has owned and operated his own hedge fund since the mid-1990s. While he maintains a low profile in the media, he is an impressive entrepreneur in finance and banking.
Is there anything else Benzinga should know about your company?
Schaefer: We're focused on enabling our customers' journey to financial independence. As we continue to improve the student loan experience, there are a number of new products on the horizon that aim to transform other major financial milestones.
To meet with the minds behind companies like Laurel Road and others testing the cutting edge of fintech, grab a ticket to the Benzinga Global Fintech Awards May 15-16 in New York.
Posted-In: Benzinga Global Fintech Awards Laurel RoadFintech Interview Best of Benzinga
View Comments and Join the Discussion!