How This Serial Entrepreneur Developed The App Millennials Use To Avoid Overdraft Fees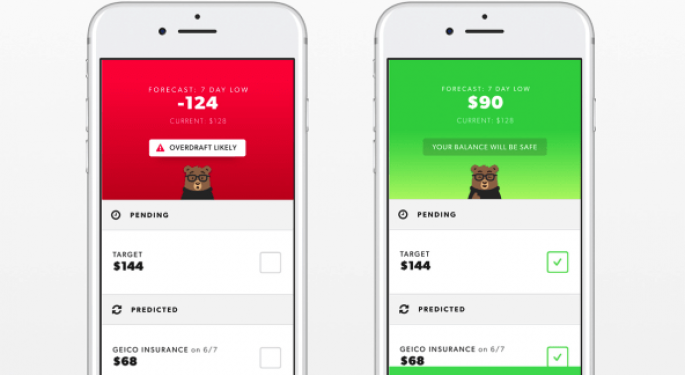 Americans spent around $15 billion in overdraft fees in 2016, the most recent year for which data is available, according to the Consumer Financial Protection Bureau. That's more than the total market cap of Macy's Inc (NYSE: M), Dicks Sporting Goods Inc (NYSE: DKS), and J C Penney Company Inc (NYSE: JCP) combined.
It's fair to say the U.S. has an overdraft problem. Jason Wilk, an entrepreneur with three other successful startups to his name, noticed that same thing. He got together with his co-founders and together they started Dave, an app that connects to your checking account and alerts you when you have upcoming bills and are about to overdraft.
Here's why Wilk started Dave, how the app works and what goes into being a serial entrepreneur.
Benzinga: How did you get the idea to start Dave?
Wilk: I had it in my idea book that I keep, and it's been on my radar since college when I used to overdraft all the time. So it was really a personal connection.
One of the other reasons why was, after my last business, I really wanted to go after a big industry. And it seemed like financial technology, given some of the tools out there now, it's possible to take on some of the bigger banks, whereas it's very difficult to start a cable company. And I also felt like banks were at an all-time low for customer loyalty, so it seemed like a ripe area for a product person to come in and try to create something that really appeals to people.
Benzinga: Has the process of starting Dave been significantly different than your previous companies?
Wilk: All of these companies are really product businesses for the most part. Allscreen was a little different because we were mostly a B2B business. But as far as everything I've dealt with with, aside from the regulatory component, it's not all that different from building any other type of an app.
It's just there's some key learnings that you have to get yourself educated on, which is one reason why we decided to go into JP Morgan's incubator. We were far along enough where we didn't need an incubator, but for purposes of this company, meeting regulators and meeting lawyers and all kinds of incubators in that space was extremely valuable.
Want to meet the movers and shakers in fintech? Grab a ticket to the Benzinga Global Fintech Awards May 15-16 in New York.
Benzinga: How does Dave work?
Wilk: You connect your checking account, and within seconds we show you all of your upcoming expenses and how low your bank balance will get by the end of the week. We also show you when your next paycheck is going to hit. And it lets you take a portion of that upcoming paycheck, up to $75, to prevent an overdraft fee before it happens.
We found that people overdraft because they are unaware of upcoming expenses and because they come up short before the next paycheck. So we decided to combine those two problems into one app to help people.
Benzinga: Who's the type of person using Dave?
Wilk: It's a lot of younger people who are interacting with credit for the first time. Seventy percent are in college or college educated. So it's an affluent audience and it covers the map of what we believe is the majority of Americans right now that do not have $1,000 in their account to cover an emergency.
Benzinga: How does Dave make money?
Wilk: We charge $1 per month, which gives you access to our budgeting account prediction. And, if you want to take part in our overdraft protection, we don't charge any interest on the $75. It's just a pay what you want model, so those are the two revenue streams right now.
Benzinga: Do you have plans for additional revenue streams?
Wilk: We have a lot of ideas around additional revenue models, but ultimately we're trying to come up with more products that are fair and helpful for the customer in their life. So what you'll see from us in the future are not things that look like traditional credit products. We're mostly just focused on user growth right now.
Benzinga: What's up with the name? How'd you come up with Dave?
Wilk: We wanted the name to be something you'd associate with a friend or family member, because the amount of money that we allow you to tap into is about the same as what you'd go and ask to borrow from a friend or family for dinner or groceries or to avoid an overdraft fee.
And your friend is also there to warn you about bad things. So that's why we named it Dave. He's a replacement for your friend who will let you know about bills and stuff due, and he's also there to give you some money. And friends also don't charge you interest either.
Benzinga: This is not your first startup rodeo. How have you been able to be successful as an entrepreneur, and what advice do you have for first timers?
Wilk: I guess I always wanted to put myself in a position where I'm able to go work on an idea. One of the reasons Mark Cuban liked working with me at the beginning was because I was sleeping on couches and saving as much money as I could just to keep the dream alive of starting my own company. If I had to go pay expensive rent somewhere and had a big personal burn rate, I don't think it would have been very easy. That's kind of how he was.
So I think putting yourself in a position to act on an idea you have is probably the most key. The second thing is you have to have a genuine passion for doing it. I've been reading TechCrunch every single day since I was like 18. Ever since that publication came out, I've been obsessed with it. I know about every single company out there, I know what they do, and I always try to think of ways of how I can improve on an idea.
View Comments and Join the Discussion!
Posted-In: AllscreenFintech Entrepreneurship Startups Exclusives Personal Finance Interview General Best of Benzinga