A Q&A With Karl Gouverneur, Northwestern Mutual's Head Of Digital Innovation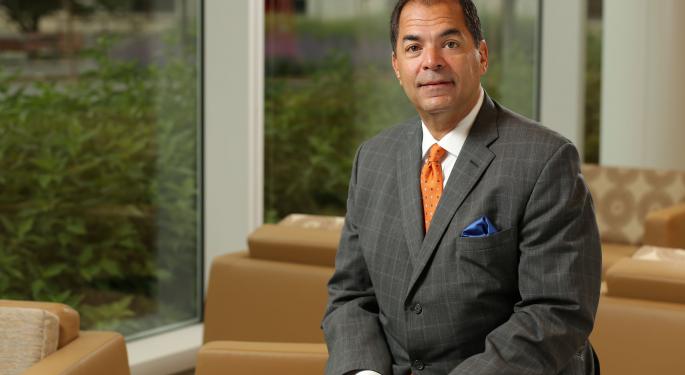 The fintech narrative has changed. The old narrative—which you don't have to go back very far to find—was one of conflict. How can small, nimble startups with innovative ideas work with large, cumbersome financial institutions known for relying on old technology?
Pretty well, it turns out. The resulting culture shift has been due in part to the work of people like Karl Gouverneur. His job at Northwestern Mutual, vice president of digital workplace, corporate solutions & head of digital innovation, puts him square in the middle of this arena. We caught up with him to find out how, exactly, the 160-year-old financial institution with over 5,000 employees positions itself with startups.
Explain your role at Northwestern Mutual?
Gouverneur: As part of my job, I identify digital opportunities to innovate within our company— whether it's business model innovation, product innovation, automation, process integration, you name it. If it has to do with digital and it's pushing the envelope on something new or something we haven't tried, I'm going to be involved.
How specifically does the company foster innovation?
Gouverneur: We have several channels to do that. We have an internal venture fund, we have hackathons, we have what we call Tiger Teams, and a number of other channels that foster this kind of democratized innovation across the company.
You recently announced Socialeads as the winner of the Reverse Pitch MKE contest at Milwaukee Startup Week. What was that about?
Gouverneur: As part of our ongoing strategy, our digital transformation, and our desire to raise the profile of Milwaukee, we decided to sponsor in a big way the Milwaukee Startup Week. Part of the Milwaukee startup week included this reverse pitch event. At the event we pitched entrepreneurs five internal business challenges; big ideas that the company is looking to explore.
We talked to 5,000 people from all over the country, and teams had two months to develop an idea. They then pitched it to Northwestern Mutual panel members, think like Shark Tank, and the prize money was a $10,000 seed investment followed by the potential up to $75,000 investment in the company.
Explain how a large institution like Northwestern Mutual works with startups? It's not always easy for the two to mix.
Gouverneur: We want to make sure we're engaged with startups. We know that startups bring innovative ideas. We know that fintech and insurtech are out there and that we can tap a set of resources and talent that is within the company to help us drive our improvement.
If you Google a couple of the awards we've won over the last couple of years, it'll talk about the mindset shift that has occured. We came from a mindset of risk management and fortification of the business model of our products and environment to one of exploration. Going on this innovation journey is something that's welcome. Whereas in the past, it was something that was looked upon as "What's in it for me? How do we engage with this?" And there's many channels that we've created for people to do this.
What kinds of startups do you attract that want to work with Northwestern Mutual?
Gouverneur: The kinds of companies we attract are in digital medicine, immersive experiences, enterprise IT, advanced analytics, things that are strategic to our business. Those four topics are strategic in nature to our business, and something that we look after. We're not going to invest in a topic that's not strategic to our business.
As a corporate VC, what makes a startup attractive to you?
Gouverneur: From a corporate VC perspective, which is Northwestern Mutual Future Ventures, we are always on the lookout for companies that fit the criteria of a) we want to make money, make no mistake about that, but b) does it intersect with the strategic priorities we have as a business.
The talent and entrepreneur quality is probably one of the most important criterias. Making sure that whoever is running the show is somebody that we believe will take the company to the next level. The actual marketability of the technology itself is also important. And then, where they are in the development. Are they early stage or later stage? That influences how we want to play with the startup.
View Comments and Join the Discussion!
Posted-In: Karl Gouverneur Northwestern MutualFintech Movers & Shakers Interview General Best of Benzinga