Michigan Gov. Rick Snyder, Autobooks CEO Talk Detroit Startup Culture
Kristin Hope wanted opportunity.
"Growing up in Silicon Valley but never really being able to break into the tech industry there, I thought, 'maybe this is my shot,'" Hope, a copywriter and digital marketer at fintech startup Autobooks, said Wednesday during a roundtable talk with Michigan Gov. Rick Snyder. "Maybe I can have that Silicon Valley dream, but in Detroit."
Hope said she found herself part of a burgeoning community — a daring workforce that helped Detroit Labs and StockX grow from four-person projects to 100-person companies.
And those swelling startups, in turn, found themselves part of a greater movement, one that's restoring the communities of Detroit and Michigan.
Startups can scale up quickly with a good business model, capital and talent, said Detroit Venture Partners Vice President Jared Stasik.
"You think about small numbers, but these numbers really start to add up."
The Persisting Hurdles
The state of Michigan expects those numbers to keep growing as the region continues its "comeback."
"I think we're on a good path, and I don't think we've seen the real inflection point hit yet," Snyder said.
But the state's early-stage companies still face challenges, and the governor said he expects they'll need aid, particularly to secure the first customer and match and train talent both in skill and custom.
"Technically they can do the work, but culturally, could they be successful in a startup after working in a big organization for a number of years?" Snyder said of the state's talent pool. "That's something where you're still going to find a transformation going on, and you're going to find more people interested in joining, but they need support and help understanding it's not the same — the work environment, the work style, the whole attitude."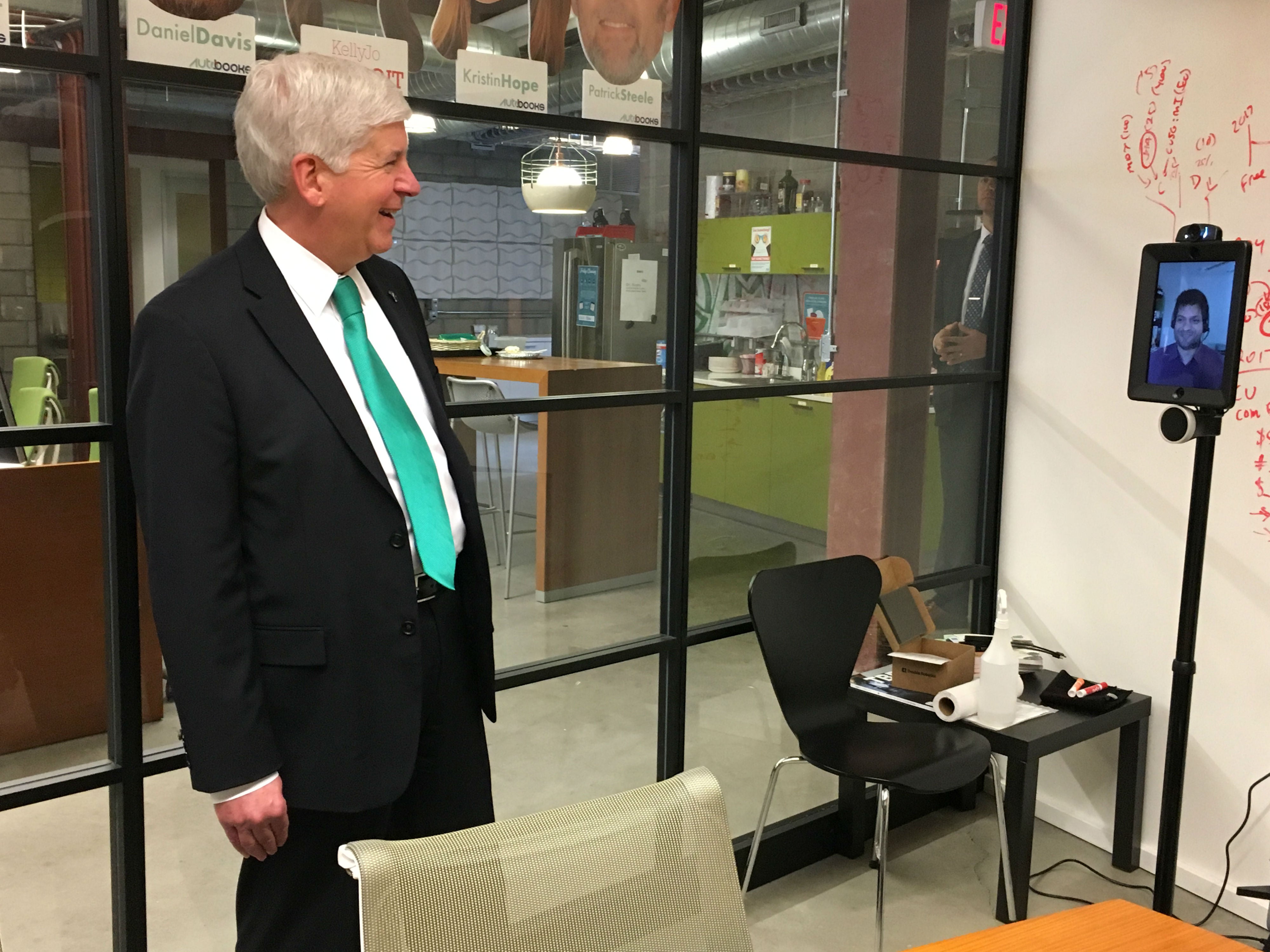 Michigan Gov. Rick Snyder meets with remote Autobooks employees using a robot on Thursday, Jan. 24. Photo courtesy of the state of Michigan.
Detroit's Elevator Pitch
Detroit offers an opportunity to make a visible difference, said Autobooks employee Hope.
"With all of the growth downtown Detroit has seen and Michigan has seen, you aren't just another small part in a large machinery that's been running for a long time," Hope said. "You are actually actively shaping the environment and the culture here, and that's something you really can't get anywhere else in the country right now."
Detroit is rife with mentors, and wage equality doesn't hurt, said Autobooks CEO and co-founder Steve Robert.
"People are able to make their mark here," Robert said. "You're able to network and get access to folks here in our region, and people are accommodating. They actually genuinely want to help, they want to make an introduction. It's not a self-serving, highly competitive environment, but one that's more collaborative."
Snyder agreed.
"This is a place you can make a difference," he said. " ...Detroit is the comeback place in our country in terms of making a difference in a community where you can tangibly feel the presence you have and the difference you can make."
Related Links:
Warming The World: Michigan Startup Warmilu Proves Doing Good Isn't Just For Nonprofits
Kimbal Musk Brings Gardening And Food Literacy Effort To Detroit
Bill Ford Says Detroit And Silicon Valley Are Frenemies, Thinks There's 'Lack Of Clarity' In Automaker Valuations
Main photo: Autobooks CEO Steve Robert, left, Michigan Gov. Rick Snyder and Autobooks employees Kristin Hope, Henry Balanon, Jared Stasik and Jake L'Ecuyer in Detroit on Jan. 24. Photo courtesy of the state of Michigan.
View Comments and Join the Discussion!
Posted-In: AutoBooks Detroit Detroit startup Detroit Venture Partners Governor Rick SnyderFintech News Startups Best of Benzinga